Wondering about things to do in Tbilisi, the charming capital of Georgia?  Activities range from exploring ancient monasteries to strolling the winding, hilly streets of the Old Town to enjoying stunning views from the ultra-modern Peace Bridge.
…and the wine!  Georgia has a wine culture going back thousands of years.  Enjoying a glass of dry red Georgian wine while people-watching in an Old Town cafe is one of the best things to do in Tbilisi.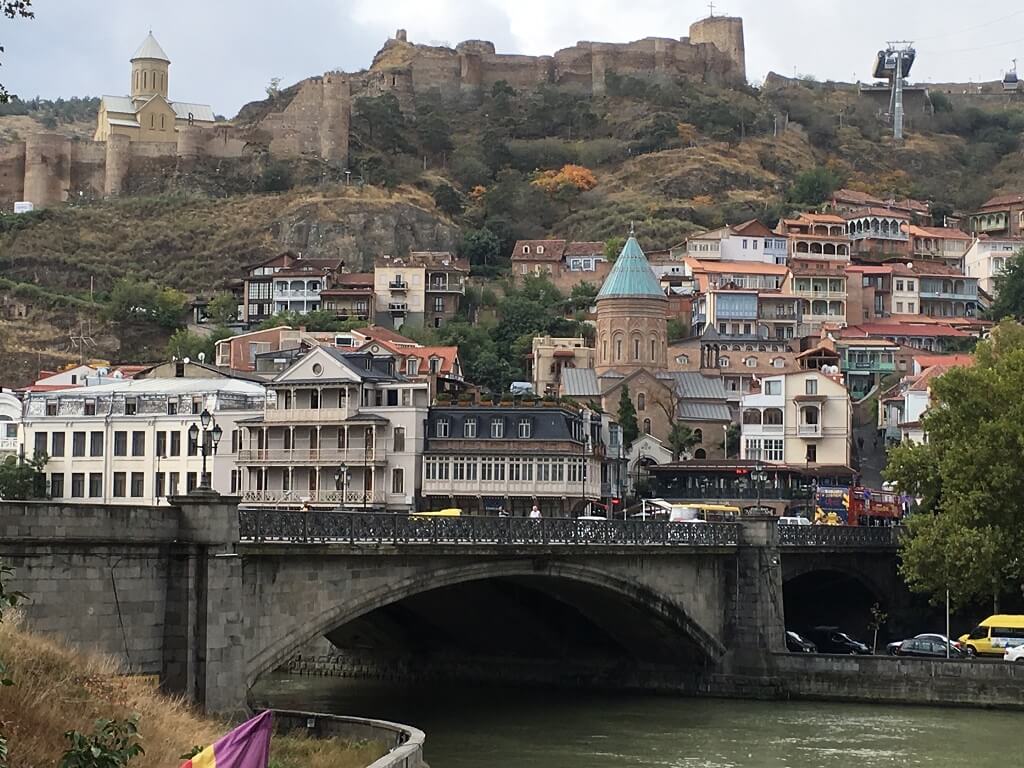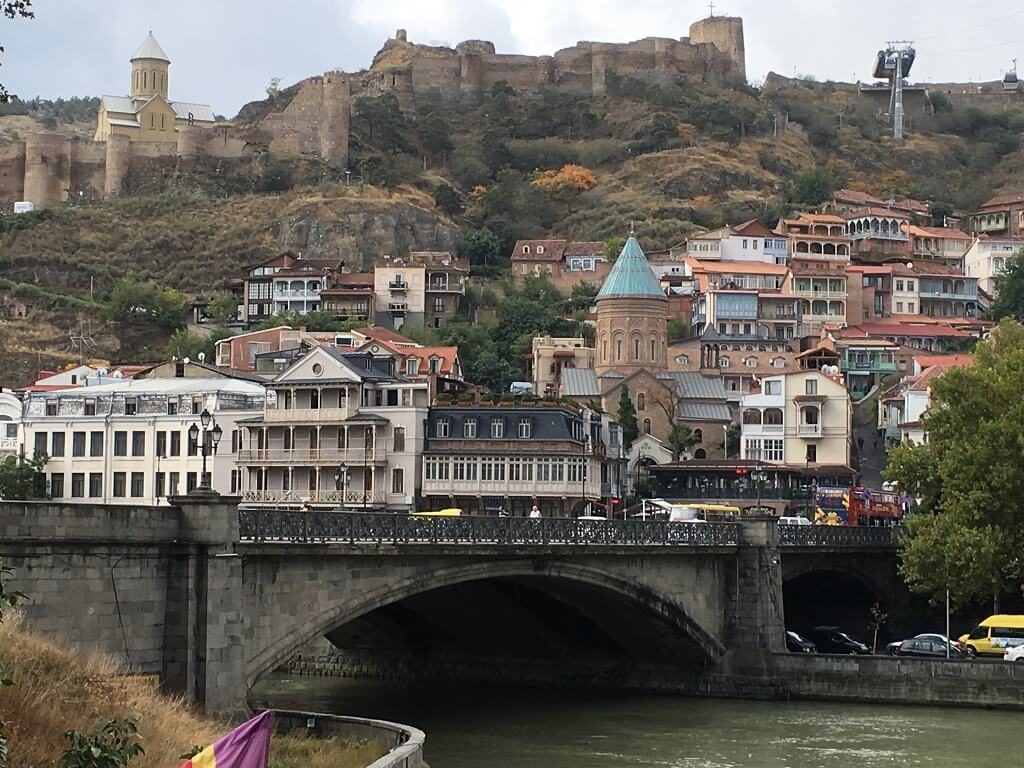 Founded in the 4th century, Tbilisi is the capital of Georgia, one of the Caucasus countries along with Azerbaijan, Armenia, Russia in the north Caucasus and northeastern parts of Turkey.  Tbilisi claims to be "the city that loves you" and the friendly, welcoming atmosphere really bears that out.
Tbilisi is an easy city to get around. You won't have any problem finding places to stay in Tbilisi.  Locating good places to eat in Tbilisi is a snap as there are good restaurants around every corner in all price ranges offering the unique, inimitable Georgian specialties.
And if you need hotel recommendations, we think that the Kindli Hotel or Redrum Tbilisi Boutique Hotel are amazing places to stay.
Tbilisi feels Eastern European but with a Middle Eastern flair. That's how someone described the city to me and I see it too. As befits a city at the crossroads of Asia and Europe, Tbilisi has influences from both continents. Nowhere is this cultural fusion more evident than in the city's architecture, a mix of Soviet Era buildings, distinctive Georgian homes with carved wooden balconies, modern skyscrapers and Arabesque bathhouses.
Let's check on some "know-before-you-go" Tbilisi travel tips and fun facts before diving into the best things to do in Tbilisi, Georgia.
Georgian currency is the lari. One US dollar is worth about 2.97 lari as of this writing.
The population of Georgia is 3.7 million. The capital city of Tbilisi has 1.1 million.
Getting around Tbilisi is easy.  Taxis are cheap and abundant.  There is also a pretty comprehensive metro system. The cost of a ticket is .50 lari.  You need to buy a 2 lari metro card to use the metro. There is also an Uber-like service called Bolt.  Just download the app and away you go.
The Georgian language is one of the oldest in the world with its own alphabet that is different from any other.
Despite a shared border, Georgia has no diplomatic relations with Russia.
Now let's explore the can't-miss Tbilisi activities as we dive into…
The Best Things to Do in Tbilisi 
Explore Old Town on Foot
Walk the cobblestone streets of Tbilisi's Old town bordered by the 4th century Narikala castle, the Abanotubai neighborhood and the modern Rustaveli Avenue.  Old Town sits on the banks of the Kura River in a jumble of narrow streets leading to leafy plazas, open-air cafés and fascinating architecture.  It is a compact area so it is easy to explore in a day or two.
Ride the Cable Car to Mother Georgia and Narikala Fortress
Board a modern cable car at the river's edge and float up to the 4th-century castle and Mother Georgia. Also known as Kartlis Deda, Mother Georgia is a 66-foot tall statue of a woman holding a sword in on hand with which to smite her enemies and a bowl in her other hand symbolizing benevolence and Georgia's ancient wine culture.
The view from Mother Georgia is among the best in the city and provides an excellent perspective from which to view Tbilisi.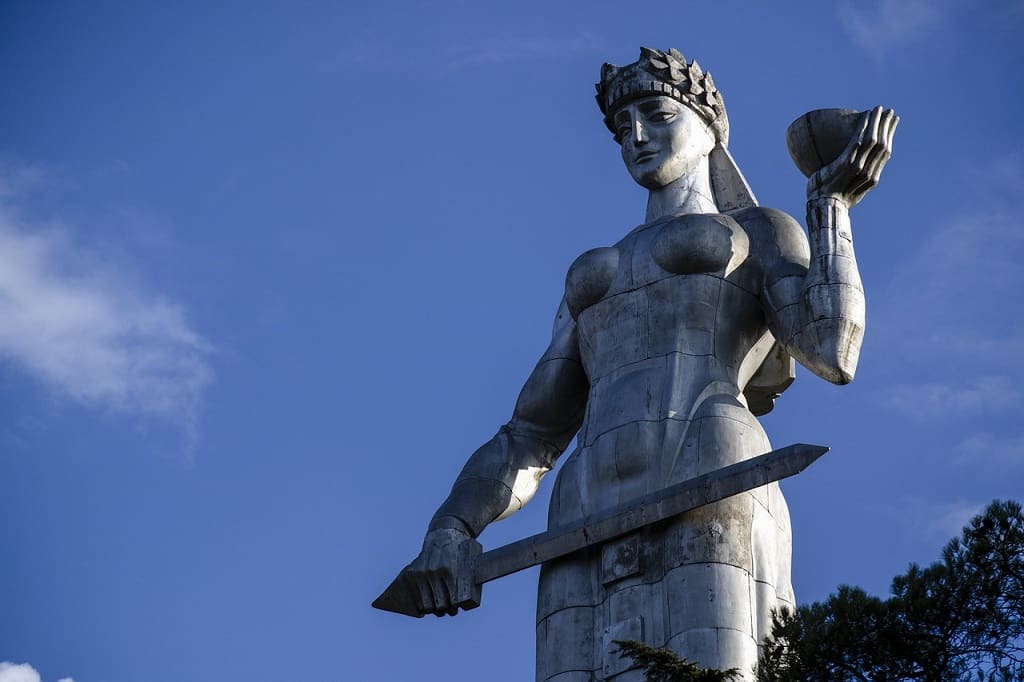 Indulge in a Sulfur Bath
The Abanotubani District in the southern part of town is a collection of domed, brick structures offering steam and sulfur baths and massages. The area has been offering baths for centuries.
The most elaborately decorated and tourist-friendly is the Asian inspired Chreli-Abano Sulfur Bath and Spa. They speak some European languages and can bill in Euros. Prices range around 50 lari for massages and 40 lari for baths.  It is worth it for a once-in-a-lifetime, authentically Georgian relaxing experience.
Explore Restaurants in Shardeni Street
This quaint street is one of Tbilisi's restaurant rows. Both sides of the street are lined with open-air restaurants and bars selling traditional, as well as international fare.  There are also many hookah bars in the area. This street is definitely on the touristy side but certainly worth a look-see.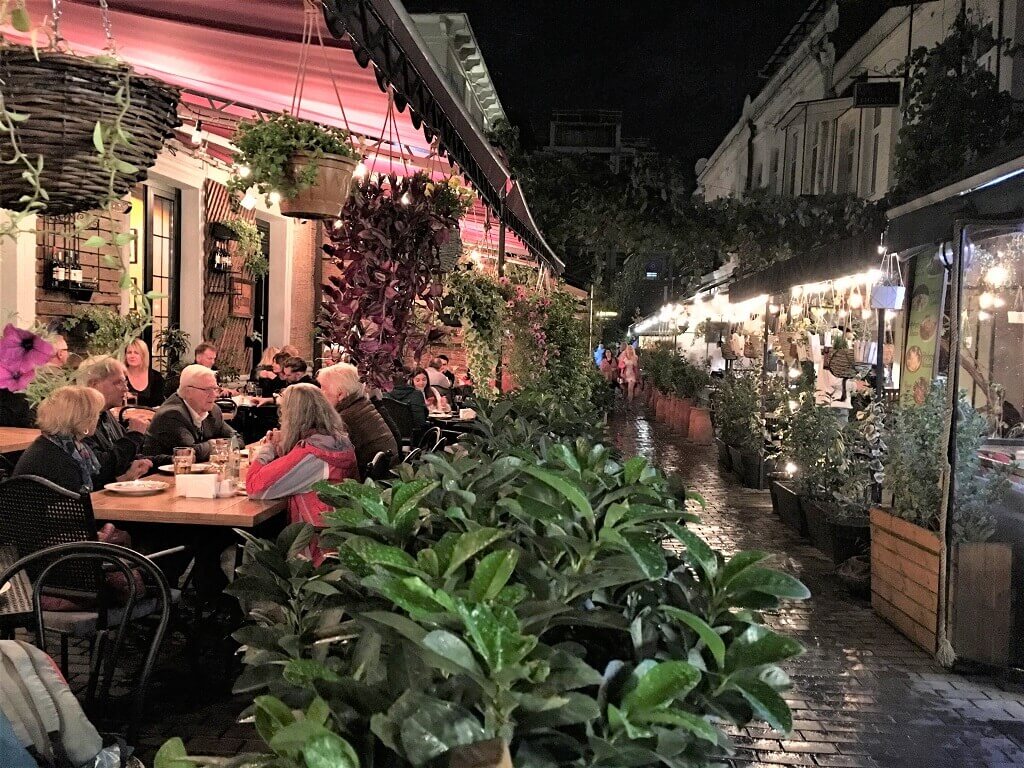 Get Your Culture Fix on Rustaveli Avenue
Rustaveli Avenue, named after Georgian poet, Shota Rustaveli, is one of Tbilisi's most beautiful Avenue running from Freedom Square to Rustaveli Square.  Here's where you find the National History Museum and National Art Museum, separate museums but in the same building. If museums are your thing, you can spend a day here learning about the country's turbulent history and introducing yourself to little-known but remarkable Georgian artists. Entrance fee is about 15 lari.
Also on Rustaveli Avenue is the Parliament building where the Rose Revolution was ignited. In November 2003, pro-western demonstrators stormed the Parliament building with red roses in hand led by Mikheil Saakashvili.  The protestors succeeded in ousting then-president Eduard Shevardnadze thus ending the Soviet era in Georgia.
Right in front of the Parliament building vendors set up little shops selling local arts and crafts. This broad and busy avenue also has upscale department stores and spectacular churches.
Check out Tbilisi Street Art
Tbilisi is one of the best cities for street art.  You find it everywhere on bridges, in tunnels and city walls. It is whimsical, very artistic and fun.
Hunt for Soviet-Era Paraphernalia at the Dry Bridge Market
This large and bustling flea market sits by a bridge over a branch of the Kura river that went dry, hence its name.  The flea market sells many different items from household goods to artwork but it is really famous for its Soviet-era paraphernalia.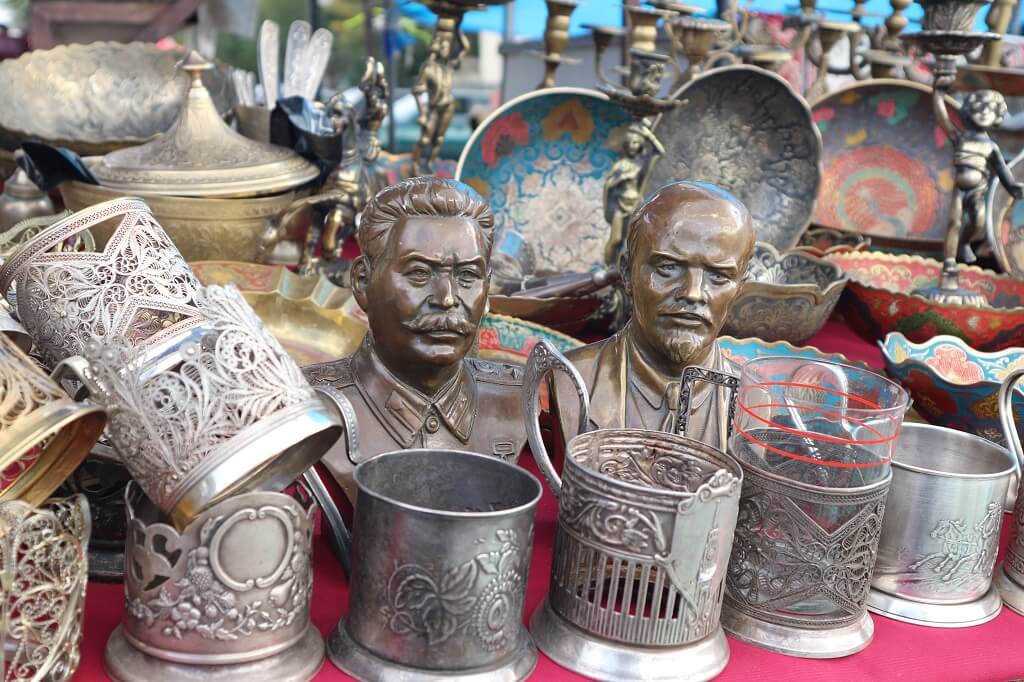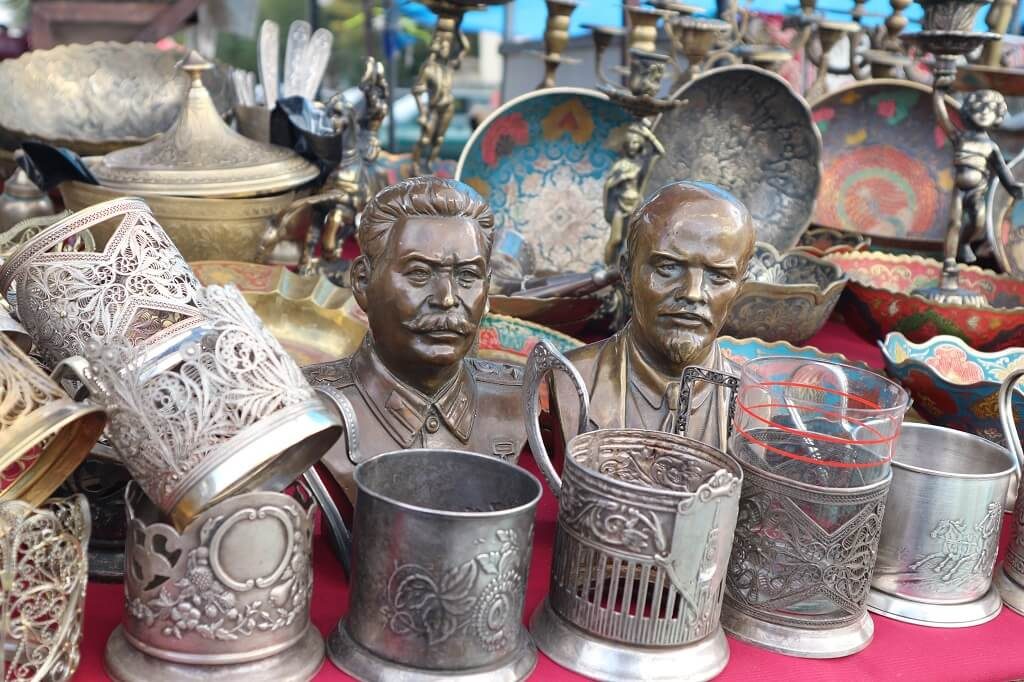 Flea markets such as these sprung up throughout the city after the fall of the Soviet Union so residents could make ends meet. Now the market caters more to tourists looking for arts and crafts and other souvenirs of their visit.  Its a fun place to go and examine the Soviet memorabilia that was so omnipresent during the Soviet era.
Cross the Peace Bridge
At 490 feet long (150m) long, the Peace Bridge spans the Kura River in downtown Tbilisi.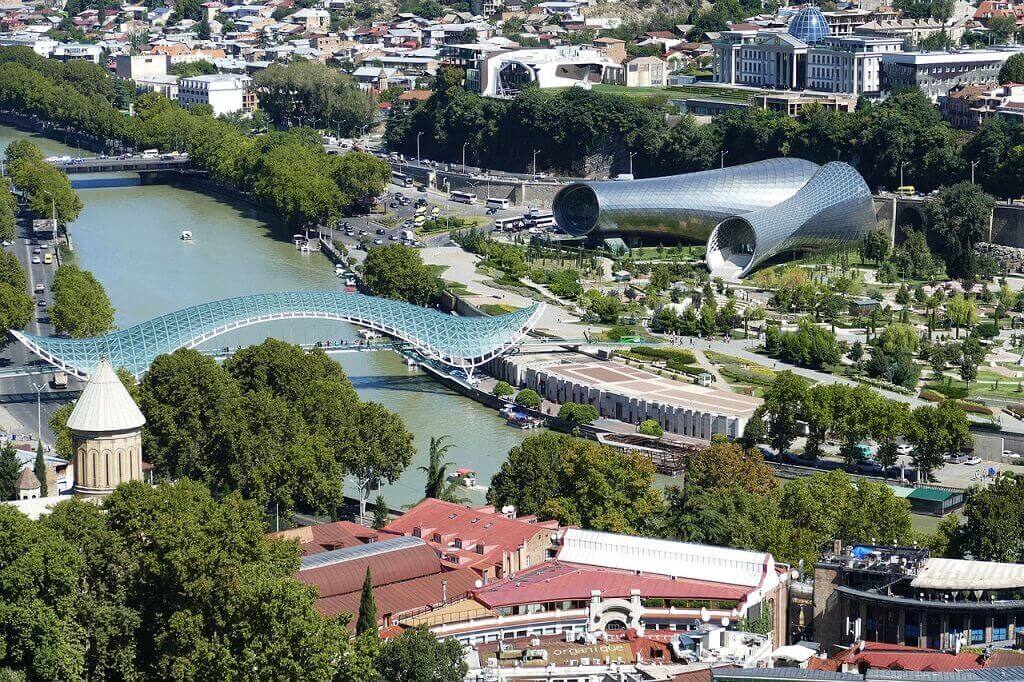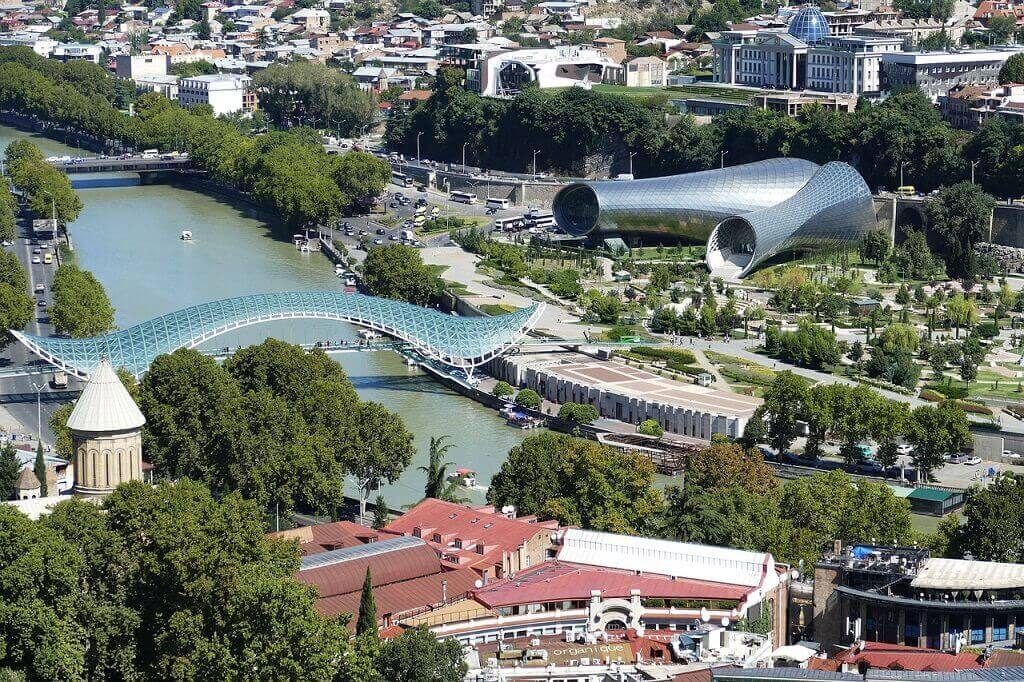 It is a modern design constructed of steel and glass with thousands of lights that go on as soon as night falls to create a dramatic sight.
Indulge in Georgian Wine
Tbilisi wine culture goes back 8000 years. It is one of the oldest wine regions on earth.  The wine industry is so integral to the national identity, in fact, that Georgia's Qvevri wine making process was added to the UNESCO intangible Cultural Heritage list in 2013.  One of the best known Georgian wine regions is Kakheti. The wine is inexpensive, compared to Western countries, and it is excellent!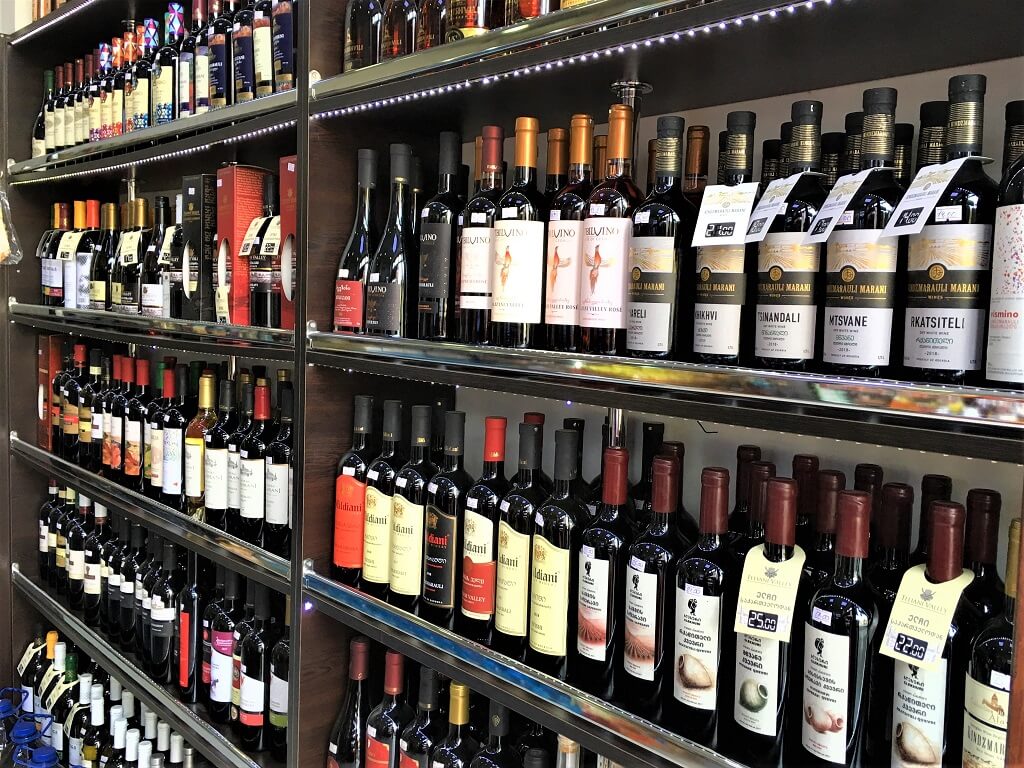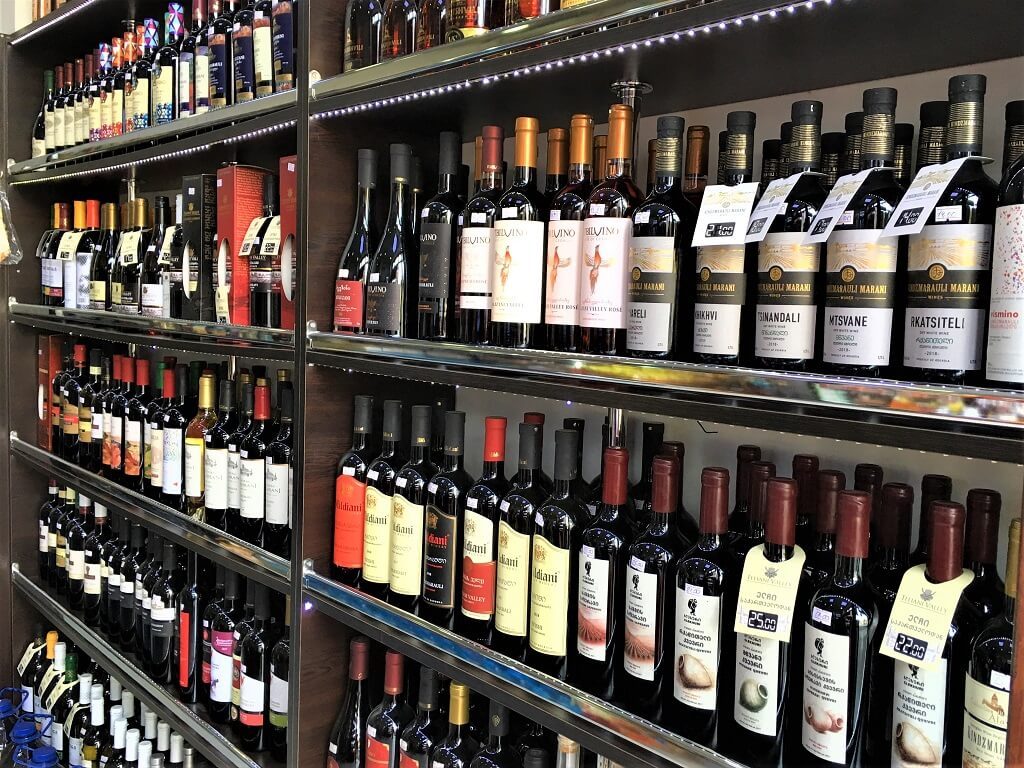 Sample Georgian Food
I found Georgian cuisine to be enormously underrated. It is very flavorful but not spicy. The dishes tend to be vegetable focused with accompaniments of meat and starches vs the other way around.  Cheese and other dairy products like yogurts also feature prominently on menus. The cuisine has Mediterranean, Turkish and Iranian influences with dashes of Russian due to the many years Georgia was part of first, the Russian Empire followed by the Soviet era.
Traditional must-try dishes include the khachapuri, a cheese-infused bread which frequently includes an egg in the center.  It's the Georgian equivalent of a slice of pizza. People can either grab one the go or dine on one in a formal restaurant.
My absolute favorite Georgian dish was the khinkali, a Georgian soup dumpling. The trick to eating a khinkali is to consume it without spilling the broth. You grab a khinkali by the handle, turn it upside down and nibble at the edges while slurping the broth. The stuffing can be anything from meat to vegetables.
Dolmos are also common in Georgia but the word doesn't mean "stuffed grape leaves" as it does elsewhere.  In Georgia "dolmos" means any vegetable stuffed with meat or rice.  You find them at many restaurants.
The Georgian desserts are varied and sweet but one uniquely Georgian sweet specialty is the churchxela, a candle shaped candy made of dry fruit and nuts dipped in grape juice and dried into a sausage shape.  The candy is sliced and served with cheese and wine or by itself.
Where to Eat in Tbilisi
Tbilisi is packed with great restaurants from simple cafeterias to high-end establishments. Many specialize in a specific dish or feature regional dishes. Three stand-out restaurants specializing in Georgian food include:
The Bread House serves delicious Georgian comfort food at reasonable prices.
Pasanauri Garden has an outdoor seating area. The specialty of the house is khinkali in all its glorious iterations. Order a bunch of different stuffings and share.
No 1 Khachapuri Adjaruli on Rustaveli Avenue is the place to go for traditional khachapuri.  Another can't miss experience so centrally located that you'll probably be near it several times while in Tbilisi.
 Get Out of Town 
The outskirts of Tbilisi are a treasure trove of history and culture. And the destinations are close enough to make for good day trips, or a weekend visit.
Visit Mtskheta
Mtskheta is the site of early Christian activity and the former capital of Georgia.  Legend has it that it was here, in this striking town of brooding monasteries and medieval castles, where the Mtkvari and Aragvi rivers meet,  that St. Nino first preached Christianity to the local residents. As a result, Christianity was first proclaimed the state religion in Mtskheta in 337 CE.  The country has remained firmly rooted in Christianity despite its history as part of the former Soviet Union.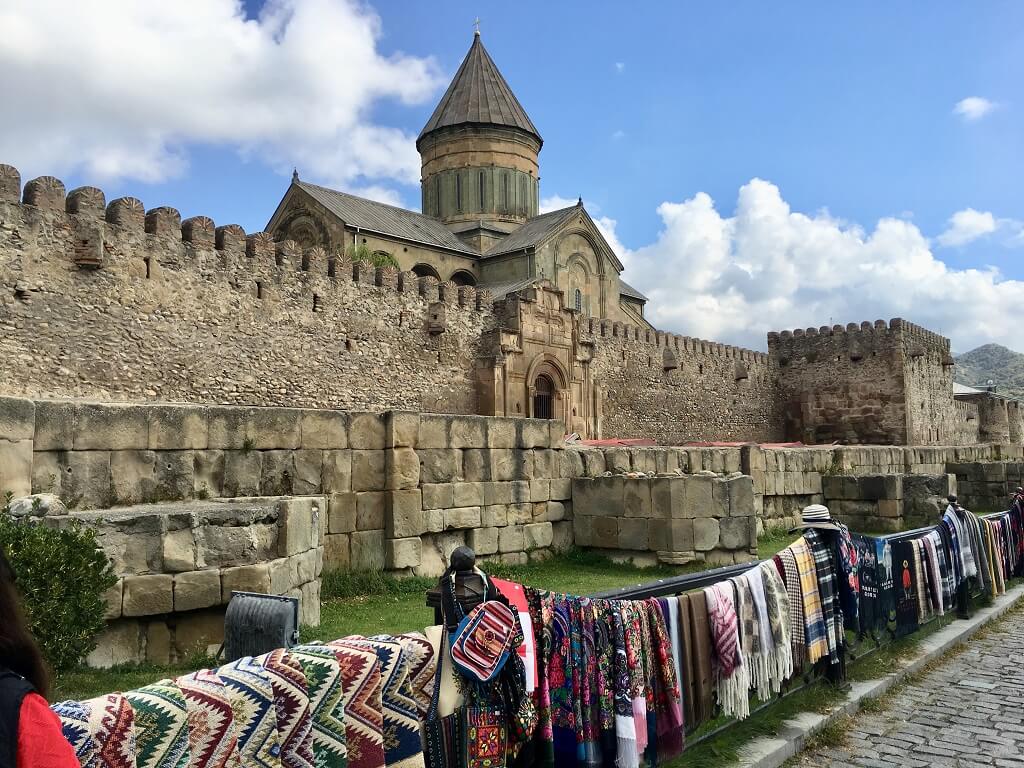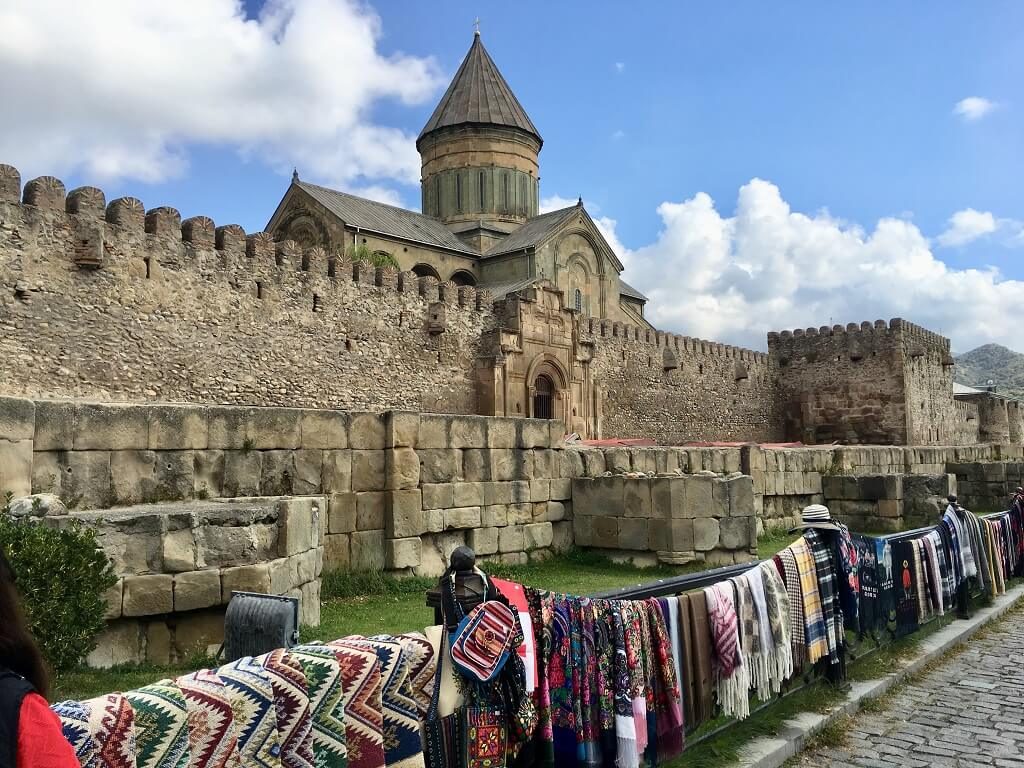 The town is also the site of two of Georgia's UNESCO World Heritage sites, the Jvari Monastery and the Svetitskhoveli Cathedral.
At less than an hour from Tbilisi, Mtskheta makes for an ideal day trip from Tbilisi. A visit to Mtskheta is an excellent opportunity for souvenir shopping and getting a feel for the country outside of the capital city.
Insider tip: Don't forget to try the delicious wine ice cream, a specialty of the area.
Discover Jvari Monastery
Jvari means "The Monastery of the Cross."  Visiting this 6th-century monastery is like taking a trip back in time.  The location is stunning. It sits stoically on a mountaintop with spectacular views of Mtskheta and the surrounding countryside as far as the eye can see.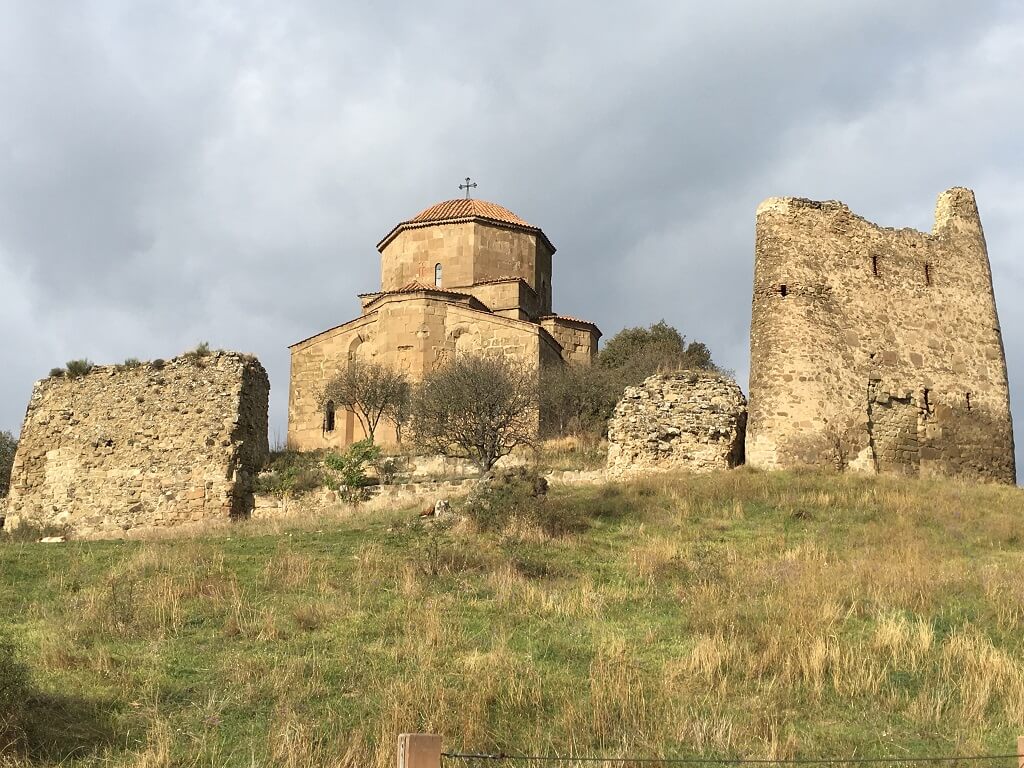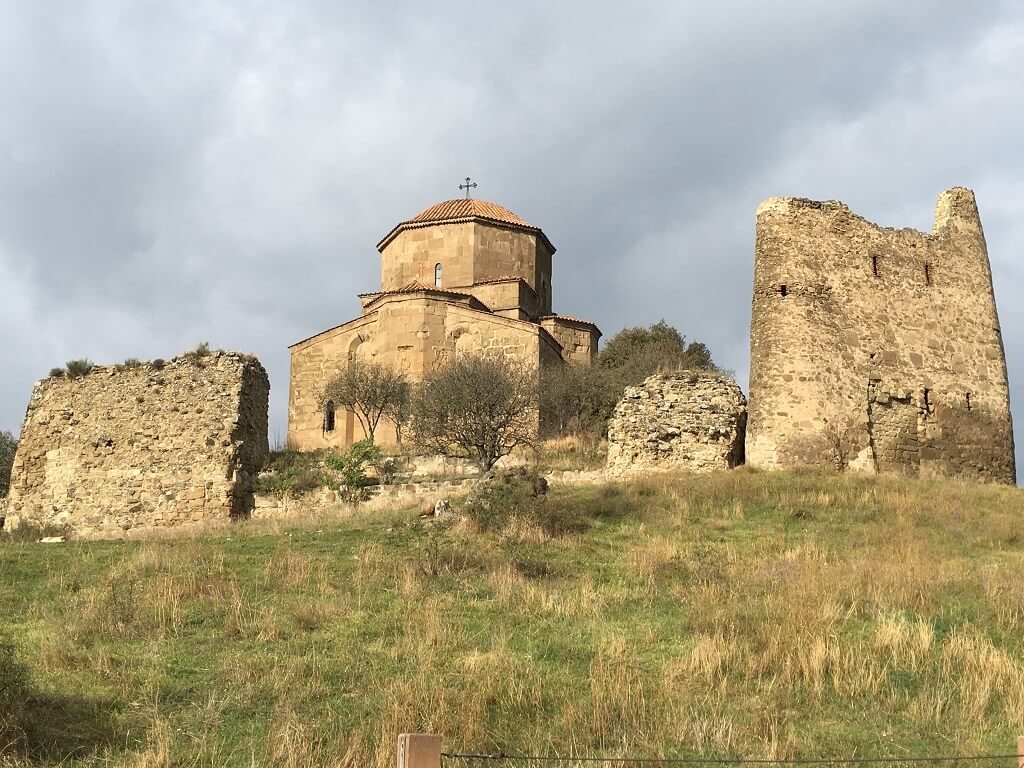 From this vantage point, you can also see Svetitskhoveli cathedral. The monastery has been declared a UNESCO World Heritage site.
See the Svetitskhoveli Cathedral
For sheer opulence and dramatic architecture, 11th-century Svetitskhoveli Cathedral is the most magnificent religious building in Georgia. In fact, it is because of its beautiful architecture and historical significance that the cathedral has been declared a UNESCO World Heritage site.
Svetitskhoveli Cathedral is the religious heart of the country and the burial place of King Vakhtang I, founder of Tbilisi.
There are many legends associated with the cathedral.  One is that the robe of Jesus Christ is said to be buried in its depths.  Another states that King Giorgi, the ruler when the cathedral was built ordered the architect's hand to be cut off so he could never create anything so beautiful again.  The religious splendor of the cathedral is overwhelming. I can only imagine the impression this opulence made on the minds of the simple peasants that witnessed it being built.  It is a must-see in Tbilisi.
Explore Ananuri Fortified Complex
An hour and a half from Tbilisi is the 17th-century Ananuri fortified complex, the ancient seat of the Aragvi, a royal feudal family.   The complex is actually two castles joined together by a crenelated stone wall. It also holds two churches and several burial sites.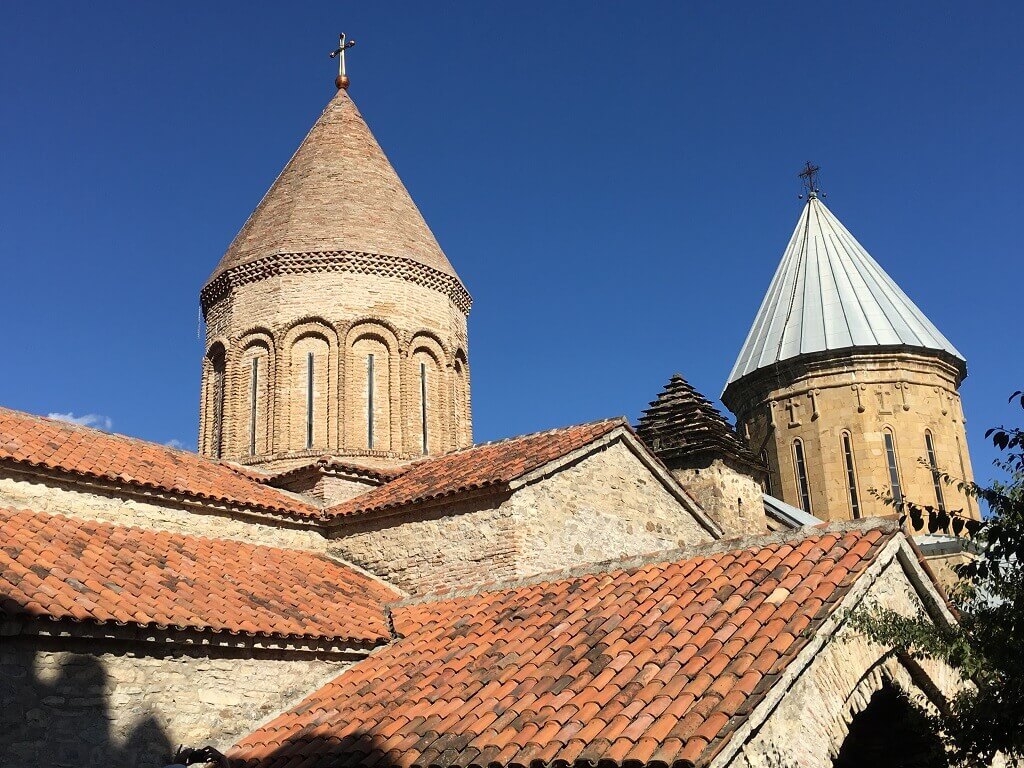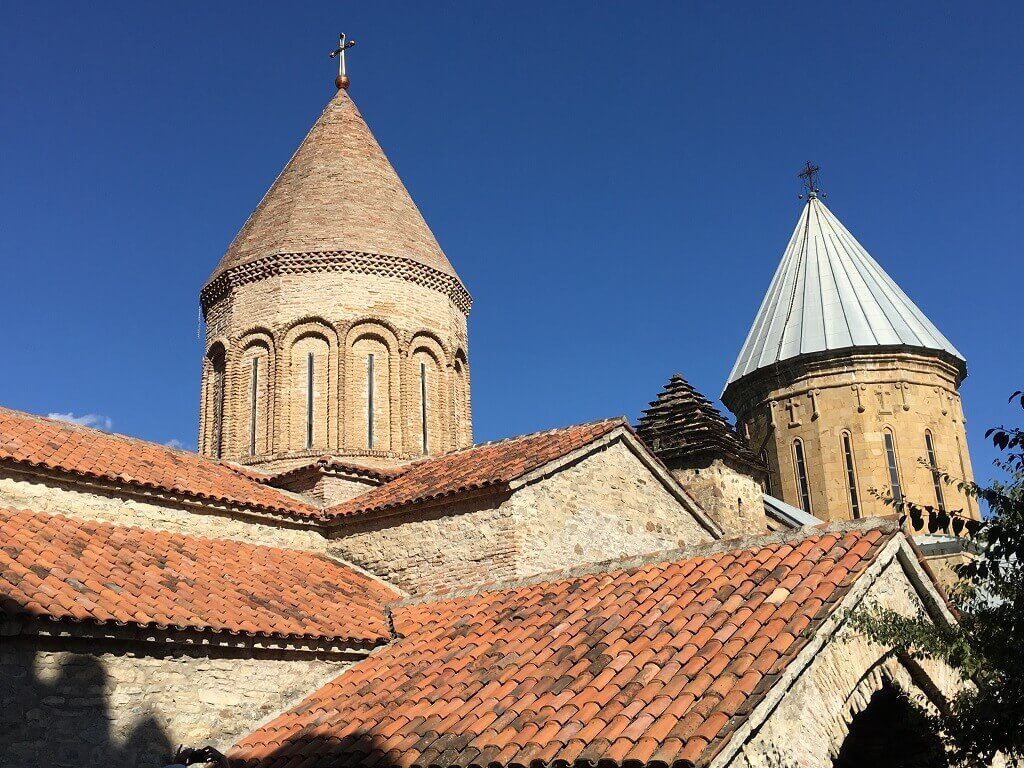 Some areas are in ruins but most are remarkably well-preserved.  Ananuri's historical value is in displaying what a fortified castle in the 1600s looked like. It's wonderful to wander around and imagine the hustle and bustle of this castle in its heyday.
Where to Stay in Tbilisi, Georgia
For a cool experience, you may want to stay at a boutique hotel in the renovated home of Georgian royalty. The Museum Hotel, with its Asian flair and welcoming outdoor court, is one such place near everything you want to see in Tbilisi.
Tbilisi doesn't lack for accommodation options from hostels to high-end.  Check out places to stay in Tbilisi, Georgia.
Want to know more about Georgia's history, culture, and cuisine?  Take a look at these travel guides to help you plan your trip.
If you've been to Georgia, what were your impressions?  If you're getting ready to travel there, what do you most want to see? Let us know in the comments.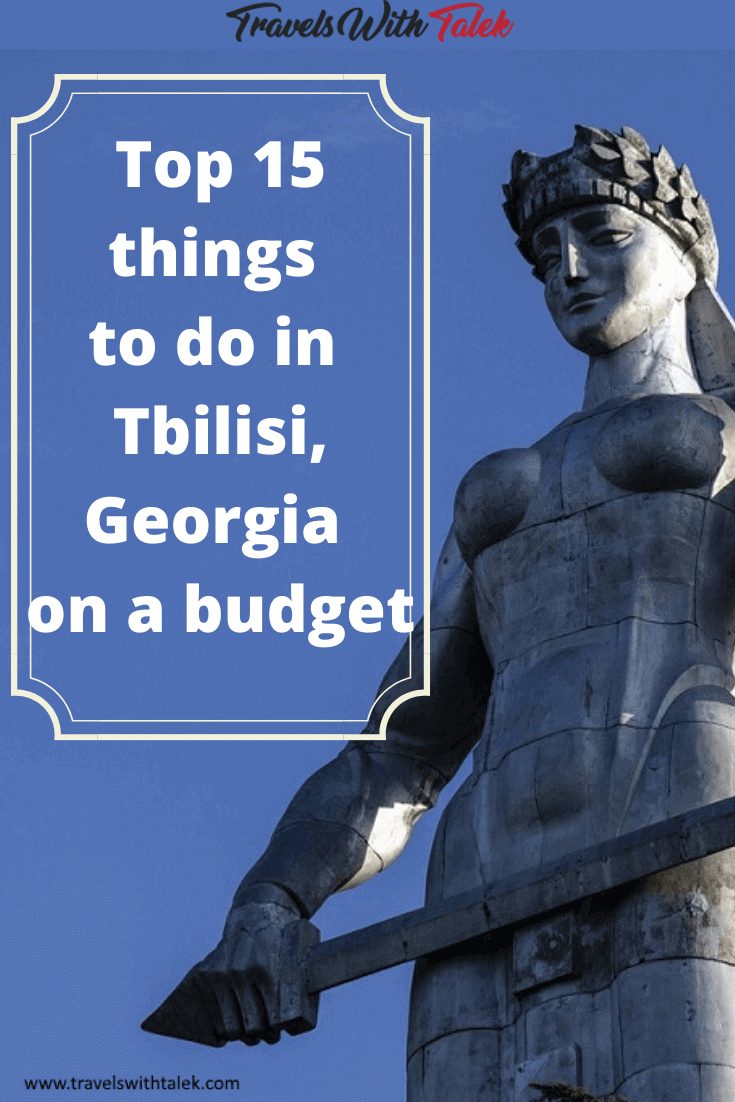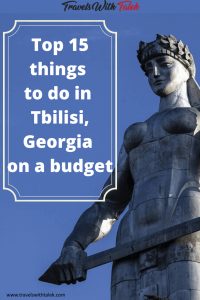 BTW, if you are getting ready for your trip, make sure to take advantage of these useful, money-saving links to book your trip:
I personally use, and can recommend, all the companies listed here and elsewhere on my blog. By booking through these sites, the small commission we earn – at no cost to you – helps us maintain this site so we can continue to offer our readers valuable travel tips and advice.