Updated June 2020.
I recently had the opportunity to explore the wonderful places to visit in Baku, Azerbaijan's unusual capital. This enchanting city facing the Caspian Sea is a study in contrasts.  Seventh century structures compete for attention with with modern skyscrapers. Ancient caravanserai, rest-stops on the old Silk Route, sit next to world-renown architectural landmarks.
There is so many sights to see in Baku that you'll need a well-planned Baku itinerary to help you maximize your time.  Here is what just might be the perfect Baku city tour.  Join me on this unforgettable adventure in Baku, Azerbaijan.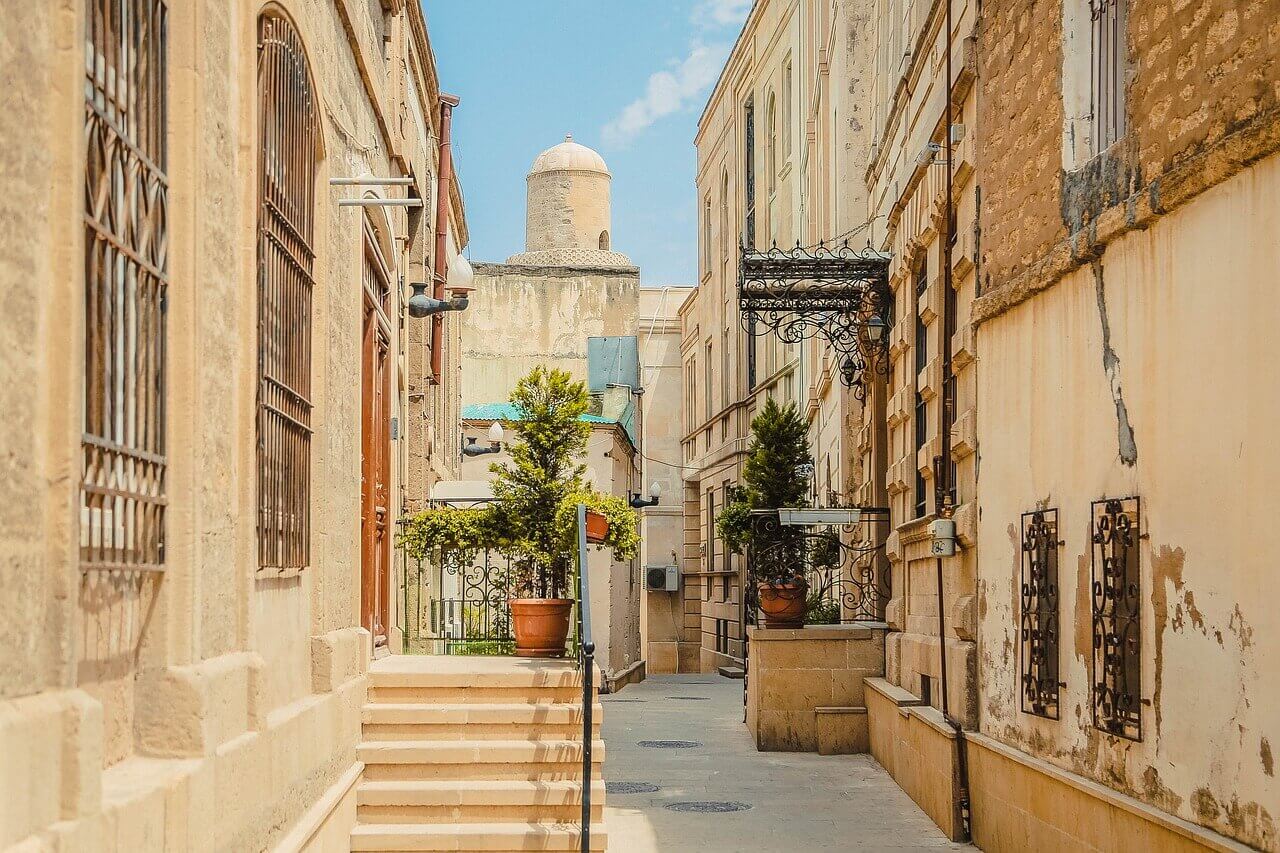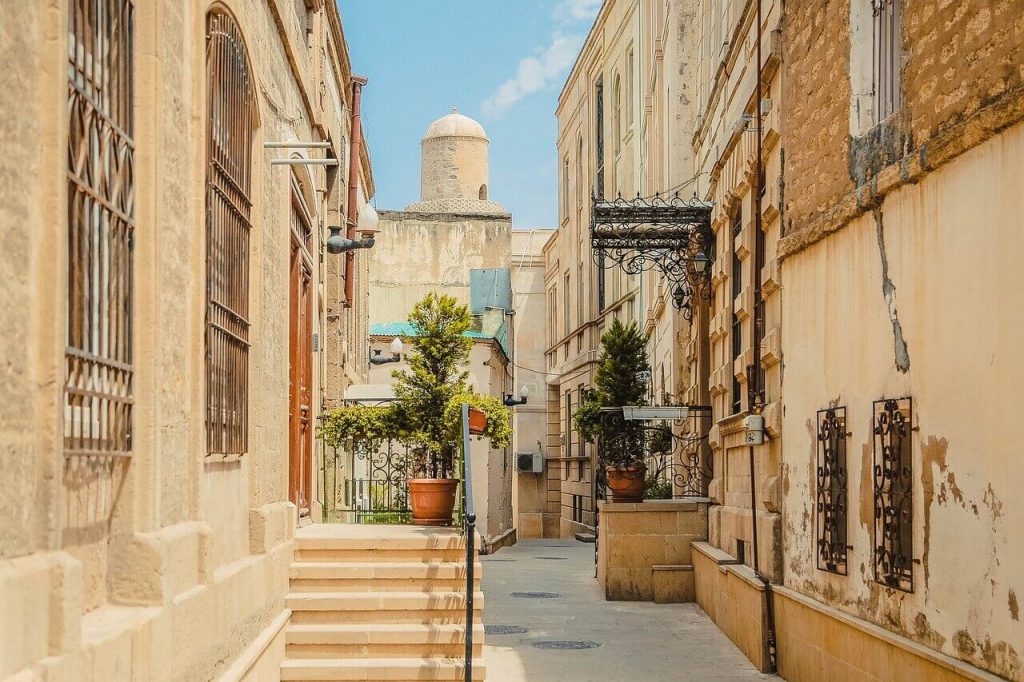 When I was a kid in high school I frequented a candy store outside my subway stop that sold paperbacks. One day I found a book called Ali and Nino, by Kurban Said, about a Muslim Azerbaijani boy and a Christian Georgian girl that fall in love in Baku around the time of WW I, an especially turbulent time in Azerbaijani history just before Soviet rule.
The book did such am amazing job describing Baku that I fell in love with this exotic city so outside my cultural frame of reference.  I read up on the fascinating things to see and do in Baku. I wondered  what Azerbaijan cuisine was like.  I knew I'd visit one day.  Although I always loved travel, I believe that specific book kicked my travel obsession into high gear and influenced my life-long travel passion.
Many years later, I was reading one of travel guru, Paul Theroux's many travel books. He said that as a young man he came across the book Ali and Nino that caused him to fall in love with the city of Baku, a place he had never heard of, and that the book was instrumental in contributing to his passion for travel.
"This wonderful novel—beautifully constructed, vivid and persuasive, a love story at once exotic and familiar—is living proof that art is indestructible and transcendent" said Theroux.
When I read Theroux's comments I thought it interesting that this book had the identical effect on two different people. It seems the book is a great travel endorsement for Baku. How appropriate Theroux's words were!
I finally made it to Baku and the city did not disappoint. Down to the lazy cats lounging in the sunny streets of Old Town, Baku was everything I imagined it would be.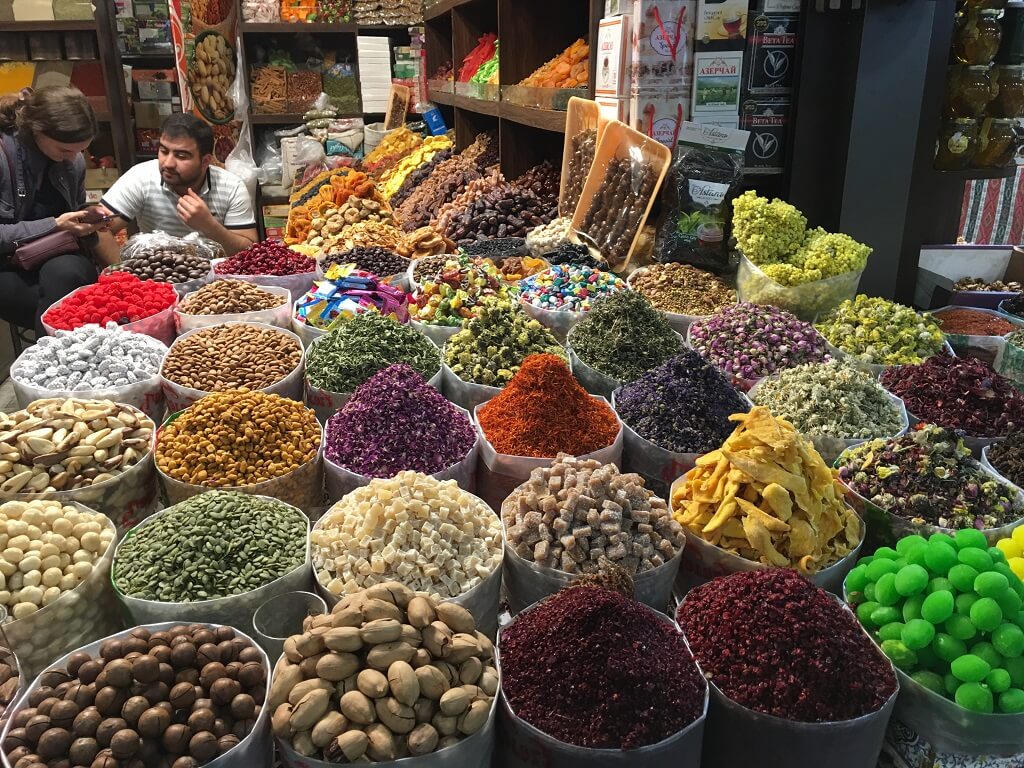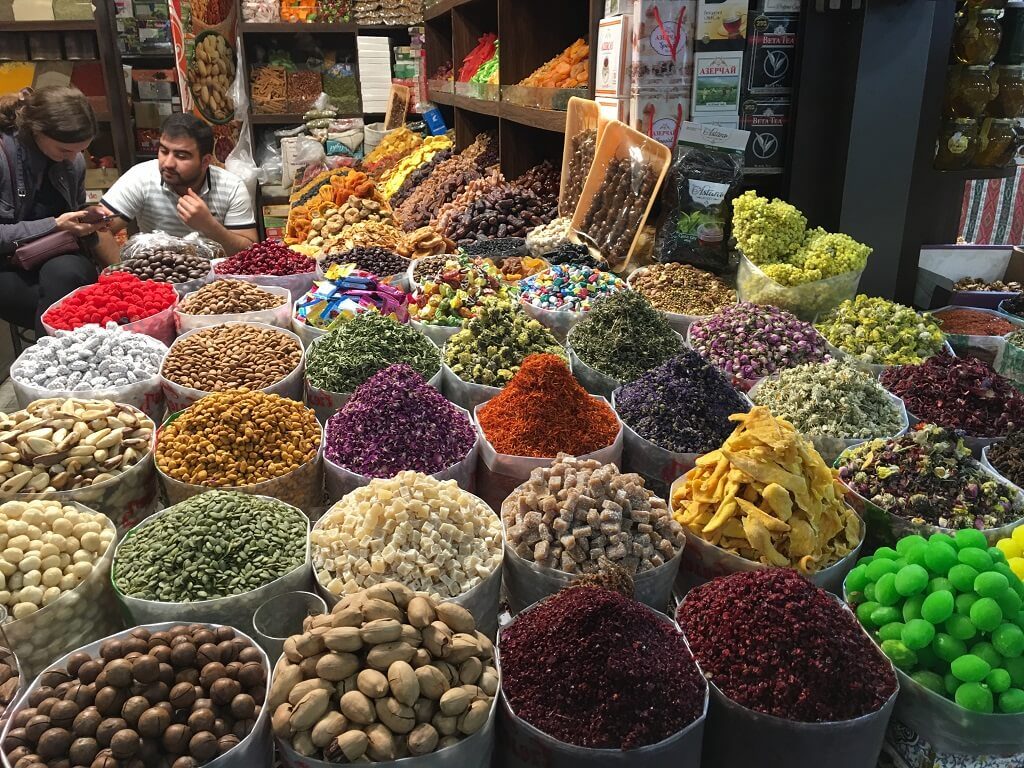 Baku, Azerbaijan: Facts to help you get around.
Azerbaijan has about 10 million people approximately 40% of which live in the capital city of Baku.
Azerbaijan is a secular Muslim country.  Only a small percentage of women wear veils, alcohol is easily obtained and the sexes mix freely. There are no clothing restrictions but women must cover themselves when entering mosques. Veils are available for free at mosque entrances.
About 80% of Azeri people are nominally Shia Muslims. The remainder are a combination of Sunni, Jews, Christian and other religions. The people pride themselves on their religious tolerance.
Azerbaijan's ancient religion is Zoroastrianism which dates back over three thousand years. It was the dominant religion until Islam arrived in the 7th century CE.  Vestiges of Zoroastrianism are still visible in modern Azerbaijan today. Historians believe that Zoroastrianism influenced many modern day religions including Judaism, Christianity, Islam and Hinduism. It is believed the ancient Zoroastrians worshipped fire.
Most nationalities require visas to enter Azerbaijan. Visas are easily obtained online or by contacting a visa service such as iVisa.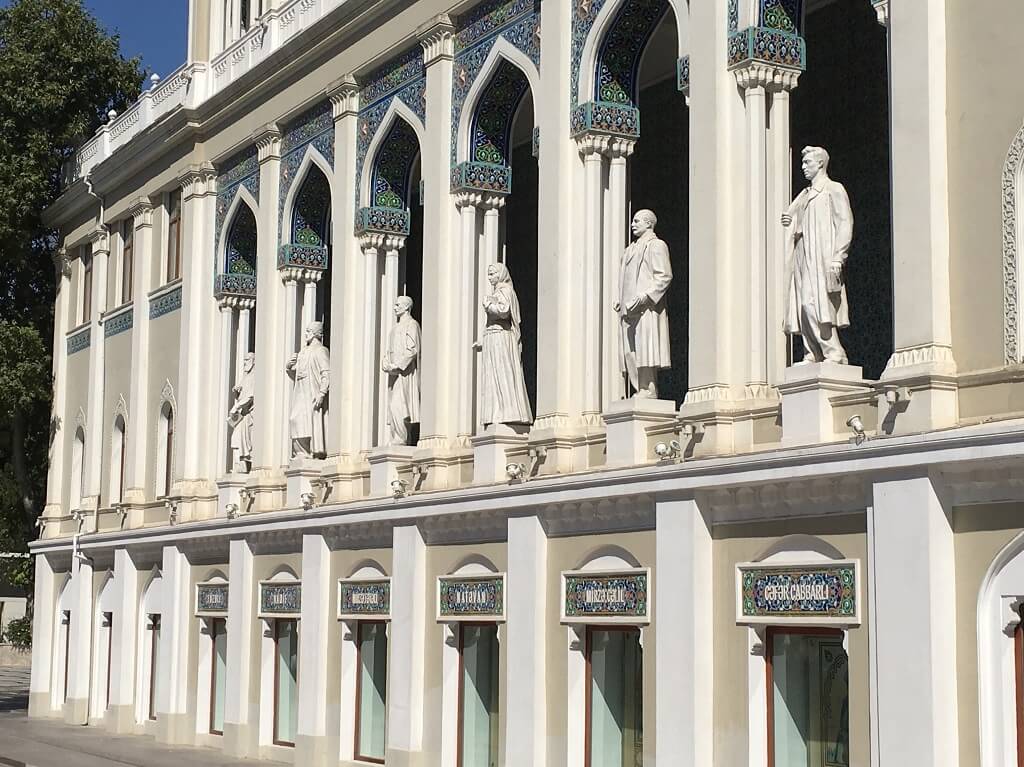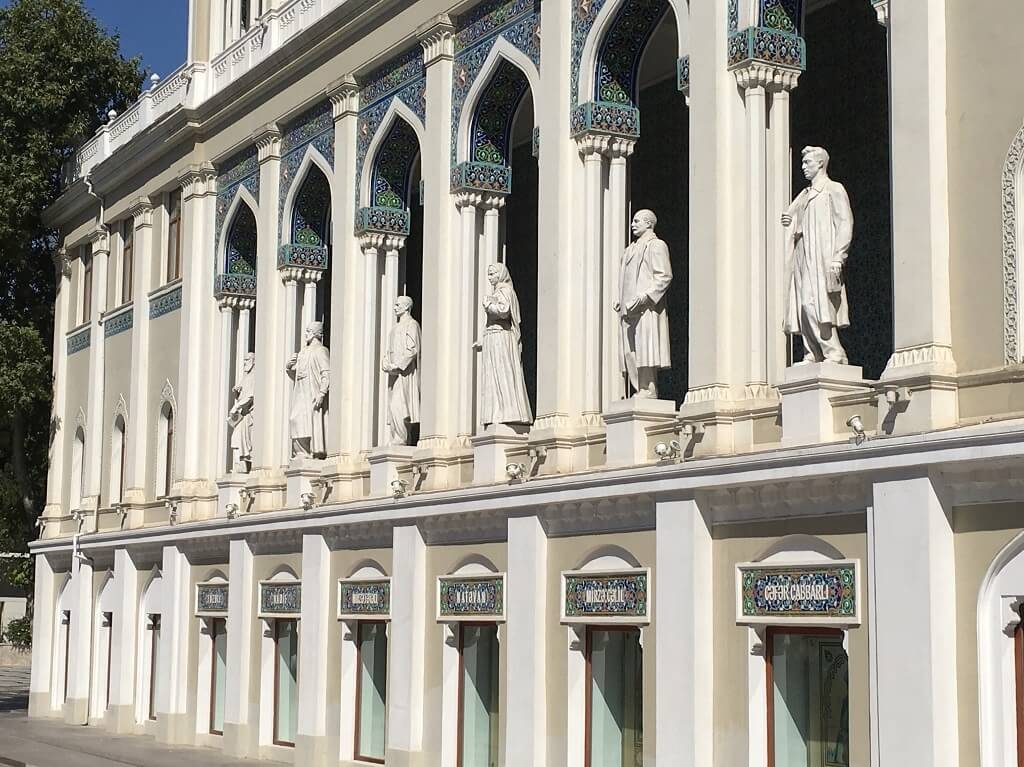 Baku can be as inexpensive or as luxurious as you like. Accommodations range from the opulent Four Seasons and Fairmont Hotels to cozy, well-situated hostels and everything in between. Likewise there are meals and transportation options for every budget.
Azerbaijani currency is the manat. One manat is about $0.59 of a U.S. dollar.  ATMs are readily and conveniently located throughout Baku.  International credit cards are accepted in most hotels and restaurants in tourist locations, but less so in areas outside Baku.
Uber is available in Azerbaijan and much cheaper than standard taxis. There are buses and subways with convenient routes but you need to buy a BakiKart (Metrocard) at main subway station kiosks to use public transportation. The price is 2 manat. An average subway ride is 0.30 of a manat so one BakiKart will get you several subway rides.  This is one of the cheapest rides I've encountered.
The language in Azerbaijan is Azeri, a Turkic language closely related to Turkish. An Azeri speaking person and a person speaking modern Turkish will be able to understand each other. Russian is widely spoken especially with the older generation.  Younger people prefer to study English. Many tourism workers will speak English.
Places to visit in Baku, Azerbaijan: the perfect Baku city tour 
Old Town
One of the most remarkable places to visit in Baku is Old Town, the historical core. It is the oldest part of the city with some historians dating the construction as far back as the 7th century.
The historical core of Old Town is about 50 acres of winding alleys lined with homes decorated with iron-wrought terraces opening to sunny plazas all surrounded by towering fortified walls.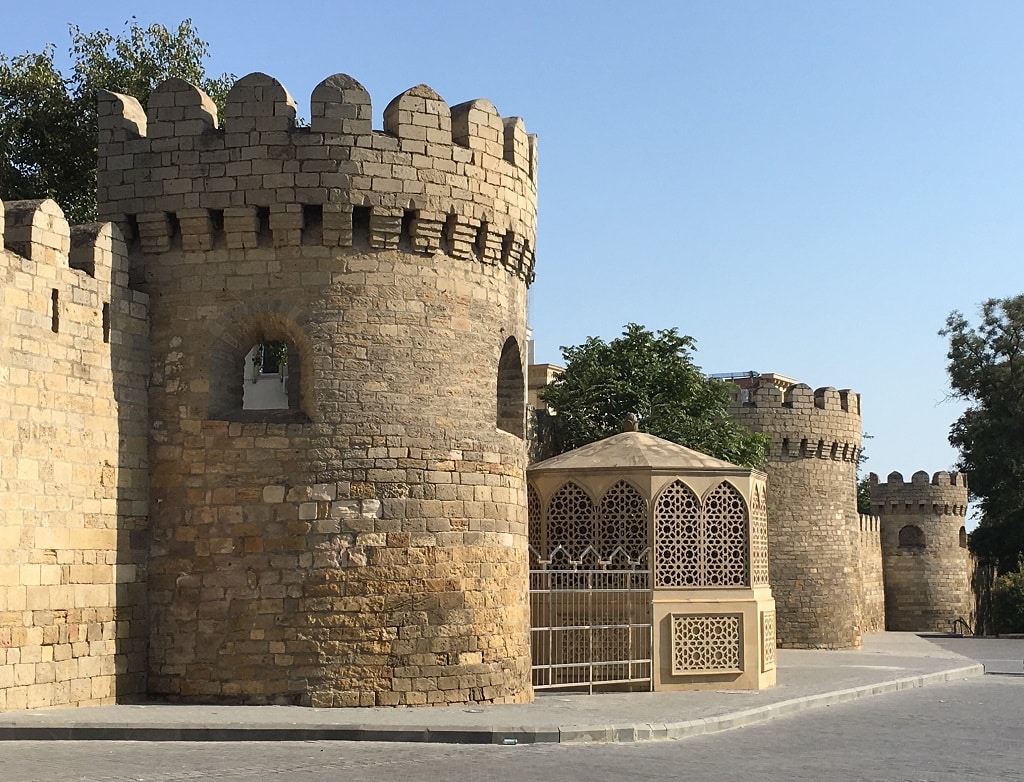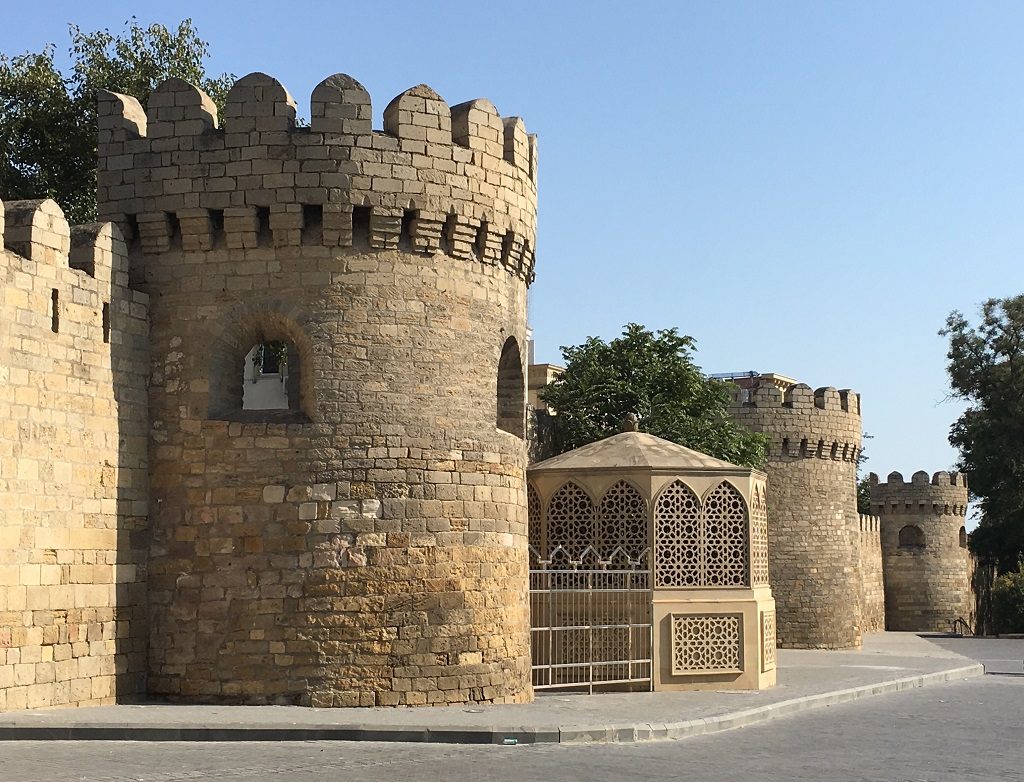 Buildings through the city are constructed in the local white limestone. This makes the structures appear a creamy white color that dazzles in the sunlight.
The town itself, along with its major historical sights of Maiden Tower and Palace of the Shirvanshahs, were declared UNESCO World Heritage Sites in 2000.
The Maiden Tower in Old Town is considered a symbol of Baku.  It is a circular tower, almost 100 feet high, believed to have been built in the 12th century over an already existing structure form the 5th to 6th centuries. Legend has it the tower has never been breeched, hence the name.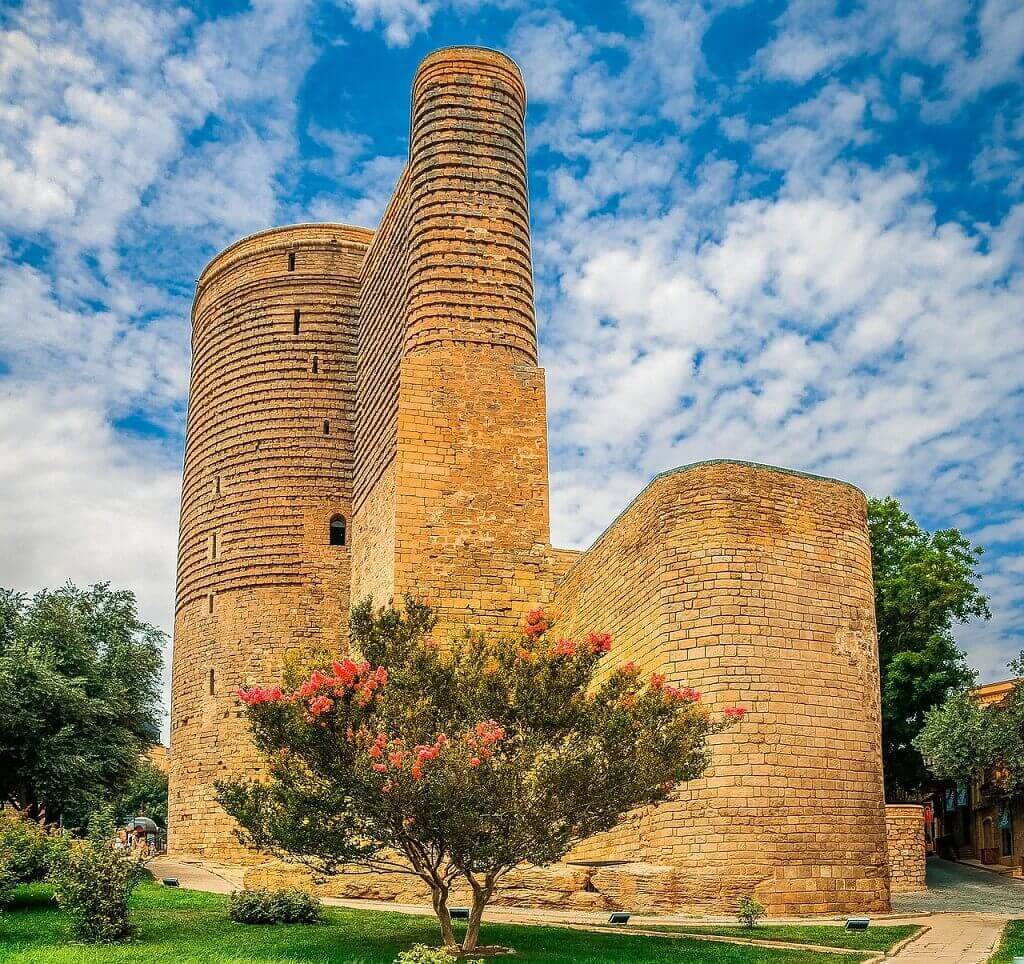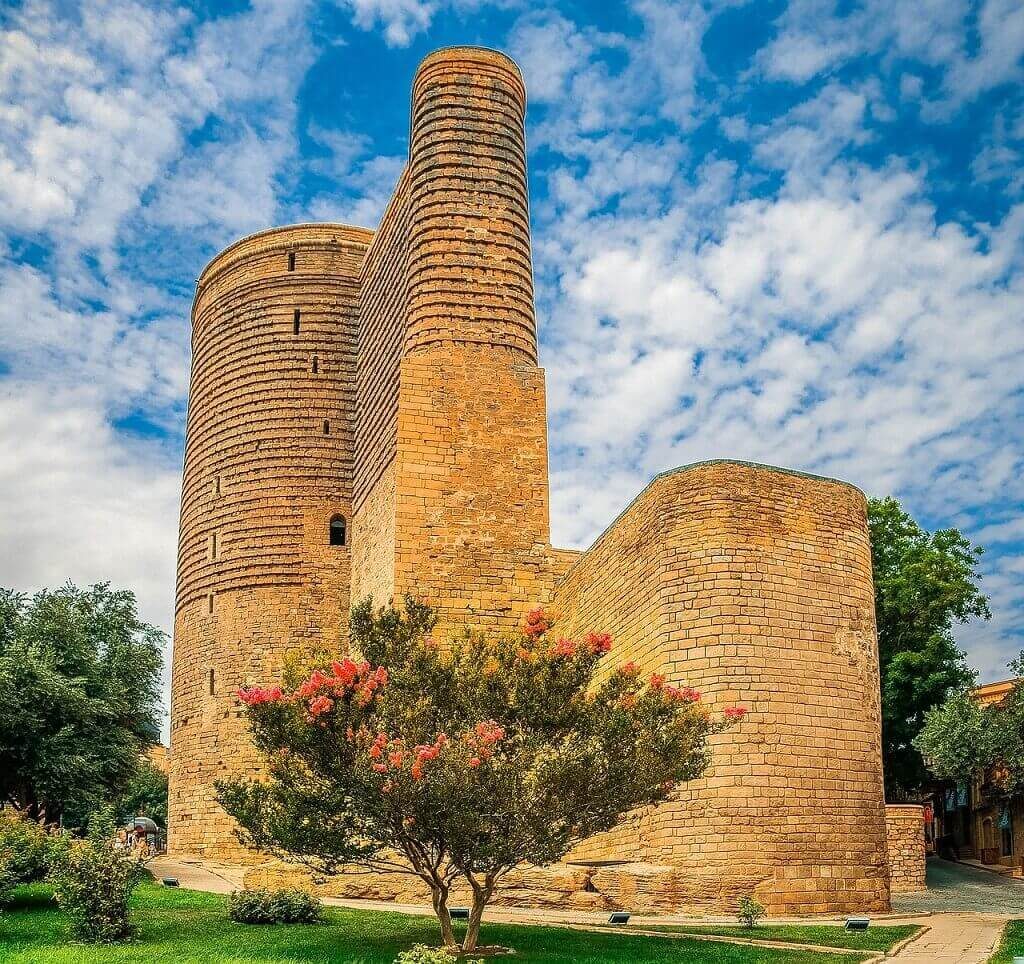 Inside the tower is a small museum displaying the history of the city.  Climb to the top for a great view of Baku; its winding alleys, hidden gardens, mosque minarets and the circular bay.
Palace of the Shirvanshahs is the former seat of the ruling Shirvanshahs who ruled in Azerbajan in the 15th century.  No longer a palace, today it is more like a well maintained museum, mausoleum and garden on the original palace site.
The architecture is typical of the time and place; graceful arches, delicate carvings and lush peaceful gardens with tinkling fountains.   It is also the burial site for past royalty, one of the more interesting rooms.
There is a small area where an attendant will take a picture of you in period clothing, a tacky tourist tactic I've never been able resist.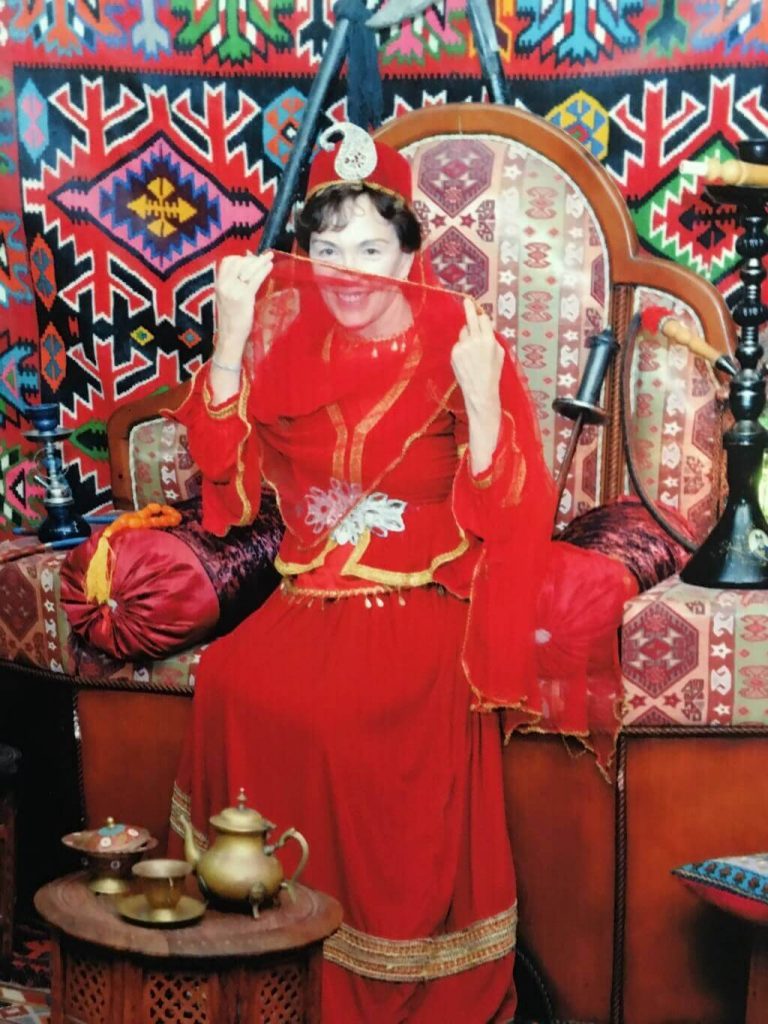 The Medieval Market Square is an archeological site right in front of the Maiden Tower so it is impossible to miss. What was once the square is today an exhibition center for interesting excavated stones representing animal figures.
This area is considered by many to be the spot where one of Jesus' disciples, St. Bartholomew was martyred.
For me the most interesting aspect of this area is the caravanserai converted into restaurants.
A caravanserai is a place where the travelers on the ancient Silk Road would come to rest with their animals as they continued their journey across central Asia and Europe.  The travelers would set up shop in little alcoves and stable their animals in an open central area. After a few days they moved on.
Azerbaijan was a major stop on that route. Many of the caravanserai remain and have been converted into restaurants which you see throughout Baku.
Nearby is the Museum of Miniature Books. This is the private collection of Zarifa Salahova who, over a 30 year period, had the Jobian patience to accumulate this remarkable collection and share it with the public.
You'll find miniatures of the classics as well as the Bible and Qur'an. The smallest book requires a microscope to see.
Donations have joined the collection from all over the world making it one of the quirky places to visit in Baku. It is worth a visit if only for curiosity sake.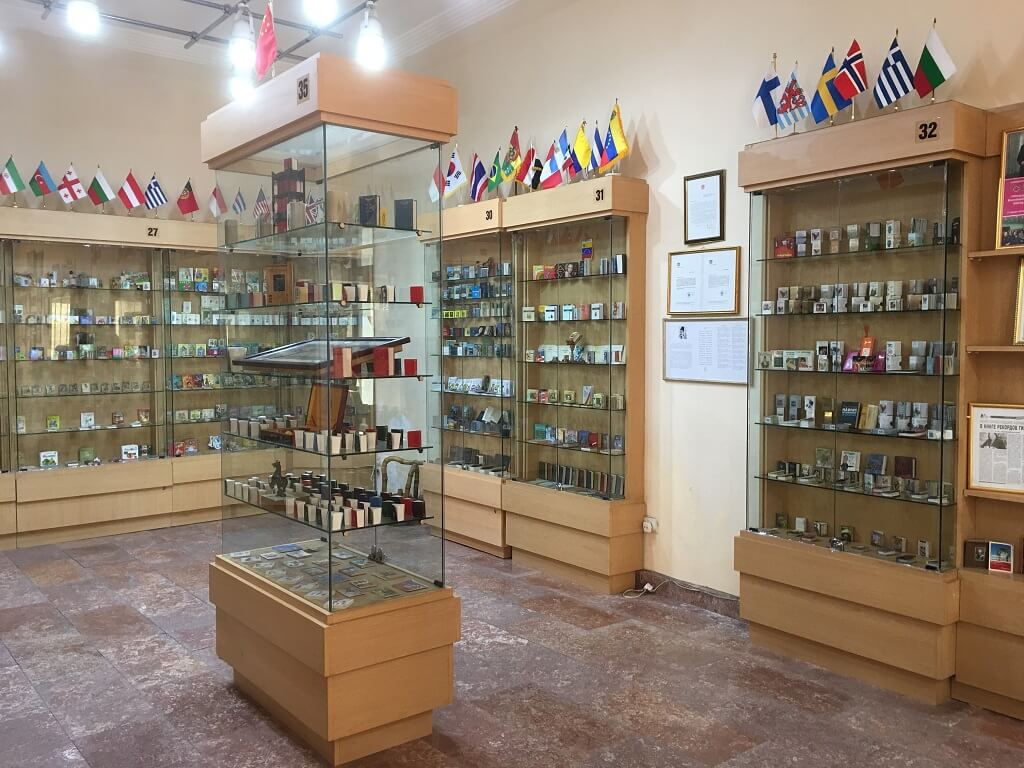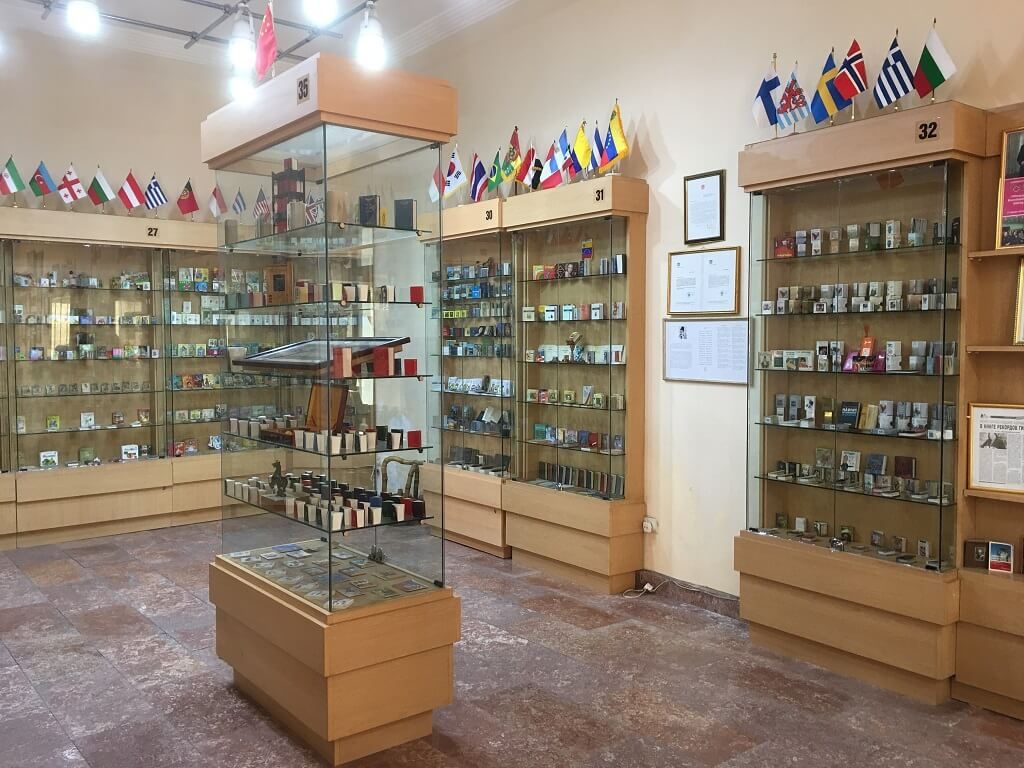 Right around the corner you'll find the Coin Museum, a modest little museum housed in a one-room mosque displaying ancient coins.
There are a series of ancient public baths in Baku most of which are ruins, but really cool ruins. These baths were segregated, of course, and one interesting story involves the woman's bath.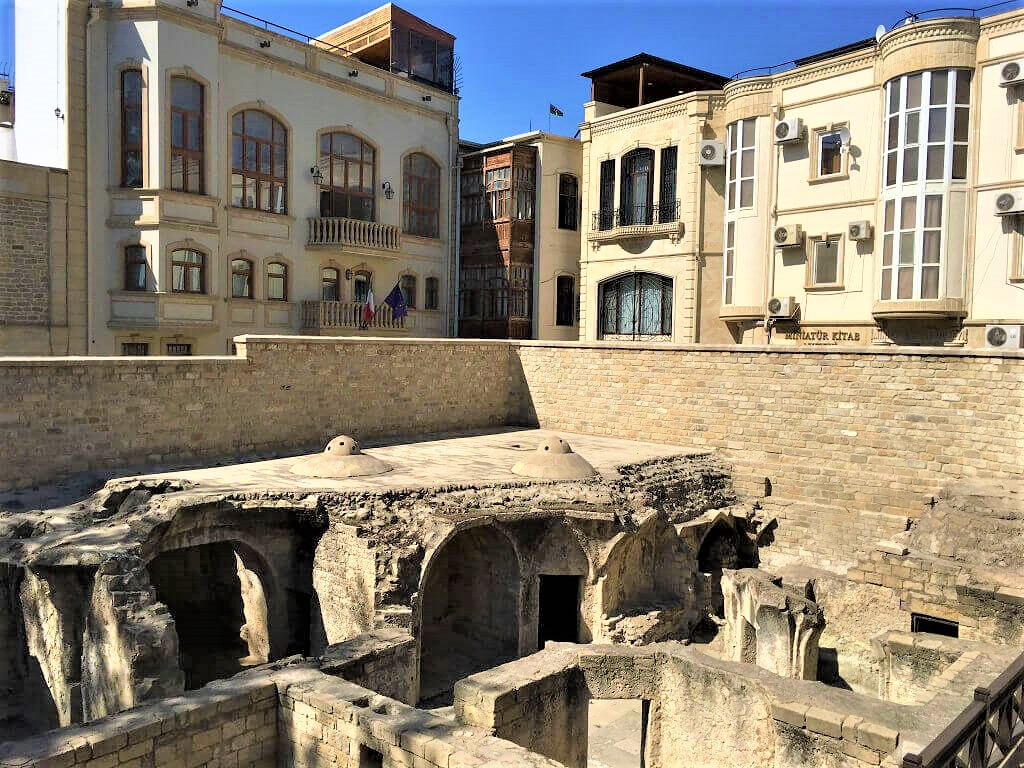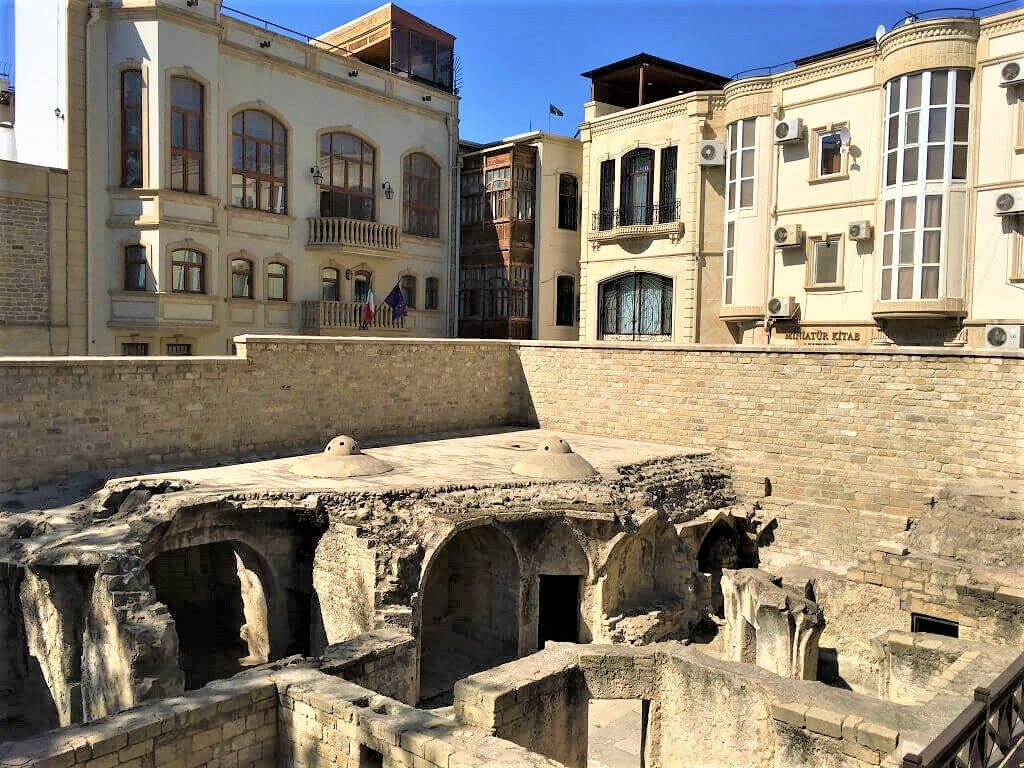 When a woman was being considered for marriage, the parents negotiated the deal while the couple were prohibited from meeting.  Wanting the couple to be as well-matched as possible, the groom's mother would evaluate the prospective bride in the nude while at the public baths and make a recommendation to her son based on the review.
The poor bride never knew she was being judged like a sow.  The legend does not say if the evaluation was  ever reciprocated.
Old Town is the artistic center of Baku. One of the most pleasant activities in Baku's Old Town is to wander in and out of the little art studios.  You can see the artist at work as well as view the artwork on display. You might end up taking home a beautiful artistic memento of your trip. It's fun to wander around this neighborhood. It has less tourists and is one of the more sedate and authentic places to visit in Baku.
Some of the more prominent galleries include: Ali Samsir's Studio and Q Gallery but there are several.
Highland Park Area
The area around Highland Park, one of the highest points in the city, is a good place to learn more about Azerbaijan's more contemporary history. The various monuments commemorate Azerbaijan's heroes. It is one of the most moving places to visit in Baku.
After time of the Zoroastrians, Muslims settled in the Caucasus area and firmly established Islam in the 700s CE. That's how Azerbaijan became a Muslim country.
From 1806 to 1917 Azerbaijan was part of the Russian Empire. In  1917 the Russian Empire fell, an event that reverberated worldwide.  Azerbaijan took advantage of this to declare their independence and formed the first secular Muslim republic in the world, a fact recognized by most major powers of the time.
The celebrations were  short-lived however,  because what became the Soviet Union subdued them in 1920.
From 1920 to 1991 Azerbaijan existed under Soviet rule but the desire for freedom was too strong and they again struck out on their own.
On the days of January 19 and 20 Soviet tanks and troops took to the streets of Baku killing and wounding demonstrators calling for independence.  Hundreds were killed on those days the Azeri refer to as Black January.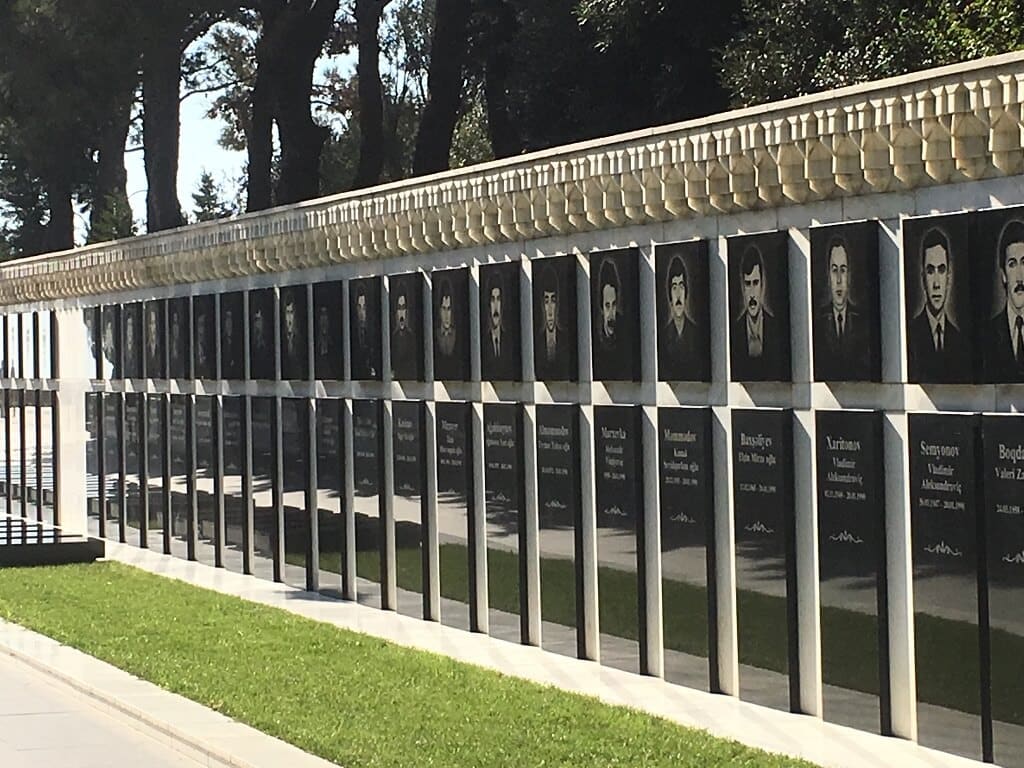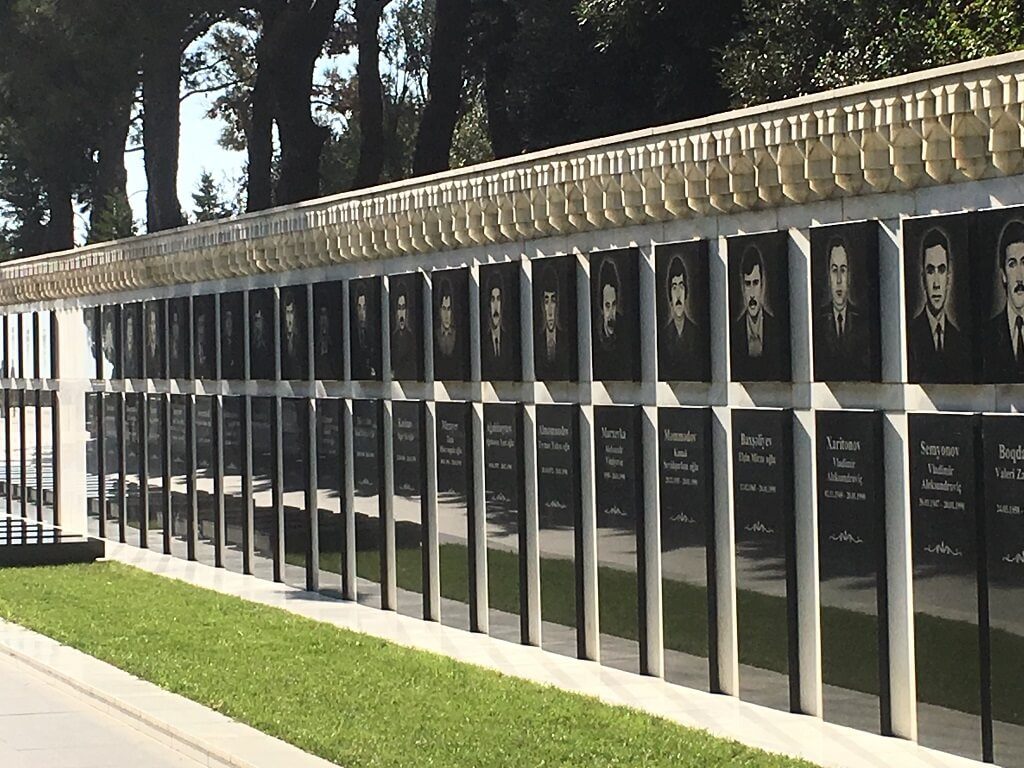 It is here in Upland Park where you see the utterly devastating memorial to the demonstrators. The images of 131 Azeri men, women, children and couples are etched in black stone, in perfect rows in a spot called Martyrs Alley. It is a moving exhibit, one of the somber places to visit in Baku which cannot be missed.
Also in Upland Park is one of the best views of Baku from this high vantage point as well as the beautiful Highland Park Mosque.
The Carpet Museum
From Highland Park you can take the cable car down to the city to visit the famous Carpet Museum. Don't think carpets can be THAT interesting?  Think again! You will be surprised when you leave and find yourself thinking that this is one of the marvelously unique places to visit in Baku…a perfect compliment to your unique Baku city tour.
First of all the museum is built in the design of a rolled up carpet. The two first floors display the country's most beautiful carpets representative of their respective regions.  There are also several examples of carpet design during the Soviet era, bizarre!  Lastly there is an amazing collection of all the interesting things you can do with a carpet.  It's so unusual you have to see it for yourself.
Fountain Square
The ideal spot for people watching, Fountain Square is a series of pedestrianized streets outside of Old Town starting at the Square and gradually cascading down to the sea where it connects to a shopping mall by a pedestrian bridge.  It is is an innovative, graceful piece of engineering and architecture.
The shops lean towards the high-end.  The restaurants are trendy. The leafy park is populated by African parrots.  One of the main thoroughfares, Nizami Street, has outdoor chandeliers! The entire effect is magical and you feel you are in a cross between Dubai and Paris.
At night the area sparkles with twinkling lights. Find some of the best clubs and restaurants of Baku here or just hang out at one of the many street cafes and watch the world go by.
The Flame Towers
Azerbaijan, and Baku in particular, has been associated with fire throughout its history.  The country's original practitioners of  Zoroastrianism are said to have worshiped fire.  Three flames have decorated the Azeri coat of arms for centuries and the country's natural gas cause areas of the country to sprout flames from the earth.
Due to this association with fire, these three dramatic and imposing skyscrapers have become a symbol of Azerbaijan. They are built in the  shape of a flame, hence the name.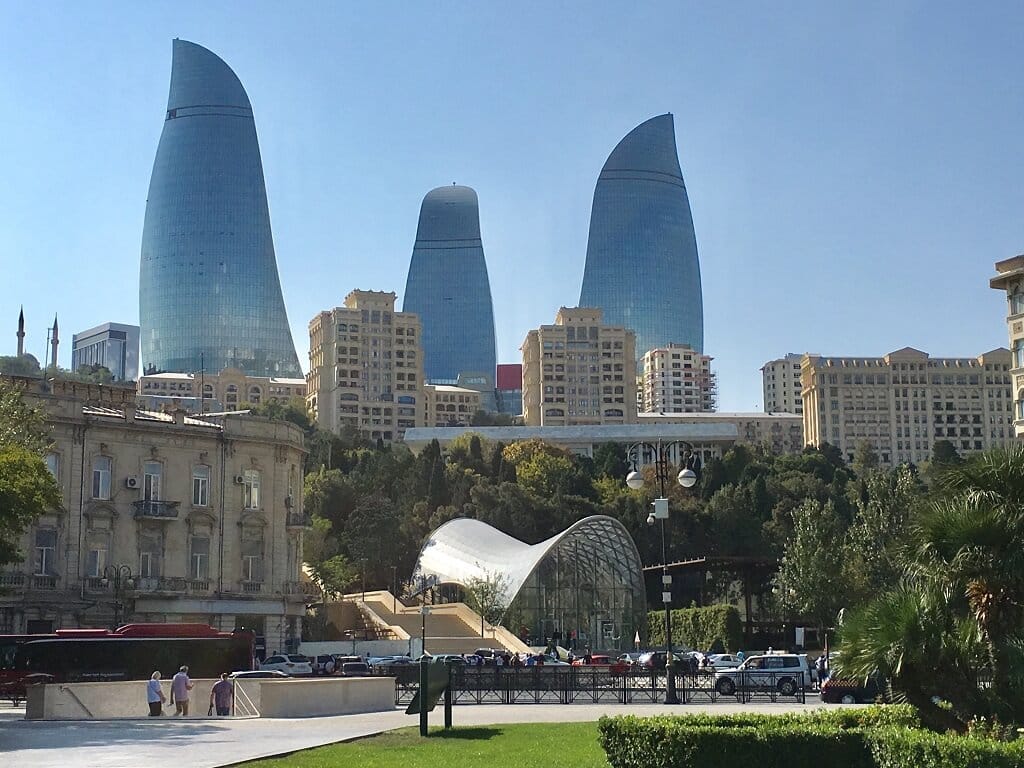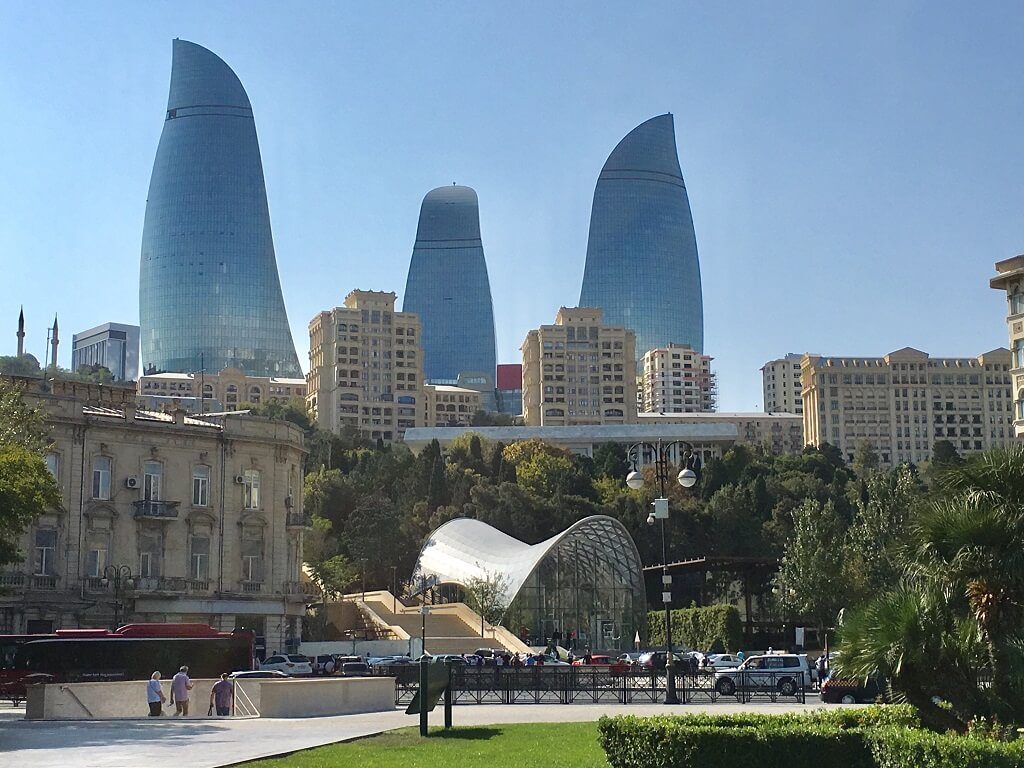 Completed in 2012, the tallest tower reaches 597 feet into the sky. One of the towers is a luxury apartment building, one is a 250 room Fairmont Hotel, and the last is an office complex.
The towers are visible from everywhere in Baku.
The Boulevard
Baku's Bulvar, also known as seaside boulevard. corniche or seawall is the largest in Europe at over 3 km long. It fronts the Caspian Sea and is dotted by parks, an enormous Ferris wheel and bike rental stations (5 manat/hr).  Throughout the day and evening the local residents stroll the Bulvar and enjoy the sea air.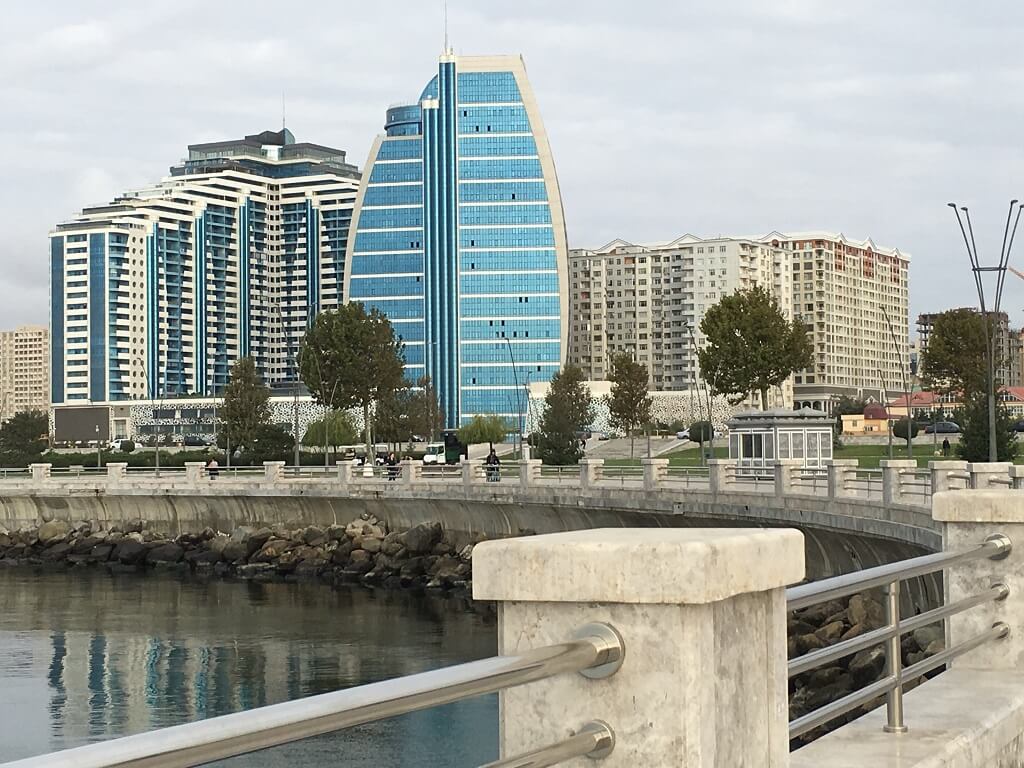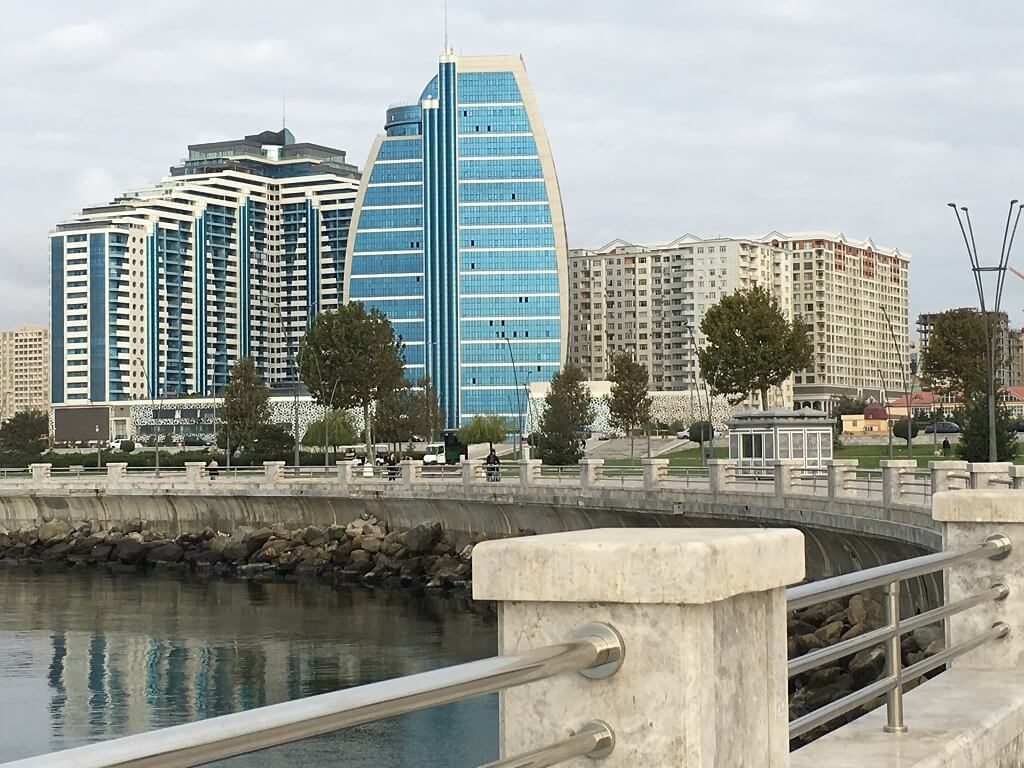 Every evening from about 8 pm until midnight the Flame Towers put on a light show like no other.  Each one of the 3 buildings lights up alternately displaying the colors of the Azeri flag, burning flames or other designs.
This spectacle can be seen from all over the city but the view from the Bulvar is especially impressive because it appears the city is on fire.
Heydar Aliyev Cultural Center
Probably one of the most unexpected things to see in Baku, the Heyday Aliyev Cultural Center is a must-see cultural bonanza.
The iconic building itself is the star here.  Designed by world-renowned Iraqi-British architect Zaha Hadid and named for the president of Azerbaijan from 1993 to 2003, the complex was completed in 2012.  It is said that an aerial view reveals the building to be Heydar Aliyev's signature.
Inside there is an informative exhibit presenting the former president's life and times. Also on show is a remarkable puppet collection, a mock up of various city buildings and art exhibits.
What will wow you, however, are the interior lines of the building; so fanciful, unusual and unexpected.  The center was constructed with no angular lines at all, only smooth curves creating an impression of a flowing structure.  It's like visiting a bizarre futuristic Disney exhibit or what you imagine the interior of an alien spaceship to look like.
Yasil Bazar
I love visiting local markets and the Yasil Bazar is definitely one of the best places to visit in Baku. Here is where you can get a real feel for the country; what things cost, what people eat; the locals' daily interactions. In Baku the market to go to is the Yasil Bazar.
Yasil Bazar sells fruits, vegetables, meat, nuts and spices. Good items to purchase that are typical of the area are the delicious Azeri teas, the local saffron and the sweet baklavas in dozens of colorful variations.
Azeri cuisine. What to eat in Baku and where to eat it.
I really liked Azeri food.  The cuisine has lots of variety and the food is very "farm-to-table."
An Azeri meal begins with a small salad followed by soup.  Next comes the main course and dessert.  This format never varied wherever I went.
All meals are accompanied by a type of water flavored with fruits, botanicals like black basil and sugar.  It is very refreshing and should be served cold.
Meat did not feature prominently as a main course.  The most meat I saw was bits of chicken and lamb accompanied by vegetables and rice (plov).  The real stars of the Azeri meal are vegetables…and lots of them.  Eggplants, tomatoes, peppers, cauliflower and some unrecognizable (but delicious) veggies are everywhere.  If you are a vegetarian, move to Baku!
One apparently typical local dish I saw on several occasions is stuffed eggplant, pepper and tomatoes in one dish.  Dolmos, stuffed grape leaves, are also common.  They can be stuffed with rice, ground meat and/or cheese and taste very different from what you get in the States. You eat then with yogurt, a typical accompaniment. Dolmos are so common there are even restaurants named after the dish.
 Dolma Restaurant, for traditional Azeri food.  OCAQ Art Café is a cute little spot right next to the ancient wall and near the art galleries.
Learn more about Baku with these handy reference materials.
What are some of your thoughts on the best places to visit in Baku, Azerbaijan?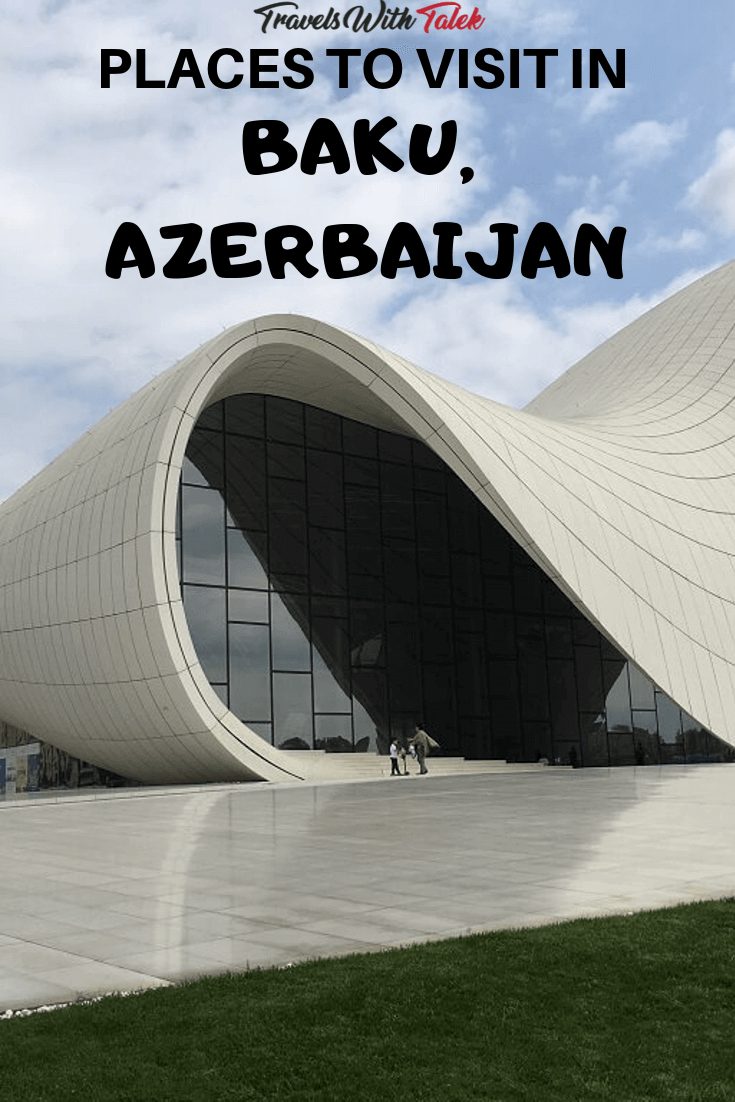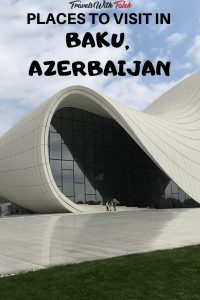 BTW, if you are getting ready for your trip, make sure to take advantage of these useful, money-saving links to book your trip:
I personally use, and can recommend, all the companies listed here and elsewhere on my blog. By booking through these sites, the small commission we earn – at no cost to you – helps us maintain this site so we can continue to offer our readers valuable travel tips and advice.