Updated April 30, 2021.
Surely Japanese toilets are the last thing you think about as you plan your travel adventure to Japan. But you better familiarize yourself.  These toilets might seem like the weirdest things in Japan, but they're actually pretty cool.
Japan is a place where your interaction with the local Japanese toilet can involve anything from acrobatic contortions to a high-tech misadventure with water hoses. What in the world am I talking about?!
Come with me on an unusual journey to understand the different and frequently amusing aspects of Japanese toilets — just one of the weirdest things in Japan you'll encounter.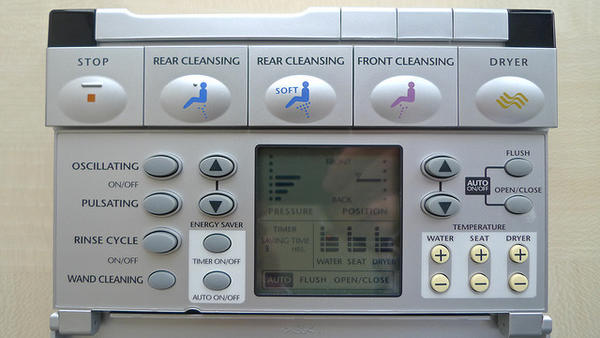 Weird Things in Japan: Why Toilets Are Serious Business
The Japanese take their toilets very seriously. It is in Japan where you find the gold standard of toilets.
My first encounter with one of Japan's high-tech toilets, sometimes referred to as washlets, was in my Tokyo hotel. I opened the door to my room and began inspecting the interior. Very nice. When I walked into the bathroom the toilet seat-lid raised by itself with the low whirr of a motor. I thought the room was possessed.
I had no idea such a thing as self-raising toilet seat-lids existed. Apparently, the lid raises and lowers automatically when activated by a motion sensor. A further examination of this oddity revealed a myriad of accessories with more dials, levers, and buttons than a fighter jet cockpit.
Features on a Japanese Toilet
Adjustable water temperature and pressure. The posterior wash is designed to be more powerful than the front wash.
Posterior Wash. A water sprout that sprays your bottom.
Front Wash (Bidet) for women.
Retractable nozzle sterilizer which remains in an enclosed compartment until ready for use then cleans itself so hands – and other body parts – never touch it. Not only is this one of the weirdest things in Japan, but this also sounds somewhat malevolent, like something out of The Aliens movie.
What they have done in Japan, which I find so inspirational, is they've brought the toilet out from behind the locked door. They've made it conversational. People go out and upgrade their toilet. They talk about it. They've sanitized…
Click To Tweet
Adjustable air freshener or deodorizer designed to address smells from a slight whiff to the most offensive, malodorous stench.
Heated seats, a welcome luxury in colder climates. The Japanese toilet seat sometimes comes with a timer ensuring the seat is warm in the morning but shut off when there is no one at home. Now, is that the epitome of civilization, or what?
Many toilets have noisemakers designed to camouflage normal toilet noises. I swear I'm not making this up. The noise can be anything from classical music to birdsong. My take on this is that if you really want to disguise what you are doing in the bathroom, playing increasingly loud classical music from your toilet is not really going to fool anyone. It's not as if people outside the bathroom door are going to believe you're listening to a concert. Everyone knows what you're doing in there so why bother trying to hide a normal human function.
Pulsating water sprays marketed as "massage cleaning" are featured in many Japanese toilets. The different speed and intensity selections have some of those weird labels you sometimes see when the Japanese try to translate into English; like "future terminal" or "priceless venture." You have no clue what they could possibly mean, especially in relation to a toilet, so whatever button you press, you press it with apprehension.
When all the sprays, sterilizers, and adjustable water pressure are still not enough, you can always opt for the "soapy spray" which adds soap to the water.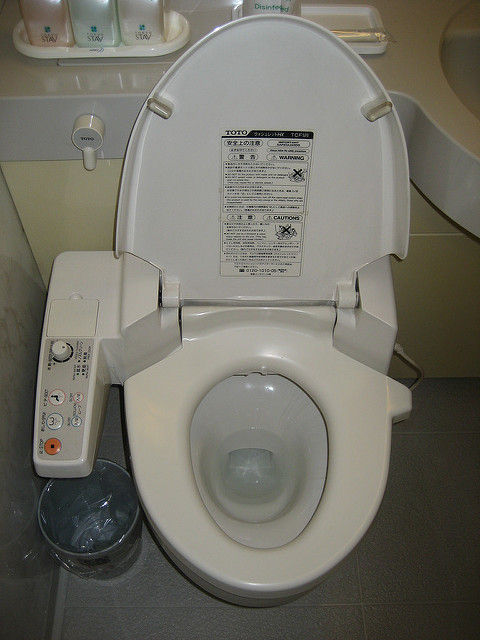 What's a High-End Japanese Toilet Really Worth? 
Needless to say, a toilet of this high caliber will cost you. Prices on these high-end units range from the high $300s to over $5,000 and beyond. So, are they worth it? If you ask people that have never been exposed to them, like most Westerners, they'll say, "Are you kidding?! Of course not!"
But I asked Western ex-pats living in Japan how they felt about these toilets. Every single person I asked said they loved them. Some told me one of the biggest challenges of returning home was adjusting to life without the Japanese toilet. In fact, there is a popular refrain among the ex-pat community in Japan that says, "once you spray the crack, you can never go back." Turns out, one of the weirdest things in Japan isn't so strange after all!
At the other end of the toilet spectrum is the humble squat toilet found in many less urban areas of the country. Many of these simple toilets include "toilet slippers" as it is considered dirty for your feet to touch the bathroom floor. Very civilized. We definitely don't consider this to be one of the weirdest things in Japan, as you 'll see these squat toilets all over the world.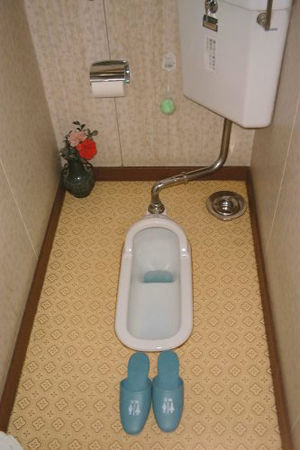 Weird Things in Japan: Confusing and Funny Japanese Toilet Signage
Think the toilets are the weirdest thing in Japan? Maybe not: Another interesting aspect of Japanese toilets is the signage surrounding them. There are detailed instructions for all toilets from the complicated, high-tech models to the simple squat toilet. But the instructions themselves sometimes require interpretations.
Here is a sign showing how to use a squat toilet, and cautioning the user on the consequences of falling into the toilet. Some instructions suggest you remove pants and shoes for maximum efficiency.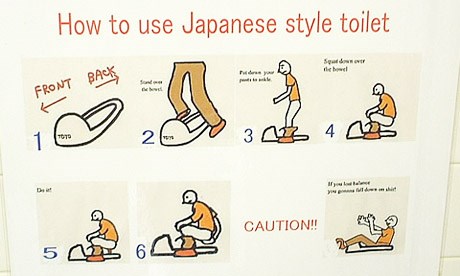 Japanese bathrooms frequently come with a long list of dos and don'ts of bathroom etiquette.
I interpret these signs below to mean one should not vomit into the bowl, drink from it, squat on the closed toilet seat, sit on the bowl in other than approved positions or become inebriated in the cubicle. OK, I can live with all of that.
Of all the weird things in Japan, this sign has to be one of the strangest.  When I am expressly prohibited from working on my laptop while on the toilet, well…now you've just gone too far, "thems fight'en words." And what does the single red line– versus a cross – even mean? …that I can use the laptop only sometimes but not others? That maybe I can use the laptop but then again, maybe I can't?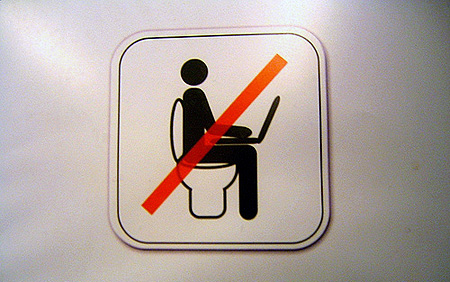 Regarding the quite common signage prohibiting fishing in the toilet bowl, exactly how common is this practice that it requires so much admonition? Is this really a thing?
The same question applies to Japanese toilet peeping signs. Seriously, how big a problem is this that you see the signs all over the place?
The sign with the peeping Tom almost seems like it is saying "if you WANT a man to peek over the bathroom stall while you're on the toilet, come here."
Another weird thing in Japan? Overall there seems to be confusion as to what to do with women when it comes to toilets. For example, one bathroom is reserved for women but only between 8:04 AM and 9:00 AM. Try and sneak in at 8:03 AM or 9:02 AM and, OH, boy! You're in a heap of trouble!
The Japanese also have a sense of humor when creating funny bathroom signs.   Here is one involving an Otaku, loosely translated as a socially awkward computer nerd.
While we're talking about weird things in Japan, let's talk about talking toilets. They've got them too!
But let's forget about Japanese toilets for a minute and let's get serious about Japan, one of the most culturally fascinating countries in the world.
Visiting the capital, Tokyo, is a great place to begin. Here is a 3-day Tokyo itinerary to get you started. And whatever you do, DON'T FORGET YOUR Japan Rail Pass, the cheapest and most convenient way to travel around Japan.
What funny bathroom signs have you come across? Any other weird things in Japan related to toilets? Let us know in the comments.
If you can't get enough of Japan and its customs, traditions, and beauty, You might also enjoy these Japan-related posts and reference materials.
If you like this post, you might also enjoy reading these posts: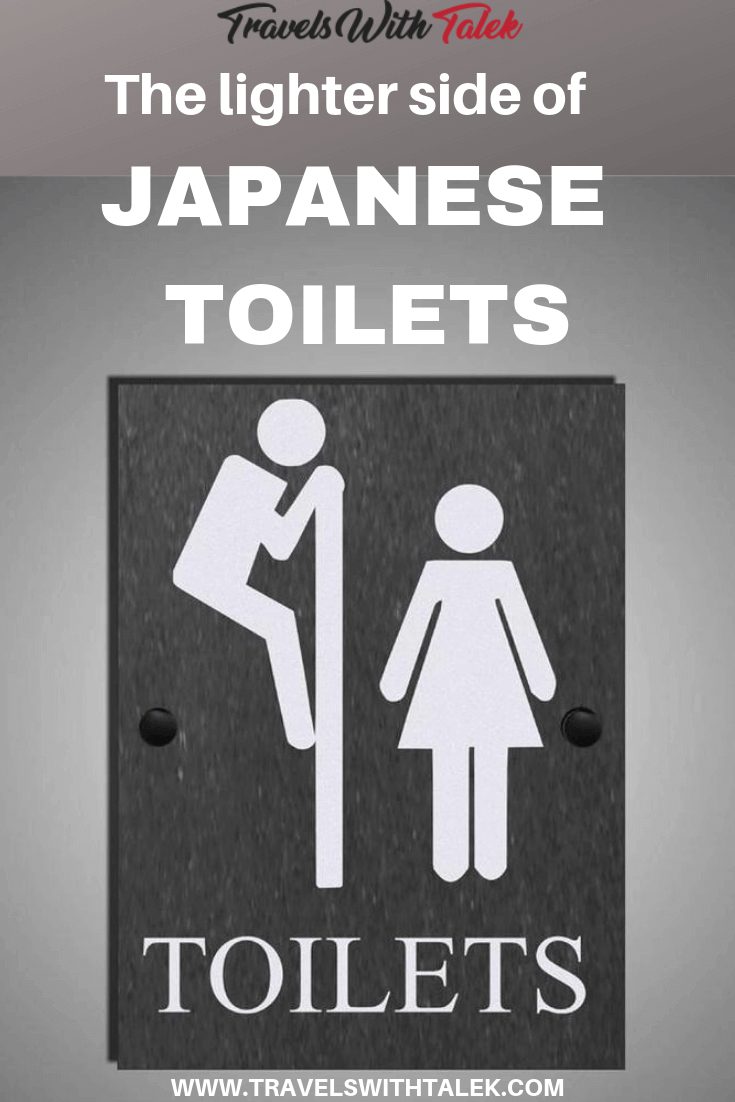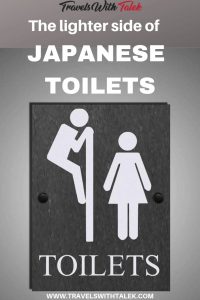 BTW, if you are getting ready for your trip, make sure to take advantage of these useful, money-saving links to book your trip:
I personally use, and can recommend, all the companies listed here and elsewhere on my blog. By booking through these sites, the small commission we earn – at no cost to you – helps us maintain this site so we can continue to offer our readers valuable travel tips and advice.