Updated November 20, 2019
The best places to visit in Jordan certainly include Petra, one of the wonders of the archaeological world, but there is so much more to see and experience.
Jordan is a country full of awe-inspiring moments. From the ancient city of Umm Qais on the Syrian border to the cosmopolitan rooftops of Amman to the trendy resorts on the Gulf of Aqaba, Jordan stands out as a unique and fascinating destination.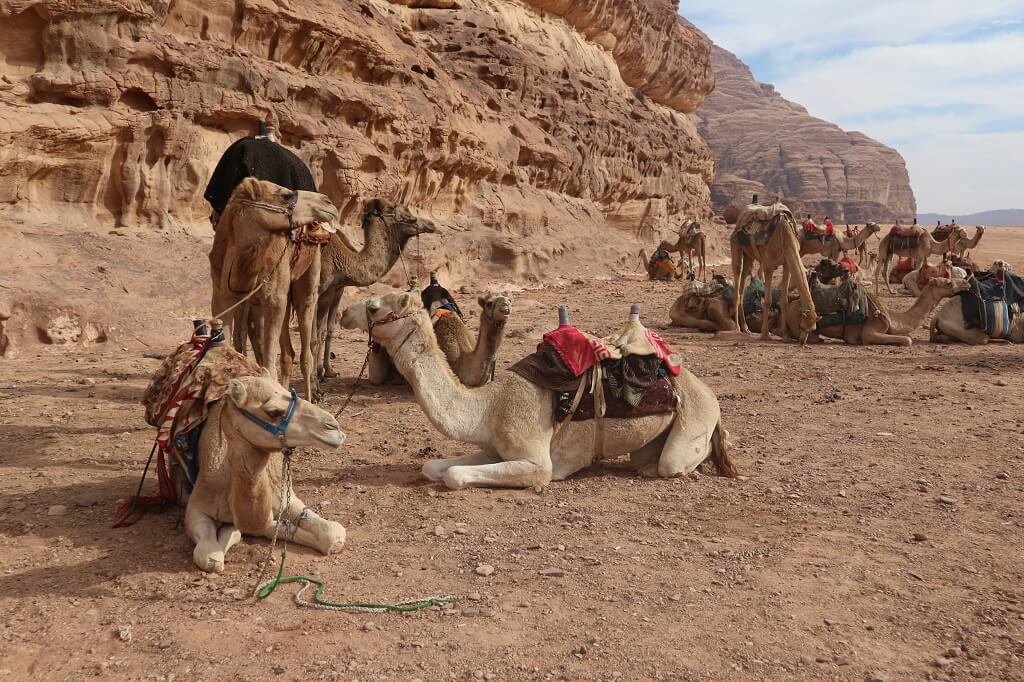 I traveled to Jordan with Audley Travel because I wanted to maximize my trip there and see as much as possible within a short time. I had traveled with Audley in the past to New Zealand and knew my visit to Jordan would be hassle-free and cost effective.
Here is my best recommendation for an itinerary covering the country's highlights from north to south with limited time, and would also work well for solo travel in Jordan. My emphasis is on cultural immersion and interaction with local people, all with a heavy dose of what Jordan is famous for, its breathtaking archaeology.  This is a fascinating country and Jordan's attractions are among the world's most impressive.
UMM QAIS: CAN'T MISS PLACES TO VISIT IN JORDAN
Umm Qais is an archaeological site close to the Syrian border about 2 hours northwest of Amman. It is the site of the ancient Greco-Roman city of Gadara, reputed to be one of the most Hellenized cities of the ancient world. The city was established by the Greeks in the 4th Century BCE and taken by the Romans in the 1st Century.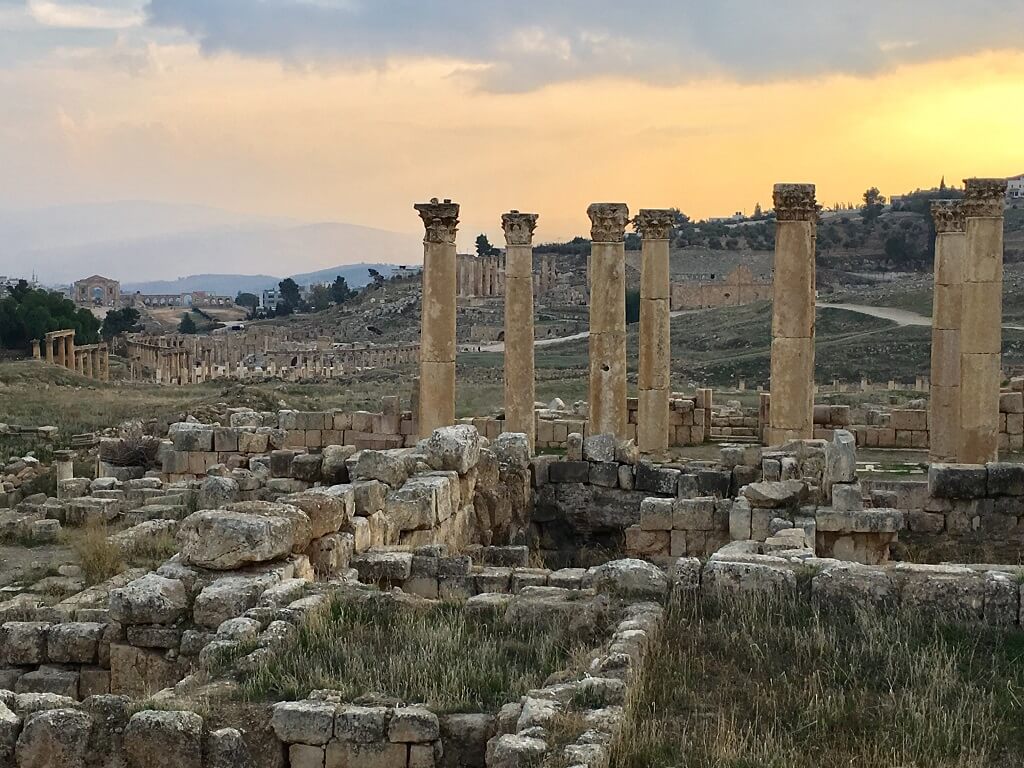 Umm Qais is a bit off the beaten track, but it definitely worth it to add to your Jordan itinerary. It can appear underwhelming as much of the archaeological sites are still not fully excavated. The big draws are the expansive views of the Golan Heights and the Sea of Galilee. The little restaurant on site is a good place to enjoy the view while sipping a cup of the local jasmine tea or thick coffee.
Many of the locations in Jordan are featured in the bible. Umm Qais is mentioned as the location where Jesus cast out demons.
JERASH: ONE OF THE MOST DRAMATIC PLACES TO VISIT IN JORDAN
Jerash is breathtaking. The archaeology buff will not be disappointed. This is the site of the Greco-Roman settlement of Gerasa. Already settled for at least 6,500 years, the city boasts ruins as impressive as those of Ephesus in Turkey or any in the ancient world. It is one of the best places to visit in Jordan.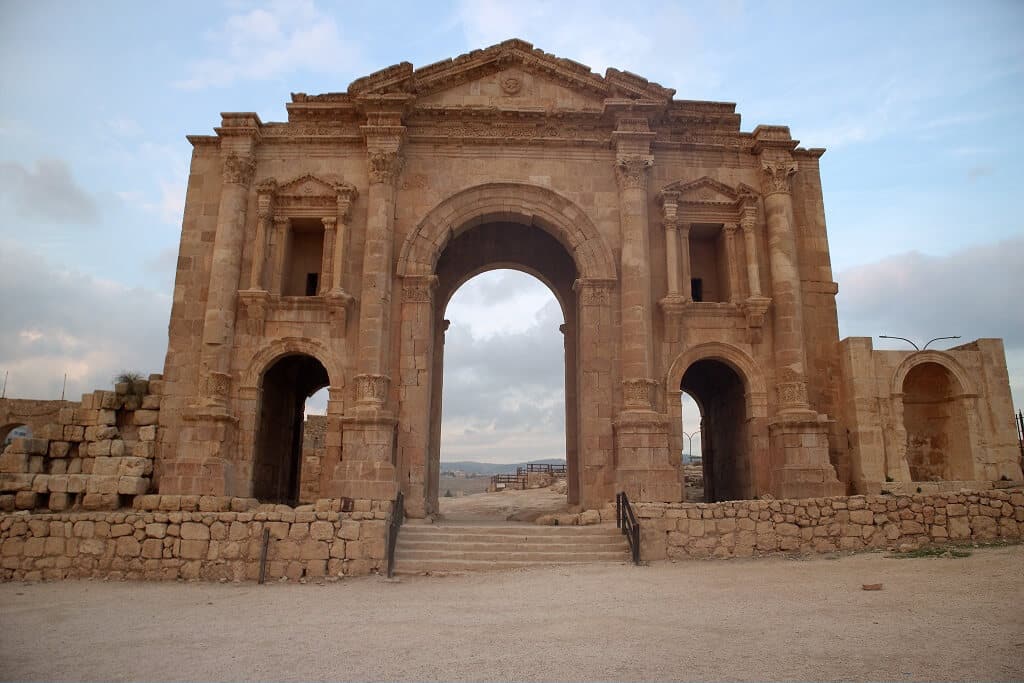 Jerash was an important city in Roman times with a population estimated at over 20,000 at its height. Invasions and a massive earthquake in 749 CE caused the city to be abandoned. It remained buried under sand for centuries until 1806 when it was rediscovered by a German explorer.
Excavations began and continue until present day. Looking at the well-preserved ruins of this large, ancient metropolis I can't help wondering what that German explorer was thinking as his excavations uncovered increasingly impressive ruins.
Jerash requires several hours to appreciate. Must-see sights include Hadrian's Arch, The Temple of Artemis and the Forum, an oval-shaped plaza surrounded by columns.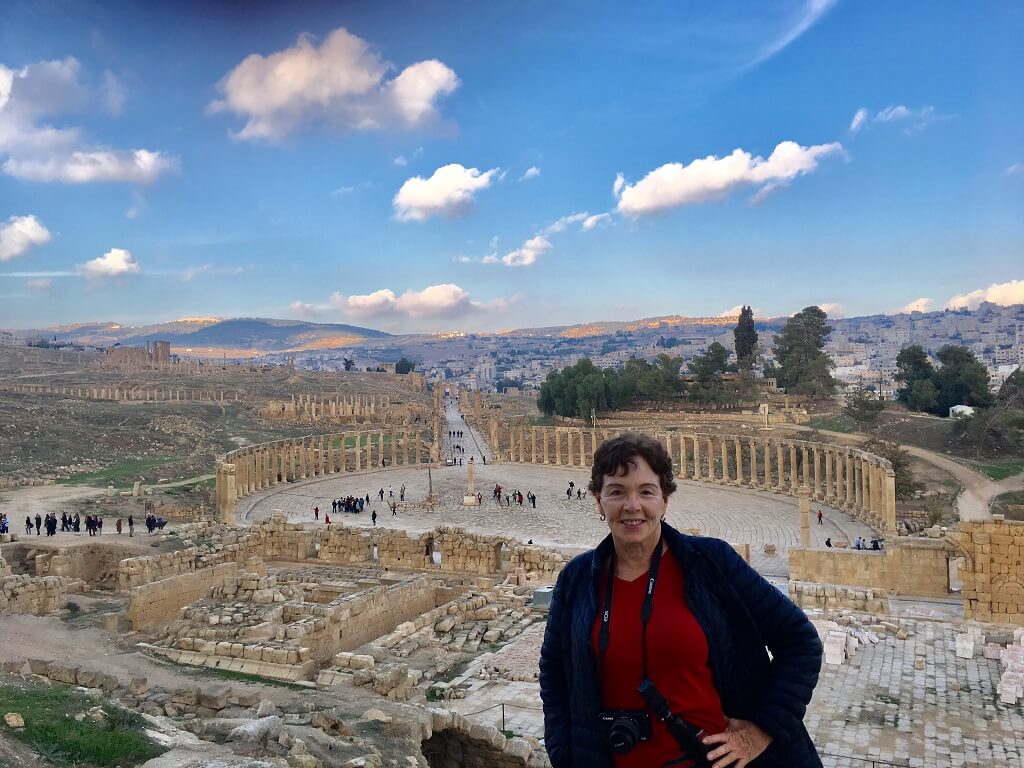 I would recommend hiring one of the multilingual guides at the visitor center. They will help you maximize your time and show you the best angles for photos.
AMMAN, THE CAPITAL CITY
Jordan's capital city of Amman is a city that reveals itself to you slowly. The more you walk the back alleys, taste the sweet and gooey desserts or watch a sunset from one of the many rooftop bars, the more you grow to appreciate this ancient city.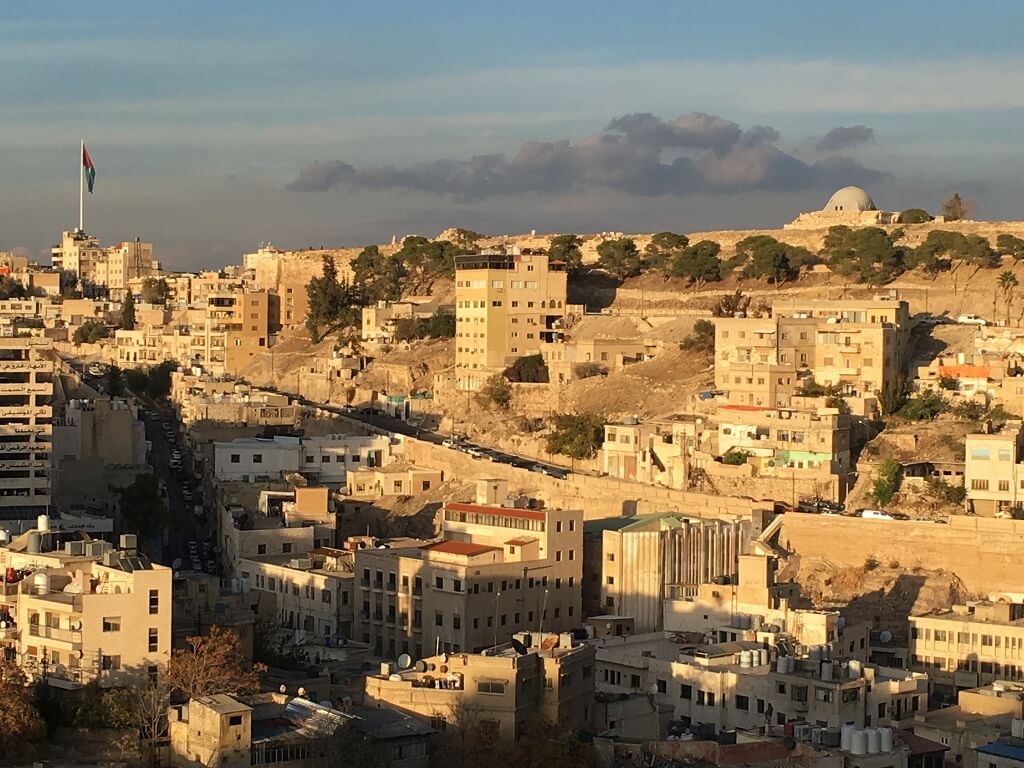 Amman has two impressive archaeological sites, the Citadel which overlooks the city from one of Amman's seven hills and houses The Archaeological Museum, and the Roman Theater nearby.
I found a wonderful museum by accident when the taxi driver misunderstood me and dropped me off at the Museum of Jordan instead of the Archaeological Museum. I can't understand why the Museum of Jordan doesn't get more press. Maybe because it's new.  It is a little gem of a place with multimedia exhibits and well curated displays explaining the history of Jordan from its founding.
What really distinguishes Amman is its streets. The walk from the Museum of Jordan to the Roman Theater takes you through a series of streets and alleys where Amman truly lives. Here is where you find the souks, restaurants, mosques, shops and wholesale markets frequented by the locals. You won't see many tourists here.
A can't-miss sight in this area is the gold souk where store windows dazzle with flashing displays of gold jewelry. Here you will also find two culinary landmarks, Hashem restaurant to sample the traditional mezze served with freshly baked bread, and Habibah's for Amman's classic dessert, knafeh.
Another interesting part of Amman is the neighborhood around Rainbow Street. This street was once pedestrianized but is now a roadway high above the city offering the best views of Amman from its many rooftop bars. The best view I found of Amman was from the rooftop of Cantaloupe Gastro Pub. Try to get there around sunset when the fading sunlight turns the city a golden amber color just before dusk.
GOING FROM AMMAN TO PETRA
You won't have any trouble finding your way from Amman to Petra.  Any of the many available Jordan tours will cover Petra tours too, as Petra is the number one attraction in Jordan.  Jett buses leave the Amman City Center regularly and drop off at Wadi Musa (Moses' Valley) right by the entrance to Petra. The ride takes 4 hours and costs 11 JDs.
As a trip to Petra was part of the itinerary that I had scheduled with Audley Travel, I was very glad to be picked up early and promptly from my hotel and travel comfortably to Petra by car. And a special call out to my driver, Hassan, who was always prompt and pleasant.
The best way to Petra from Amman is south via the Kings Highway, a road that traverses soaring mountain and vast barren desert vistas. This route is also dotted with interesting historical stops including Madaba, best known for its Byzantine era mosaics and one of the more interesting places to visit in Jordan.
Further south is Mount Nebo reputed to be the location where Moses was granted a view of the Holy Land before he died. Mount Nebo is about 2,300 feet above sea level and on a clear day you can see the River Jordan, Jericho and even as far as Jerusalem.  Atop the mountain is a small church built to commemorate Moses. The church also houses some beautiful mosaics from different periods. If you can't get enough of mosaics, you need to see these. They are similar in style to the mosaics of Villa Romana del Casale near Agrigento in Sicily.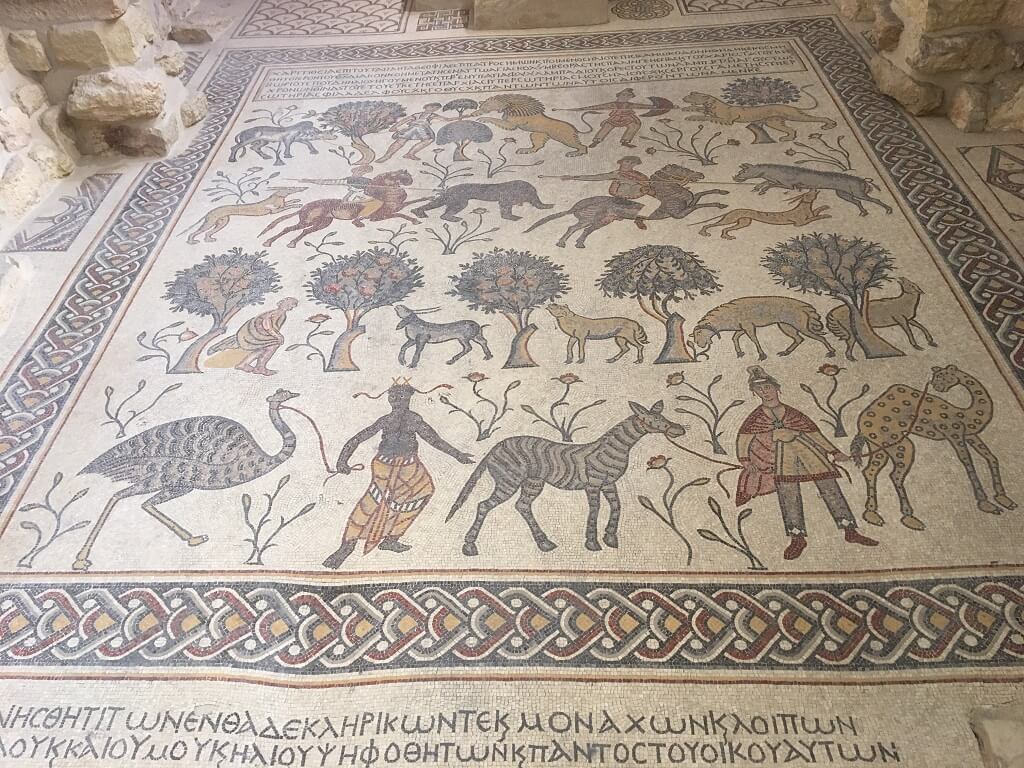 The next notable town going south on the Kings Highway is Kerak with its brooding crusader castle dating from the 1100s. It is a massive structure with multiple floors, remnants of large kitchens and dining rooms and stables on the lower floors. Don't miss the tunnels crisscrossing the entire structure, used to transport people and goods during sieges. With a little imagination you can envision crusaders, servants and camp followers going about their business one thousand years ago.
…AND THEN THERE IS PETRA, THE MOTHER OF ALL PLACES TO VISIT IN JORDAN
For years I had always imagined what it would be like to see Petra for the first time. I visualized walking between the massive walls of the Siq, the narrow, kilometer-long path that leads to the entrance of Petra, until, just after turning a corner I would see the Treasury, the iconic symbol of Petra shining like pink gold blazing between the brooding walls of the Siq.
It was as impressive as I imagined it would be. It is one of those travel moments that just overwhelms.  Few experiences anywhere compare with that first view of Petra and it is one of the most interesting places to visit in Jordan.
You can purchase a Petra ticket at the visitor center. A one-day visitor pass is 90JD. If you stay more than one day in Jordan in overnight accommodations, the cost is 50JD.  It is worth hiring a guide at the visitor center to maximize your trip. A reasonable tip for your guide is 5 to 10JD.
Petra, also called the pink city due to the color of the stone, is a UNESCO World Heritage Site, an archaeological wonder in southern Jordan. It is believed to have been inhabited since around 9,000 BCE. Can you imagine!
The city was the capital of the Nabataean Kingdom. The Nabataeans were a group of nomadic Arabs who capitalized on Petra's proximity to trade routes by establishing the city as the major trade way-station in the area.  It's interesting to see the remnants of ancient writing and statues that appear to be advertising Petra as a location to exchange goods and accommodate travelers and their pack animals.
In its heyday, Petra had a population of over 20,000. Its strategic location, buried deep in the mountains, made it virtually impregnable and easy to defend. The Nabateans were also adept at collecting rainwater, the most valuable element in the desert.
"Petra is a brilliant display of man's artistry in turning barren rock into a majestic wonder." ― Edward Dawson
Click To Tweet
The city prospered but fell to the Romans in the first Century CE. As sea trade routes became more important, Petra's strategic value declined. A major earthquake in the 4th Century further damaged the city and by the Islamic era it was essentially abandoned.
Slowly but inexorably the desert sands covered the once majestic structures. Vandals defaced the monuments in search of treasure. The soaring columns toppled onto the broad avenues and the once splendid city was forgotten. In 1812 a Swiss geographer, Johann Ludwig Burckhardt rediscovered Petra after hearing rumors of a "marvelous city" in the Jordanian desert.
WHAT TO SEE IN PETRA
It is highly recommended that you hire a guide at the visitor's center before you start the long walk into the city of Petra which requires at least one full day to see. Some visitors prefer to spend two full days. There is that much to see. If your time is limited and one full day is all you can spare, you should do your best to walk through the Siq, a one kilometer walk, in order to catch that first, unforgettable view of the Treasury peeking out from the massive mountains.  Next, you can enjoy the vast open space which houses the royal tombs, Roman theater and temple ruins.
If your time is limited, you may have to chose between visiting the Monastery or the Place of Sacrifice.  Choose the Monastery, hands down. It's about an hour walk up a pretty strenuous path with 850 steps carved out of stone with precipitous gorges on either side. This route may not sound like an inviting prospect, but once you arrive, it is so worth it!  The Monastery is just as impressive as the Treasury!  There is a little snack stand in front of the Monastery where you can rest, purchase refreshing fruit juices and feast your eyes.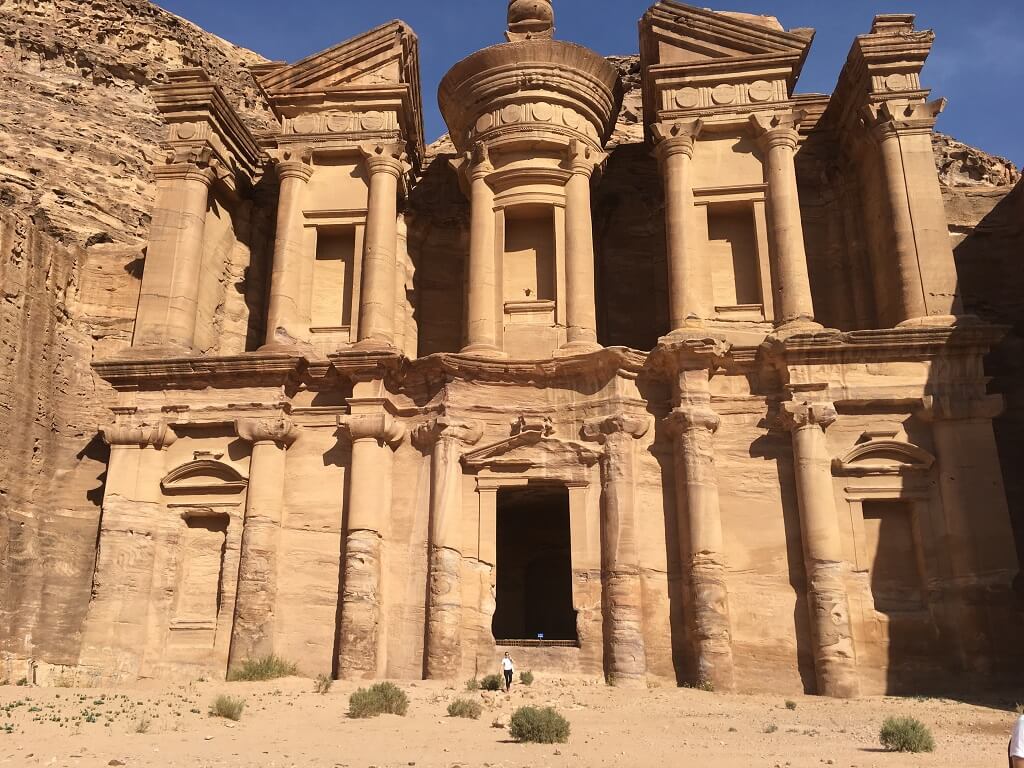 The sheer size of the Monastery is astounding. Look at the people in front of it to get an idea of the structure's scale.
Petra is a large site expanding for over 60 kilometers.  The distances between the main attractions are large and frequently strenuous to get to. There are horse drawn carriages to transfer visitors, donkeys to climb to the Monastery and camels throughout the complex. Many of these animals look overworked. You may want to think twice before you hire them, especially the donkeys.
If you stay the night at Petra, you may want to explore the little adjacent town of Wadi Musa. Here you can use an ATM, find a restaurant that sells liquor (convenient access to liquor is not a given in most Muslin countries) and shop for souvenirs- don't forget to bargain!
PETRA KITCHEN
If you are looking for a different and authentic experience, you must try Petra Kitchen. This spotless establishment offers nightly Jordanian cooking classes and it is a total blast!  Here's another advantage of traveling with Audley, their local knowledge.  I would not have known about Petra Kitchen if Audley Travel hadn't recommended it. It would have been a shame to miss this unique experience.
For an admission fee of 35 JD you and other travelers get 2 soft drinks and about an hour and a half of cooking instructions in an ample, state-of-the-art kitchen presided over by professional chefs. It is fun to follow the chef's instructions until the 6 or 7 dishes are completed. Then everybody eats together. The meals are delicious. The best part is that you are given the recipes when you leave so you can prepare them at home! Yummy! AND YOU GET TO TAKE HOME THE RECIPES!
LITTLE PETRA
Five miles (8 kilometers) north of Petra is Little Petra. As the name implies, it is a smaller version of Petra consisting of three open areas connected by a Siq-like canyon. The tombs are especially interesting as are the huge rock formations. The Bedouins have set up stalls selling the usual souvenirs as well as cute little homemade dolls.  It is definitely worth a stop. The entrance fee to Little Petra is included when you purchase Petra's entrance fee so hold on to your ticket.
Check out this comprehensive guide to Petra for first timers.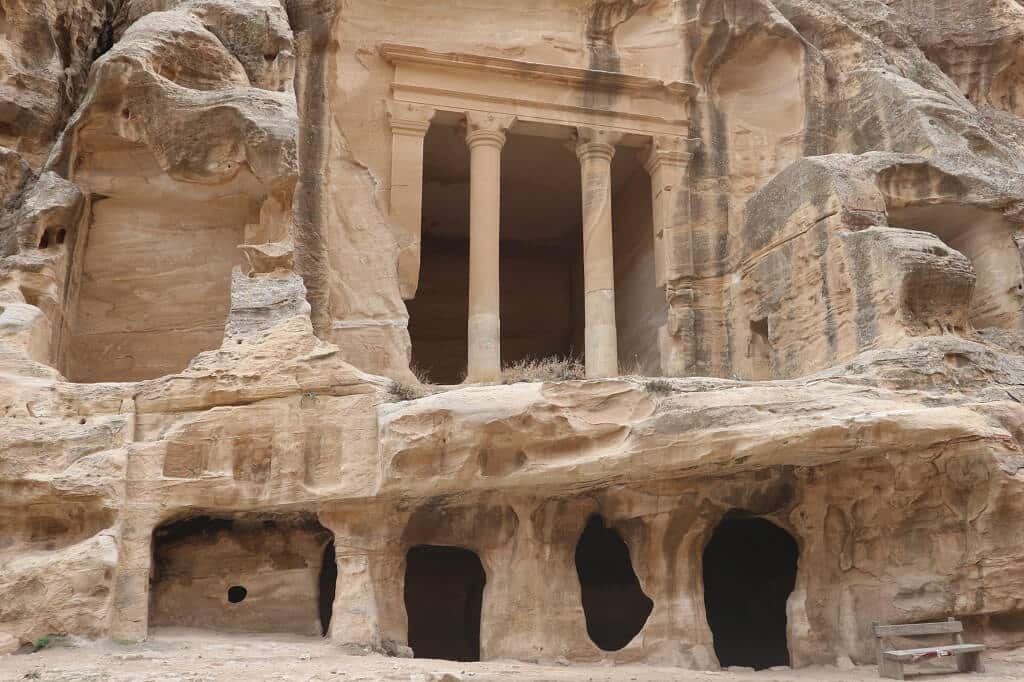 WADI RUM. A DESERT EXPERIENCE TOPS PLACES TO VISIT IN JORDAN
An hour and a half south east of Petra is the Wadi Rum National Park, a protected area of otherworldly landscapes and desert camps and one of the most mysterious and exciting places to visit in Jordan.
Most visitors to Wadi Rum go there to experience the Bedouin desert culture. We stayed at a desert camp where the local Bedouins took us on a desert tour and to watch the sunset blazing red over the large rock formations. Sleeping under the stars at night in a desert compound is a unique experience. You've never seen a clearer, more radiant, star-filled night sky.
THE GULF OF AQABA
Aqaba is a resort town on the Gulf of Aquaba made famous by the Lawrence of Arabia movie which was filmed in the area. If you enjoy resort towns with large hotels you may want to book a day here.  Otherwise just use Aqaba as a connecting point from Wadi Rum to get on the main highway going north to The Dead Sea, about two and a half hours away.
THE DEAD SEA
At its surface the Dead Sea is 1,412 feet (430,5 meters) below sea level and 1000 feet (304 meters) deep making it the lowest point on earth and the deepest saline lake in the world and one of the most interesting places to visit in Jordan.
With almost 34% salinity, nothing but some bacteria can live in this sea. This salinity is also what causes people to float, so much so, that you can almost read a newspaper while floating on your back – a feat many tourists comically attempt. It's really a very strange sensation. It feels like you have a life vest on.
"When I was a boy the Dead Sea was only sick." George F. Burns
Click To Tweet
The big draw in the Dead Sea is the salt-infused mud reputed to have  moisturizing and detoxifying properties. You'll see tourists slathered in black mud wandering the beaches. The lifeguards will caution you to not stay in the water beyond 20 minutes as the water's effects are dehydrating. Bobbing underwater is also not a good idea. You don't want salty water in your eyes!
From the Dead Sea it is a short hour drive to the airport and Amman. You can visit the Dead Sea on your way south to visit Petra or Wadi Rum, on your way back north as I did, or as a day trip from Amman.
Which of the many places to visit in Jordan appeals to you the most?
Read more about fascinating Jordan attractions in these excellent guidebooks:  Rough Guides Jordan and Lonely Planet Jordan.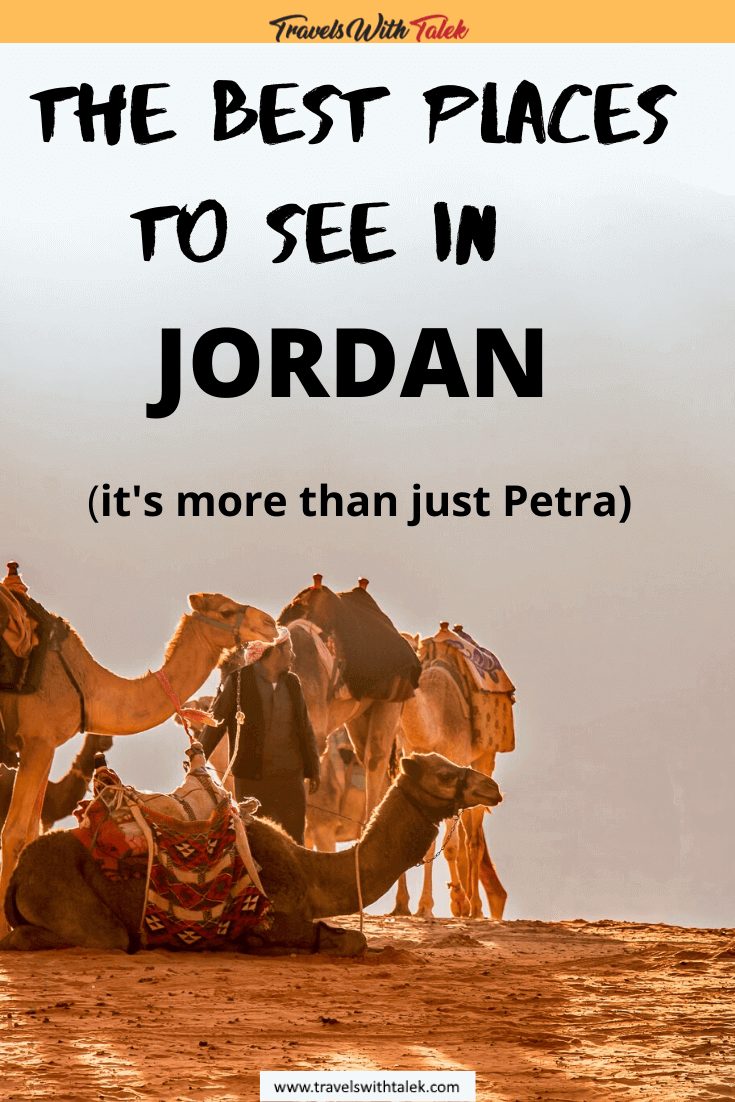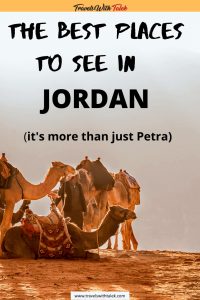 BTW, if you are getting ready for your trip, make sure to take advantage of these useful, money-saving links to book your trip:
I personally use, and can recommend, all the companies listed here and elsewhere on my blog. By booking through these sites, the small commission we earn – at no cost to you – helps us maintain this site so we can continue to offer our readers valuable travel tips and advice.