There are more than enough reasons to visit Budapest. To make sure we do them justice, I've asked Budapest native, Kata Németh, to share her favorites.
With its rich historical and architectural heritage, culture, thermal baths, and gastronomy, Budapest has won 2019's "European Best Destination" award. It is also one of the cheapest cultural destinations.  So there are plenty of reasons to visit Budapest as it is not only one of the best, but also one of the most affordable European cities to visit.
Let's learn more about what makes Budapest a desirable tourist destination. But remember Hungary is so much more than Budapest. There are so many great cities to visit in Hungary.
Must-See Sights for First-Time Visitors to Budapest 
Castle District
Castle District is a UNESCO World Heritage site that accommodates many must-see attractions. The sites here alone are enough reasons to visit Budapest. Some of its buildings date back to the 14th-15th centuries. Its cobblestone streets have many medieval details.
In the depths of the Castle Hill, there are large, interconnected cellar systems. These were originally carved by thermal waters, but later man-made passageways were also added. These underground spaces were used for both storage and shelter for centuries. One of the most interesting attractions to explore underground is the Hospital in the Rock Nuclear Bunker Museum.
Royal Palace
Built in the 13th century after the Mongolian invasion, the Royal Residence has witnessed Hungarian history from a prime spot. The building of the palace was continuously destroyed, restored and expanded during the past centuries. It got its current form after World War 2, when it was rebuilt once again, in Neo-Baroque style.
Today, the Royal Palace is home to three institutions:

Fisherman's Bastion
It is hard to believe, but the medieval-looking Fishermen's Bastion (Halászbástya) is only 100 years old. It is named after the fishermen who protected this part of the castle wall in medieval times.
The seven turrets of the Bastion symbolize the seven Hungarian tribes who arrived at the Carpathian Basin in 896 CE. Today this Bastion is one of the favorite lookout points of Budapest.
Matthias Church
The 700 years old Matthias Church is one of the oldest buildings in Buda. It is also a symbol of the rich history of Budapest. After stepping inside, you can marvel at the detailed, hand-painted frescoes of famous Hungarian painters.
Tip: the lookout point on top of the church's tower can be visited with a guide (tours start every hour).
How to get to the Castle District:
The most fun (and most expensive) way to get to the top of the Hill is by using the cable car from Chain Bridge.
There is also a public bus (no.16 or "Várbusz") from Deák Ferenc Square (center of downtown Budapest). You can also walk up the hill on one of the many paths, or use the escalator from Castle Garden.
Parliament
The House of Parliament is one of the most magnificent attractions of Budapest. Its construction was completed in 1902 in Neo-Gothic style (with some Baroque and Renaissance details, too). If it reminds you of the British Parliament building, you are right as its design was inspired by that.
The Parliament is the largest building in Hungary and the third-largest parliament building in the world. It is 18,000 square meters of floor space with 691 rooms. It's also 896 meters high, which is the same as the height of the St. Stephen's Basilica, representing the balance between state and church in Hungary. Also, it symbolizes the year of the Hungarian conquest.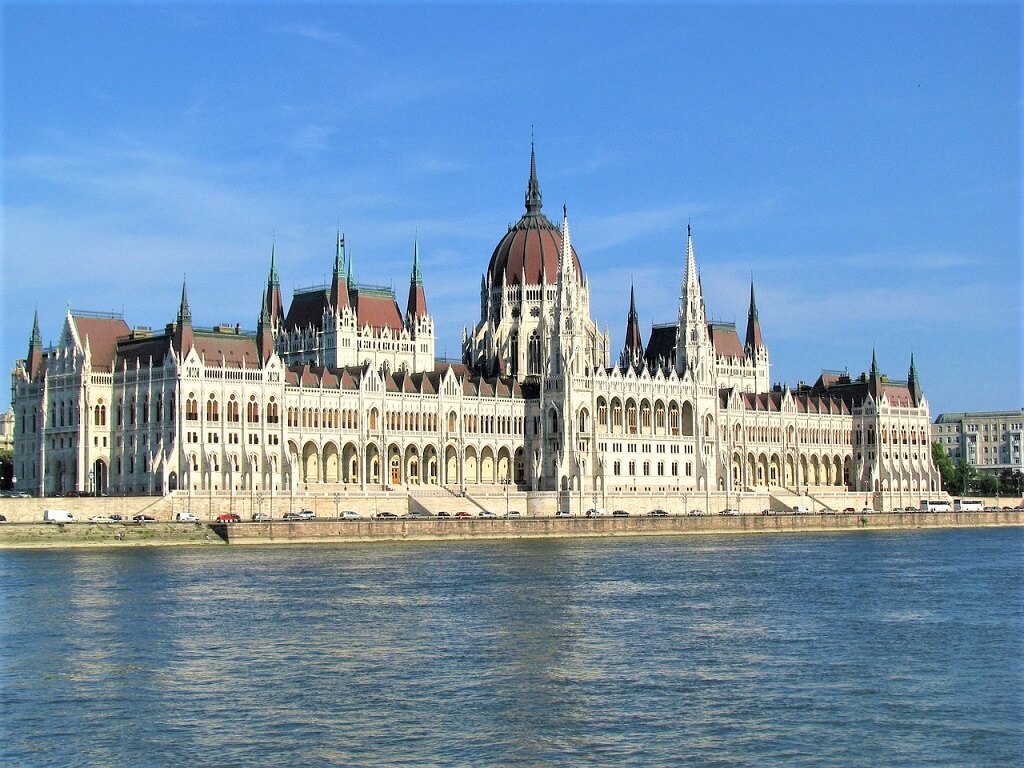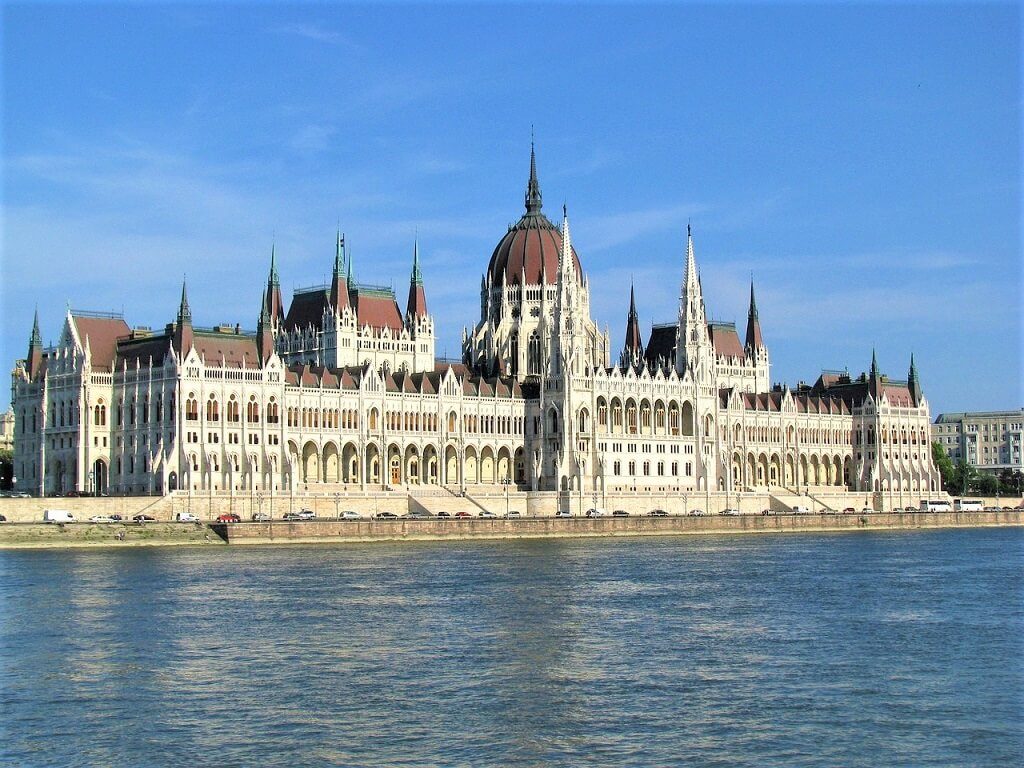 Guided tours of the Parliament are available when the National Assembly is not in session.
How to get to the Parliament Building:
Metro 2 ( "Red line" – Kossuth square)
Tram 2 (that runs along Danube promenade – Kossuth square)
Jewish Quarter
Even if you are short on time, one of the neighborhoods of Budapest I recommend visiting (besides Castle Hill) is the Jewish Quarter, the area right behind the Great Synagogue of Dohány street. This district is full of narrow streets and reminders of history.
Today, it is one of the most gentrified districts, with quirky design shops and ruin bars.  Ruin bars are bars established in dilapidated or abandoned pre-war buildings are very much in vogue in Budapest.   This is an area where you should look around you carefully: street art pops up on every corner. Murals, stickers, drawings make the quarter more colorful and interesting.
Ruin Pubs
Ruin pubs are located in abandoned buildings in the Jewish Quarter. These places are not renovated, and bands are invited to play until dawn. These pubs are the quirky part of nightlife in Budapest. Szimpla Kert, is the oldest Ruin Pub in Budapest. If you can only visit one, make sure it is Szimpla. You'll see why it is one of the best reasons to visit Budapest.

St. Stephen's Basilica
St. Stephen's Basilica is the largest church in Budapest. It was named after St. Stephen, the first king of Hungary. His mummified right hand is displayed in the Basilica.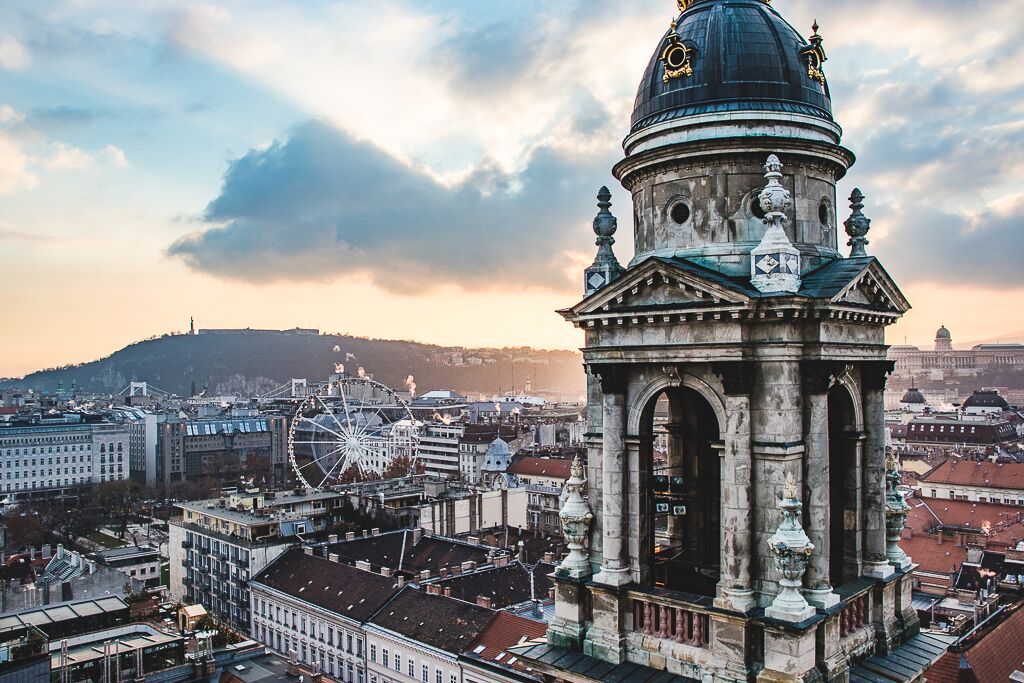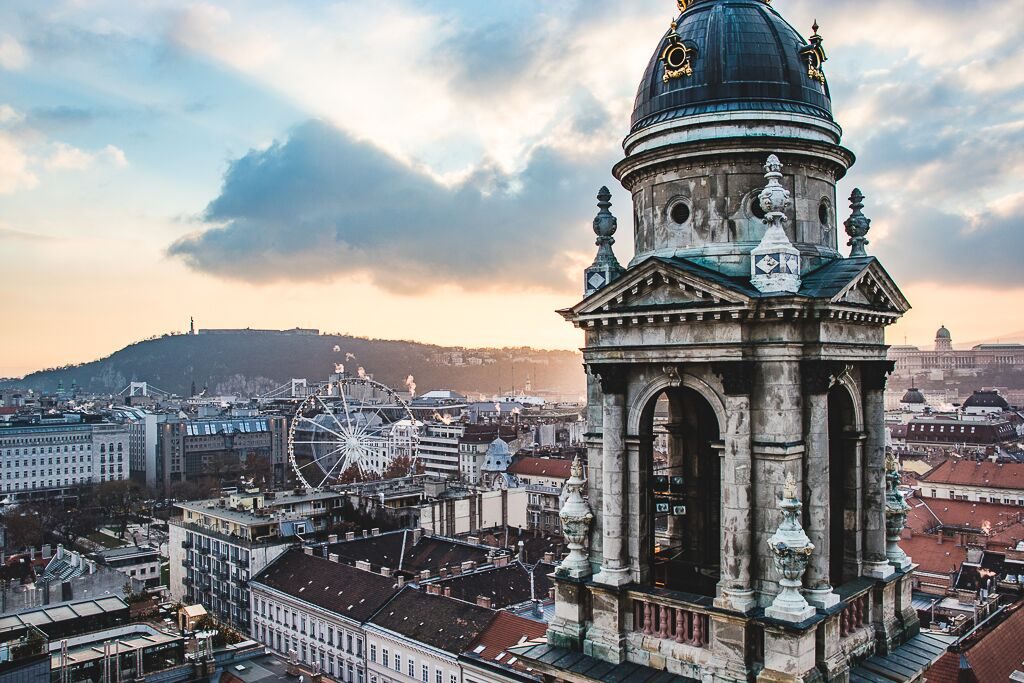 Tip: The dome has an observation deck that provides panoramic views of Budapest.
Getting to St. Stephen's Basilica:
Take the subway (M3) to Arany János Utca or simply walk there, it is right in the middle of downtown Pest.
Danube Promenade
The Danube Promenade (Dunakorzó) stretches between the Elizabeth Bridge and the Chain Bridge in Pest along the banks of the Danube. It has always been a very popular place for strolling. In the 19th century, hotels such as Ritz and Bristol stood here side by side. The promenade provides perfect views of the Danube and Buda Castle.
Elizabeth Bridge (Erzsébet Híd)
One of the attractions of the Danube Promenade and probably the most elegant and famous bridge in Budapest was named in honor of Queen Elisabeth. The original suspension bridge was built at the end of the 19th century, but it was seriously damaged in World War II. Using the old pillars, a new bridge was built in the 1960s.
Vigadó Concert Hall
The Romantic building of the Vigadó Concert Hall was built in 1865. It is located on Vigadó tér, a small square next to the Marriott Hotel. It is possible to have a look around inside. They even have a guided tour. The balcony of the building has gorgeous views too. Most Danube cruises depart from Vigadó Tér, right in front of the concert hall.
The Shoes on the Danube
This memorial commemorates the Budapest Jews who were shot between 1944 and 1945. The victims were lined up, shot and thrown into the Danube. They had to take their shoes off first because shoes were valuable belongings at the time.
How to get to the Danube Promenade:
Tram 2 – Its route runs along the Danube Promenade (tram stop: Széchenyi István square). Walk in the direction of the Parliament.
Gellért Hill
The best panoramic views of Budapest are worth the climb to the top of this hill. The whole city lays under you, like an open map.
Have a look at the main attractions of Budapest from above. Castle District, Danube Promenade, St. Stephen's Basilica, Parliament building, and Margaret Island are all visible from here. You will also be able to see the difference between the flat Pest, crowded with buildings and the green, hilly Buda side, with mountains in its background.
Budapest Baths
Budapest is called the "City of Waters" because of the numerous thermal baths throughout the city.
Heroes' Square
The largest square of Budapest was built for the millennium celebrations in 1896. Here, you can have a glimpse into the history of Hungary. In the middle of the square stands a center pillar with Archangel Gabriel on its top.
Under him sit the seven chieftains who led the Hungarian tribes to the Carpathian Basin on their horses. On the colonnades, you can see the statues of Hungarian kings and other important historical figures.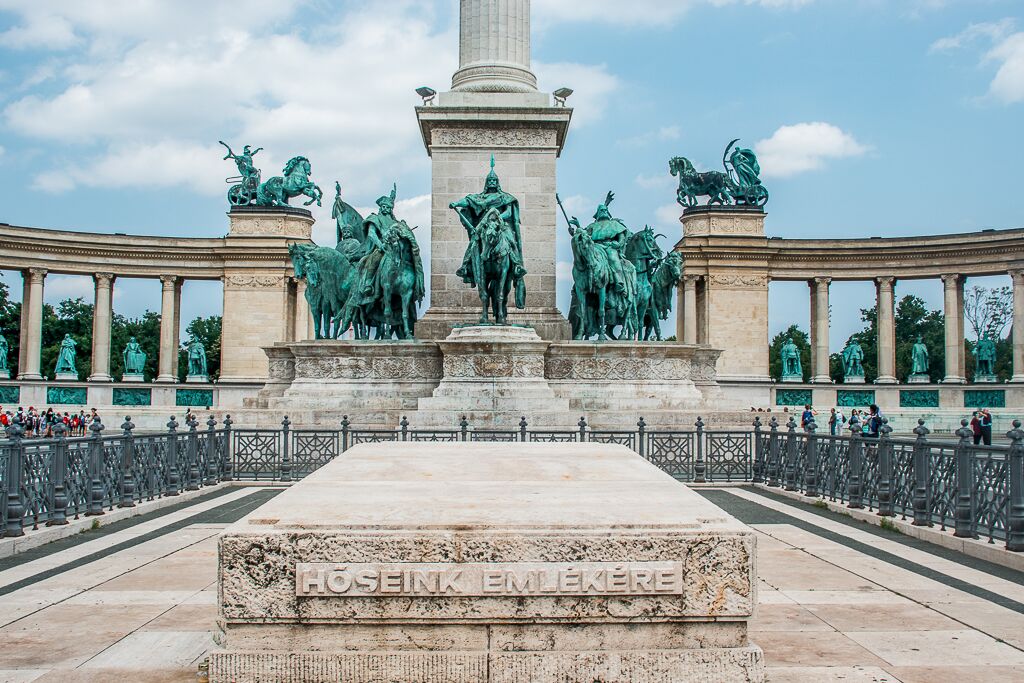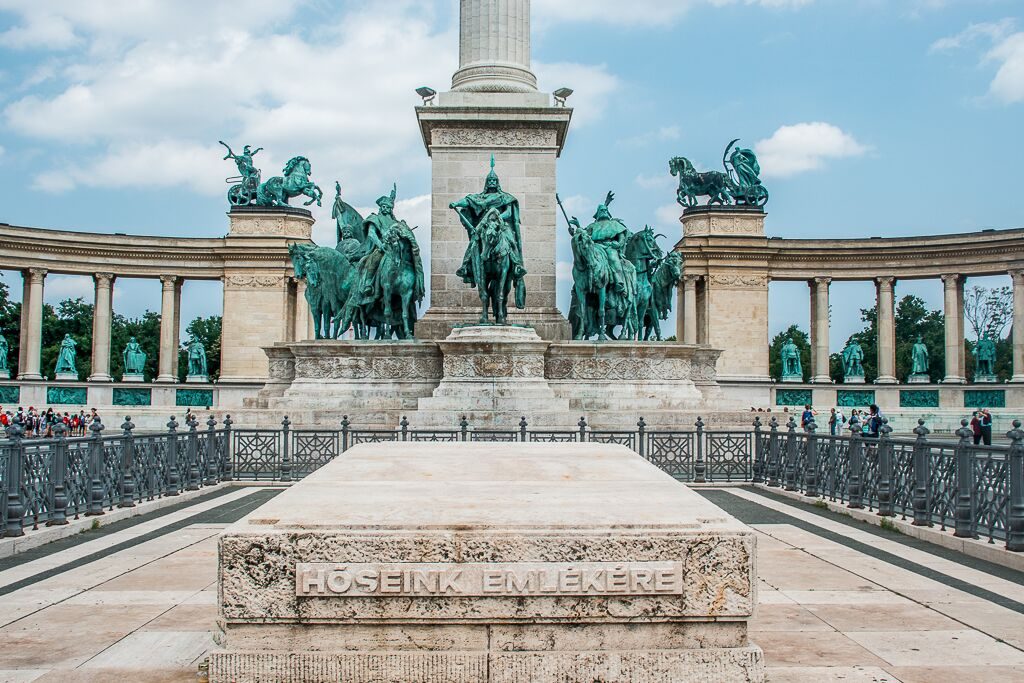 How to get to Heroes Square:
Take the Millennium Underground (M1) to Hősök tere
Andrássy Avenue
Andrássy Avenue was built from 1872 to 1885 to connect the city center with City Park. Its first section (which starts at Deák Ferenc square, downtown Pest) is full of high-end fashion shops.
The other section (from Oktogon to Heroes' Square) is home to several embassies and has Neo-Renaissance palaces and houses on both sides. Aristocrats, bankers, noble families lived here.
How to get to Andrássy Avenue:
Millennium Underground Railway (M1) runs directly underneath it.
Castle District: Koller Gallery
Founded in 1953, this contemporary art gallery is the oldest private gallery in Hungary. It has a focus on modern art, featuring Hungarian artists. The building where the gallery is located was the home of Hungarian-Italian sculptor, Amerigo Tot. His memorial room, with a gorgeous view of the city, is on the third floor. The gallery has a tiny, renaissance-style sculpture garden.
How to get to Koller Gallery:
Address: 5. Táncsics Mihály St.
This gallery is located on Castle Hill. Take the cable car from Chain Bridge. The public bus serving Castle Hill is bus No. 16 (from Deák Ferenc Square).
Palace Quarter
Palace Quarter is the district of diversity, art, music, and architecture. This area is full of hidden gems. Between 1867 and World War 1, more than 30 palaces and mansions were built
here. Some of these grandiose palaces have been restored to their former beauty and today they are home to institutions, universities, libraries, and hotels.
Some examples:
Eszterházy Palace (today Hungarian Radio) – 4 Pollack Mihály Square
Italian Cultural Institute (the former parliament building) – 8 Bródy Sándor Street
Festetics Palace (today a German-Language University) – 3 Pollack Mihály Square
Mikszáth Tér – One of the district's most charming squares with a laid-back atmosphere.
Garden of Philosophers
This small group of statues consists of eight bronze statues. Five figures (Abraham, Echnaton, Jesus, Buddha, and Lao Tse) around the center symbolize different cultures and religions from around the world.
The others (Mahatma Gandhi, Daruma Taishi, and Saint Francis) are people from different times and cultures who influenced spiritual enlightenment. The composition aims for a better mutual understanding.
Top Tips for a First Time Visit to Budapest
Best Time to Visit
Spring and autumn. Spring can be one of the best times to visit, as it brings lots of sunshine and the temperature starts to rise in April.
During the daytime, temperatures in autumn can stay above 70F (20°C) until the end of October. The Indian Summer can last for weeks with beautiful weather. Summers have hot periods with highs between 90-100F (32-35°C). Summer nights are usually very warm. Winters in Budapest can be bitter cold, especially in January with snowfall.
Public Transportation
Budapest's city center and historic districts are suitable for walking.
Budapest also has an excellent public transportation system. Using the metro lines, tram no. 2, 4-6, and Castle bus, you can get to all the main attractions.
Where to Stay in Budapest
In Budapest, there are hotels and apartments for every budget and taste. If you want to combine history with accommodation, choose a hotel that is located in one of Budapest's historic buildings.
Some examples:
Kata Nemeth runs Budapest Connection, a city blog about her home city, Budapest. She writes about her city as she discovers the best Budapest has to offer. Check out her blog for more reasons to visit Budapest.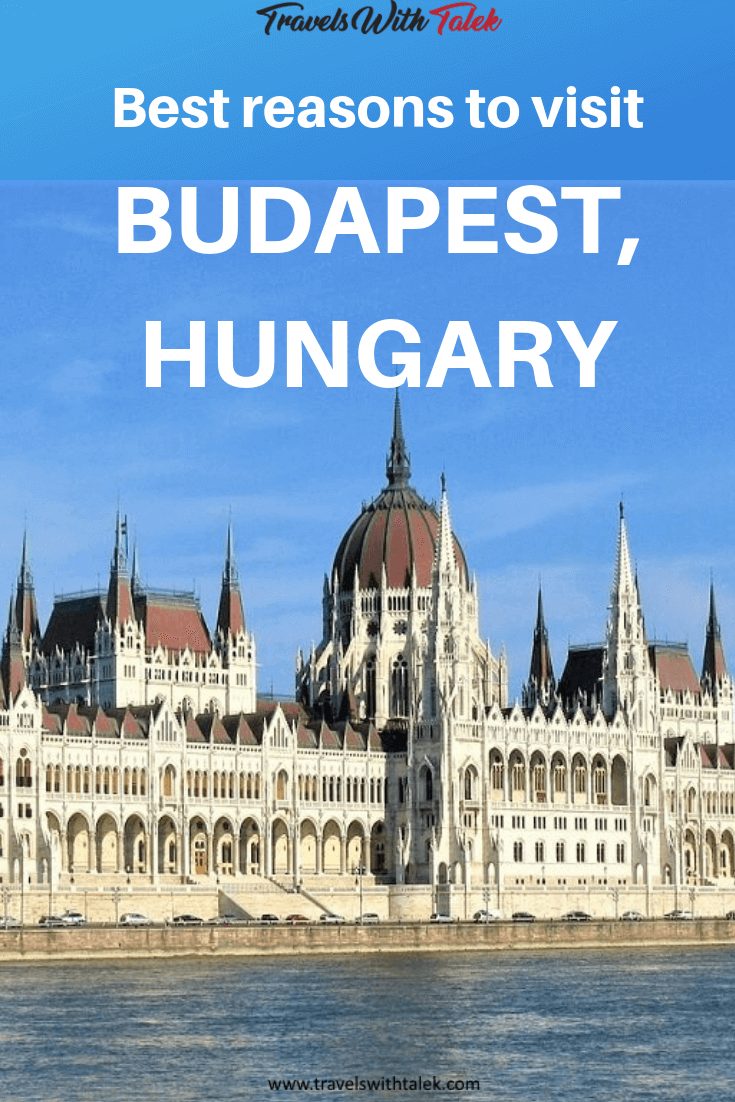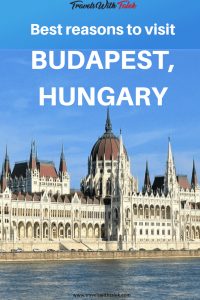 Don't leave home without a good selection of reference material to make your trip more memorable.
What are YOUR favorite reasons to visit Budapest? Tell us in the comments.
BTW, if you are getting ready for your trip, make sure to take advantage of these useful, money-saving links to book your trip:
I personally use, and can recommend, all the companies listed here and elsewhere on my blog. By booking through these sites, the small commission we earn – at no cost to you – helps us maintain this site so we can continue to offer our readers valuable travel tips and advice.