Who couldn't lose a couple of pounds? Combining a fun activity that also helps you lose weight sounds like a winning combination.  That's why our guest writer, Susan Gan's post on cycling to lose weight is such a winner. I'm sold.  How about you? Read on.
*****
My story starts back in 2016 when I decided to buy an electric bike. I made the decision not only because I wanted to go on bike rides with my hubby (Aussie slang for husband), but I decided that I should start cycling to lose weight.
I'd done some research and found that some of the many health benefits of cycling were increased cardiovascular fitness and muscle strength, as well as decreased fat levels. And I needed help with all of them!
Cycling to lose weight, the early days!
My husband John is a super fit athlete and thinks nothing of heading off on a 100 km bike ride or running a half marathon. I wanted us to be able to ride together in our hometown of Brisbane, but I had to work out how I was going to keep up with him!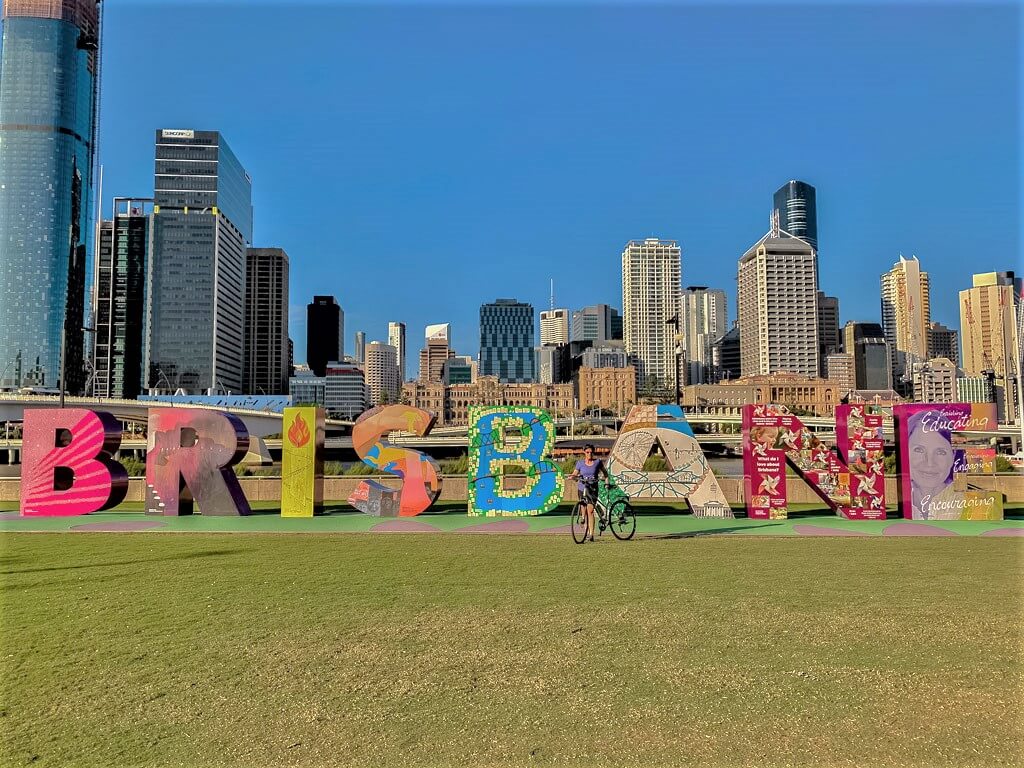 This was where my new electric bike came in handy!
Riding an electric bike evened out the playing field so that we could enjoy cycling together. Previous attempts with me riding my pedal bike hadn't ended well. I would quickly get tired or run out of breath, resulting in frustration on my behalf and poor John getting the blame………….I'm sure he must have done something wrong!
Slow but steady improvements.
When I first started out on my electric bike the benefits of cycling from a weight loss perspective weren't immediately obvious, but I did start to slowly see improvements in my level of fitness. I was able to ride for longer and travel further distances and even though I was getting assistance from an electric bike, I felt the benefits far outweighed the alternative which was not going riding at all.
Planning an overseas cycling holiday.
In mid to late 2016 we started talking to some friends about travelling together. We had originally broached the idea of a hiking holiday but quickly moved on to the topic of cycling holidays abroad with New Zealand being our chosen destination. We thought that an overseas cycling holiday sounded like a lot of fun and it had the added bonus that we would be able to travel further distances than we would if we were hiking.
It was decided that we would spend two weeks in early 2017 cycling the Alps 2 Ocean  and the Queenstown Trail on the South Island of New Zealand.
How will I keep up?
I knew that I was never going to be able to keep up with everyone if I rode a pedal bike as we would be cycling at least 250 km over the two-week period. At that point in my training – and I use the term 'training' very loosely – I was riding a bike about 30 km a week.
There was no way I was going to spend the entire two weeks of our holiday being the weakest link and constantly exhausted! I decided pretty quickly that I would hire an electric bike in New Zealand.
Knowing that I would be receiving a bit of assistance so I that could keep up with everyone gave me the courage to start out on our first cycling adventure.
A cycling holiday is the adventure of a lifetime.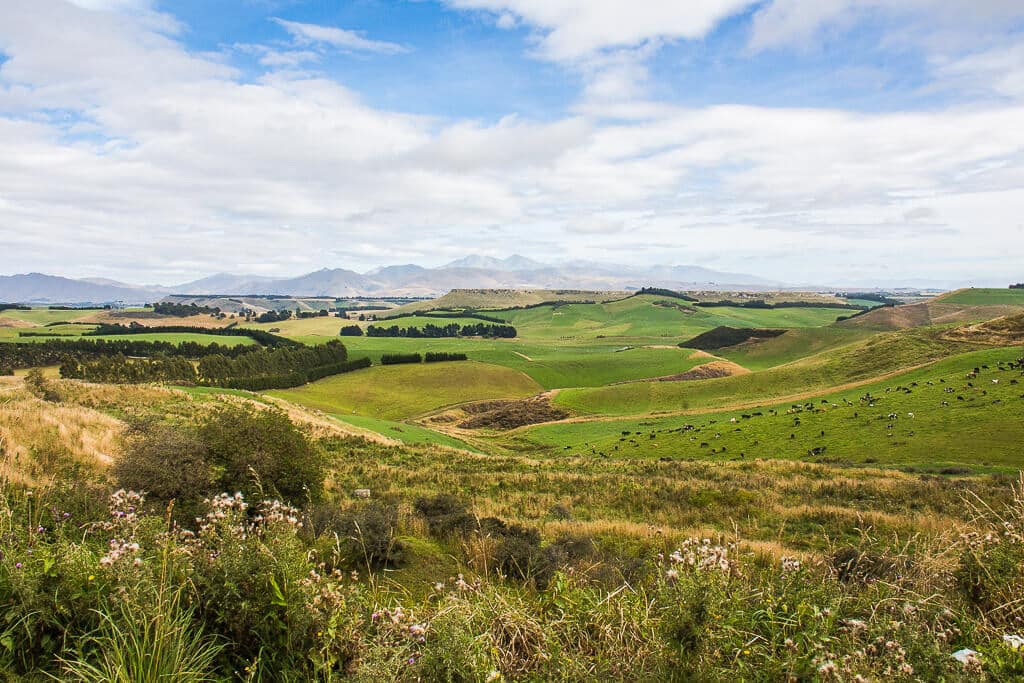 We spent two glorious weeks slowly making our way around parts of the New Zealand's beautiful South Island, where there are many beautiful places to book a stay, such as Teschemakers Resort in Oamaru, where we finished our epic bike ride.
A cycling holiday, while physically challenging on occasions, is such a mentally relaxing way to spend a vacation; you can chat with your friends or ride along on your own in quiet contemplation of the mysteries of life. Every shady tree is a potential picnic spot and every running creek a place to relax and cool your feet.
Each night you climb off your bike mentally refreshed but pleasantly tired from challenging yourself throughout the day.
Cycling in New Zealand really was the adventure of a lifetime and it made me realise; 1) I really enjoyed cycling, 2) cycling was a shared interest that John and I enjoyed together and 3) I was finally starting to lose weight. Yippee!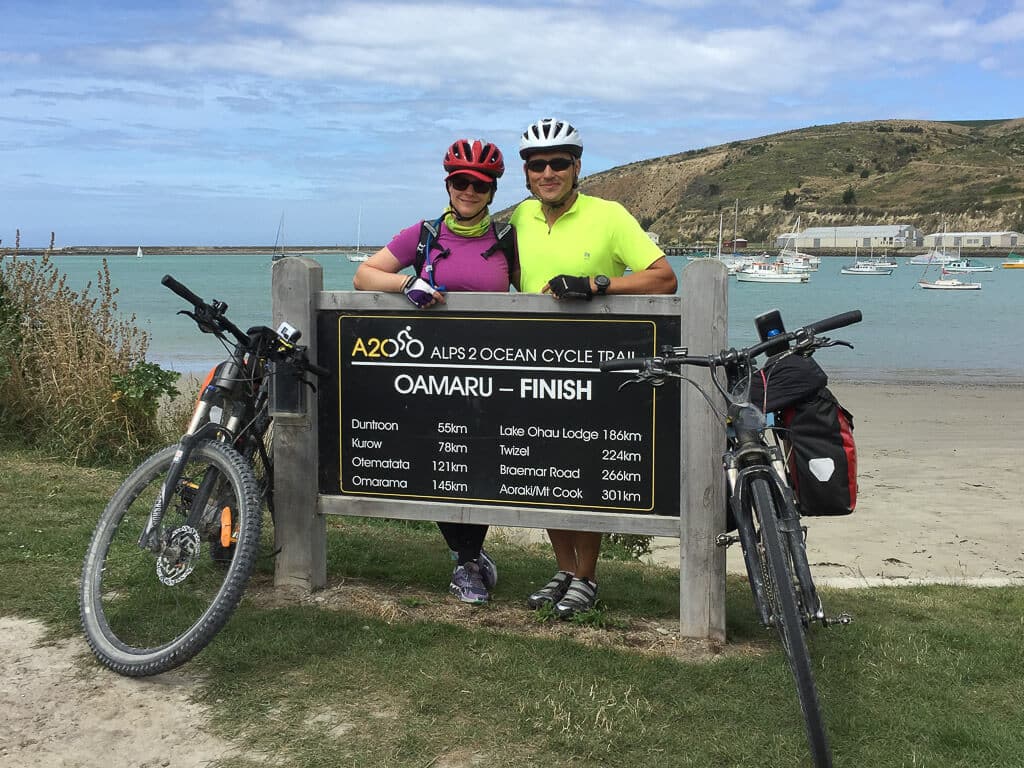 I'm going to participate in a 50 km charity ride.
As with any attempts at weight loss, it is often a case of one step forward and two steps back. After coming back from our cycling holiday, I kept up my training for a while but throughout 2018 struggled to maintain enthusiasm and didn't see a lot of improvement.
I think the big game changer for me came in 2019 when I signed up to participate in a 50 km charity ride to raise money for Multiple Sclerosis. A girlfriend of mine has MS and I wanted to show her that I was taking her disease seriously and decided that I was going to ride without the assistance of an electric bike.
I thought that if Jane could manage to live with MS everyday of her life then I could put up with a bit of pain on the bike.
My training really shifted up a few gears as I started riding to work several days a week; initially on an electric bike and then on my pedal bike as my fitness improved. John and I would then spend time together on the weekends going on longer training rides.
As the day of the charity ride approached, I was able to cycle longer distances unassisted, had finally started to lose weight and felt confident that I could complete the ride. While it was a challenging and extremely tiring morning, I felt a real sense of accomplishment as I crossed the finish line.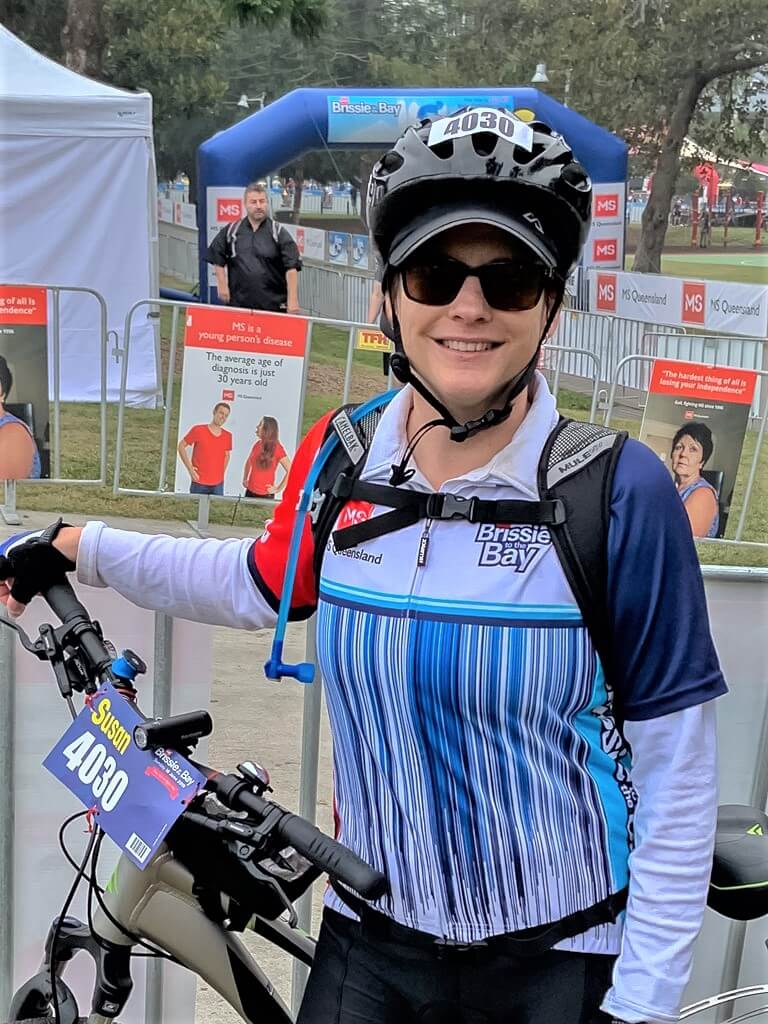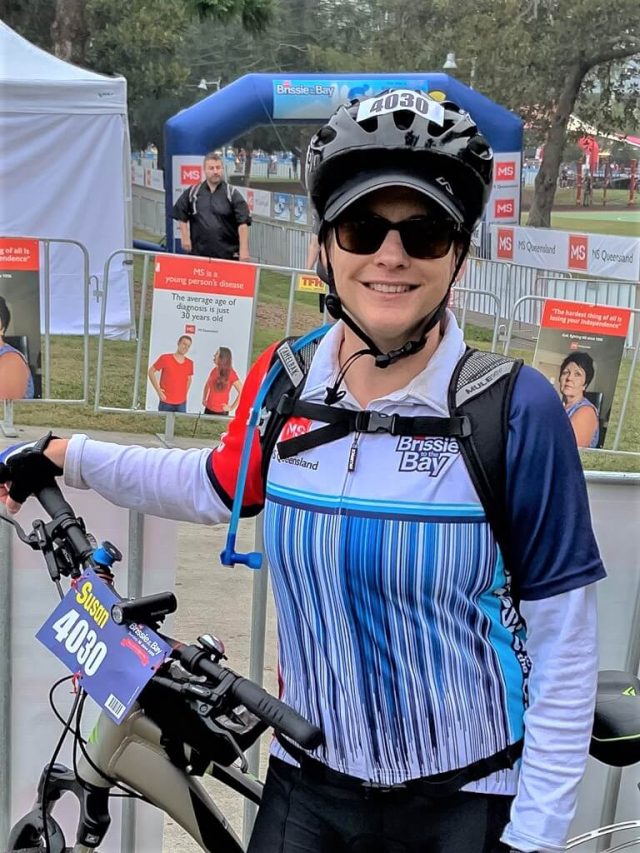 Getting out and about on our bike.
In a time when we weren't allowed to leave our suburb by car, there were no restrictions on how far you could ride your bike in our hometown. We started cycling 14 km to visit our daughter, would stay for morning tea while practicing the appropriate social distancing and then ride 14 km back home again.
To avoid the crowds, we would ride late at night to our favourite fruit store and complete the 27 km round trip with our lights on and our panniers full of fruit. Once restrictions eased and we were allowed to go out more we discovered the joy of riding our bikes to go on a picnic.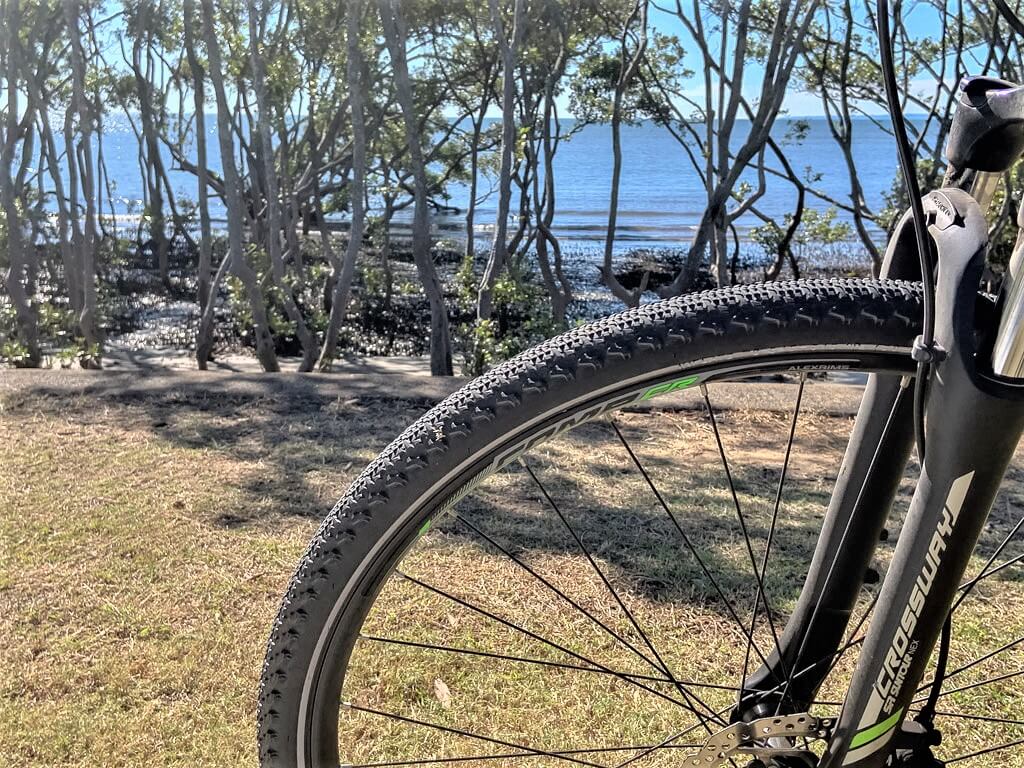 Before I knew it, we were riding 100 km a week – unassisted, 100% Susan-power!
I'm no longer worried about the number that is displayed on our bathroom scales and don't even bother to look anymore. I'm healthier and fitter than I have ever been and our common interest of bike riding with has led to spending more quality time with my husband.
We have just bought a bike trailer for carrying camping gear and are ready to head off on our next adventure. We have decided that our 50's is the perfect time to take up adventure cycling and cycling to lose weight!
*****
Susan Gan from Thrifty After 50 enjoys travelling with her husband John and investigating the various ways you can explore the world as inexpensively as possible. They provide tips on low-cost activities for over 50's so you can travel more for less!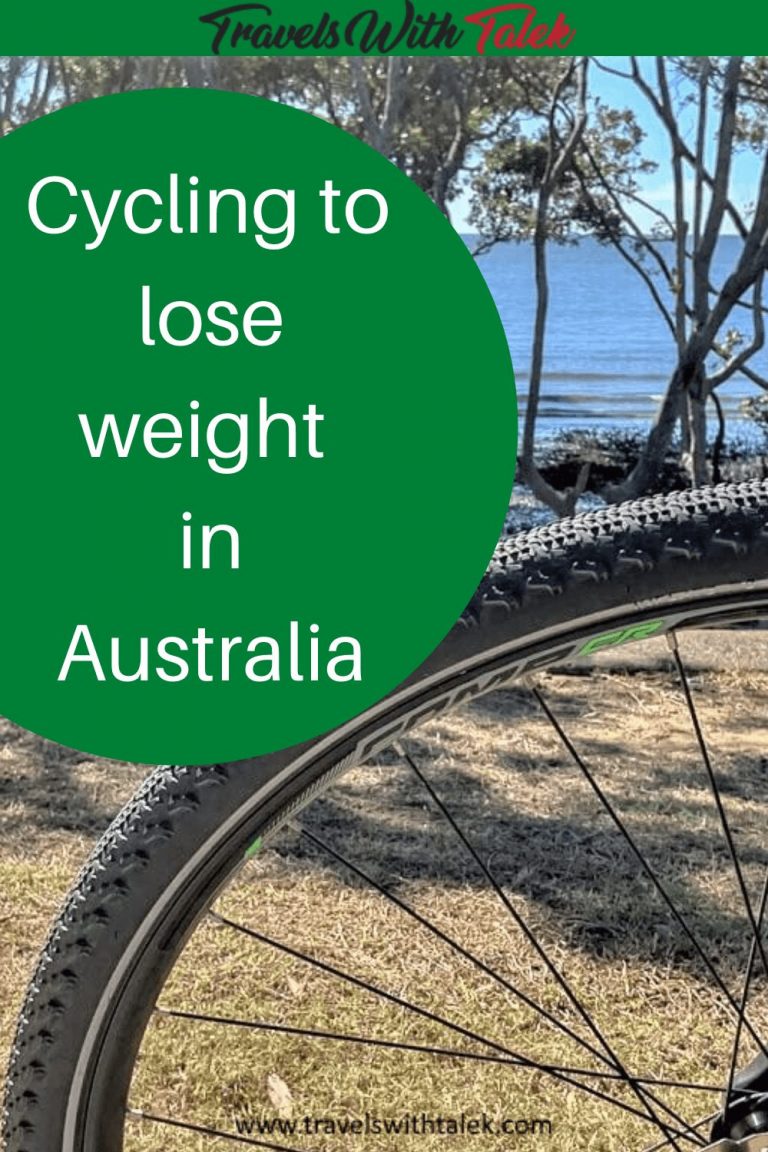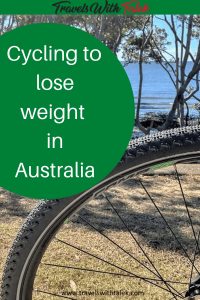 BTW, if you are getting ready for your trip, make sure to take advantage of these useful, money-saving links to book your trip:
I personally use, and can recommend, all the companies listed here and elsewhere on my blog. By booking through these sites, the small commission we earn – at no cost to you – helps us maintain this site so we can continue to offer our readers valuable travel tips and advice.