Updated January 3, 2020
Beijing is a fascinating city for anyone interested in a mix of traditional culture, modern technology, and incredible architecture. Whether your Beijing itinerary stretches for more than a few days, or you only have a short layover to cram everything in, there are plenty of fun things to do in Beijing.
To really get to know Beijing it helps if you've lived there.  For that reason I've invited Jade and Kev from Two Tall Travelers to share with us what makes Beijing so special and the cool things to do in Beijing.   
Beijing Points of Interest: 7 Awesome Things to Do in Beijing, China
Having lived here for three years, I can wholeheartedly say that the city is jam-packed with unique adventure, delicious food, and distinctive entertainment! Here is my list of the must-see activities for Beijing, with insider tips for exploring China and local recommendations too!
The Great Wall is one of the best things to do in Beijing!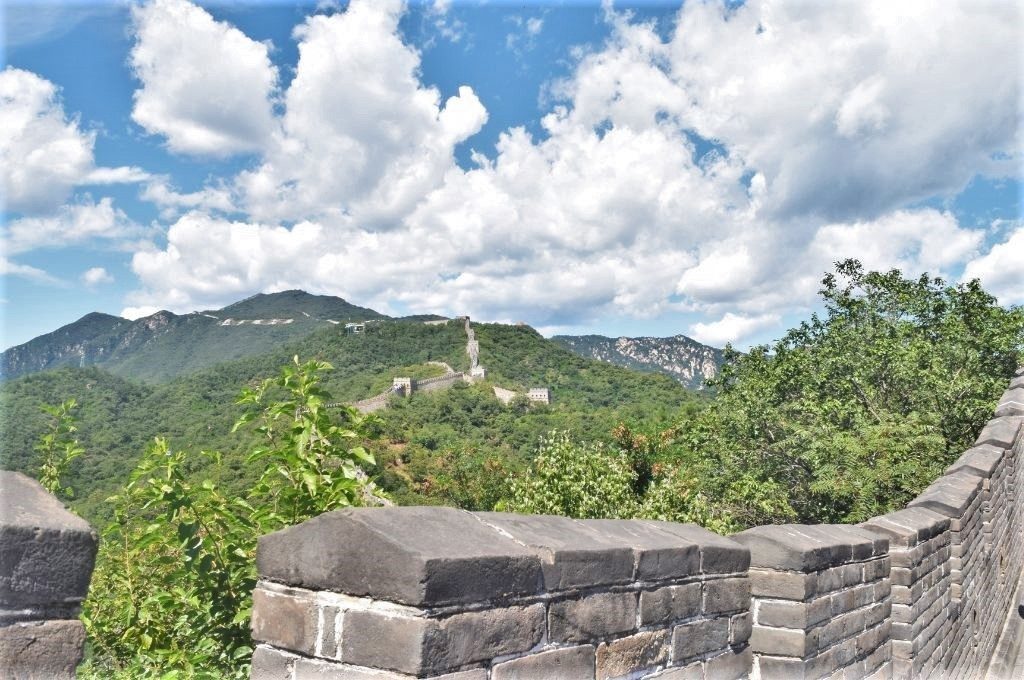 This Beijing points of interest easily makes the top of the list! Many people like to avoid touristy attractions, but you really can't miss walking along the Great Wall of China — it's hands-down one of the best things to do in Beijing. There are different sections that you can hike so if you want to visit without the crowds, choose a less-famous part.
Definitely don't visit Beijing at all on a national holiday if you don't want to be surrounded by swarms of tourists!
You may want to take a tour if it makes you more comfortable, as travelling independently in China can be tricky.
Here is a quick breakdown of the main different sections of the Great Wall:
Badaling
The most famous section of the Great Wall is Badaling, and I don't recommend going here if you aren't comfortable with large crowds. Saying that, it is a very well restored section, it's relatively easy to hike and there are shops and restaurants open for you to buy lunch in. You can even get a cable car to the top if you don't want to or can't hike the whole way!
Mutianyu
This is the best part of the wall to hike if you are travelling with kids, you want to avoid most of the crowds and you want a safer hike – it's pretty well restored so there won't be any crumbling bricks falling off the wall here!
There is also a toboggan that you can ride for your trip back down the wall which is excellent fun and not too fast or scary!
Simatai
Visit this part of the wall if you want to experience something a little different! You can hike here at night time (it's only safe to do that here because it's well lit during the dark hours) and there is a small water town called Gubei that you can explore too.
You have to reserve a ticket if you want entry to the town at least 10 days in advance here because there are government limits on how many people can visit at one time. This is to protect the ancient history and structure of the wall.
Simatai is restored in places, but it can be tricky to climb and I would only recommend doing it if you're a confident hiker. There is a cable car here too so it might be a better idea to make your way up the wall on this, and then walk along it for the experience.
Jiankou
This is one for the most advanced hikes out there! It hasn't been restored at all, so it can be really dangerous if you don't know what you're doing or where you're going.
I would recommend hiring a local guide or booking a group tour so that you can experience the awesome wild wall, but be safe at the same time.
Hiking along the rocky paths and climbing up rickety staircases has its thrills – and the scenic rewards are captivating. Just don't sacrifice your welfare for a photograph!
Beijing Points of Interest: Eat tasty lamb skewers at a local BBQ restaurant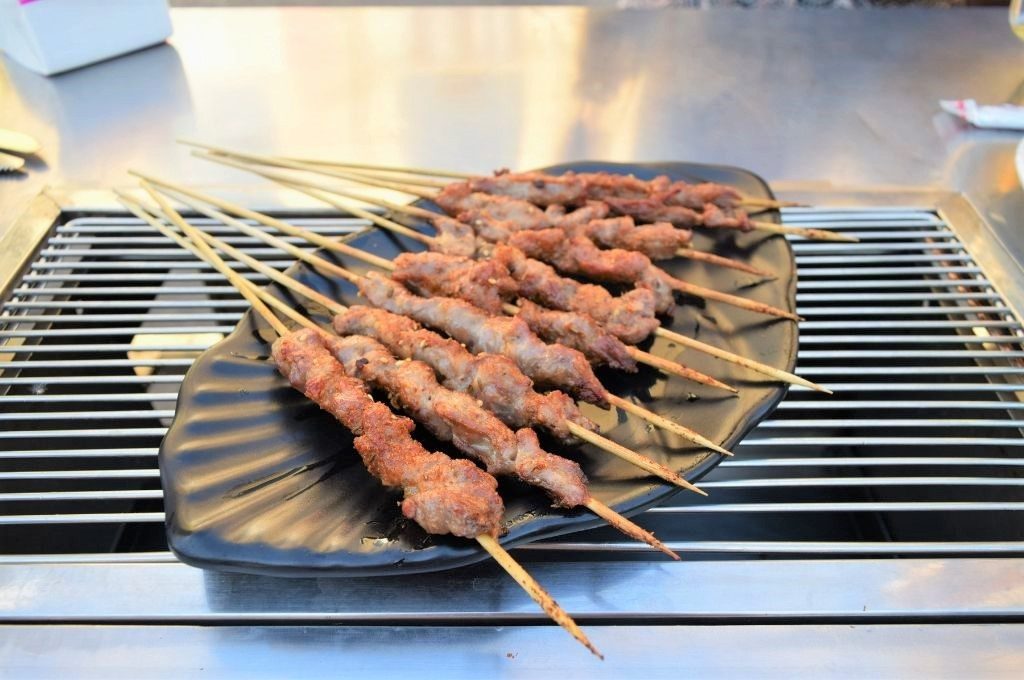 One of the locals' favourite things to do in Beijing is spend the evening at a BBQ restaurant, gorging on cumin-spiced lamb skewers and Chinese beer. Chuan'r, as it's known, is popular in small hole-in-the-wall places, but you'll smell them a mile off before you see them! Often surrounded by groups sitting on small plastic chairs, this is the place to be if you want top-notch snacking!
The incredibly soft meat is sprinkled with cumin, salt and sometimes a little chili, and then smoked over a coal barbecue, giving the perfect balance of flavours to enjoy on a warm summer's evening. Order a large Yanjing (a local beer) and gānbēi (cheers!) your fellow diners!
Beijing Points of Interest: Exploring the Hutongs and Lakes is a relaxing way to spend an afternoon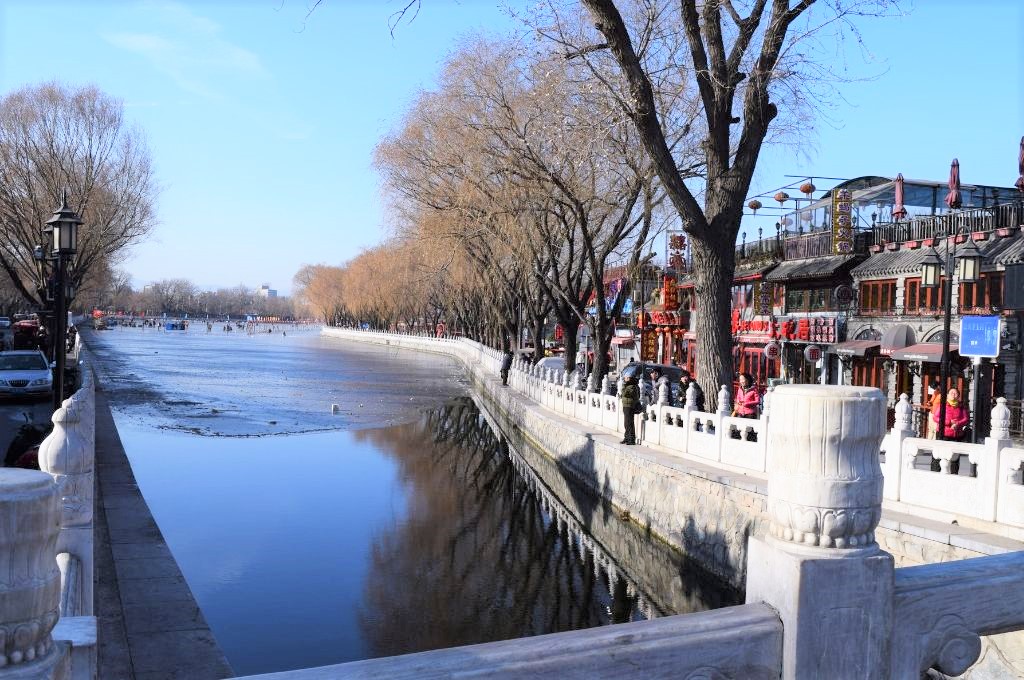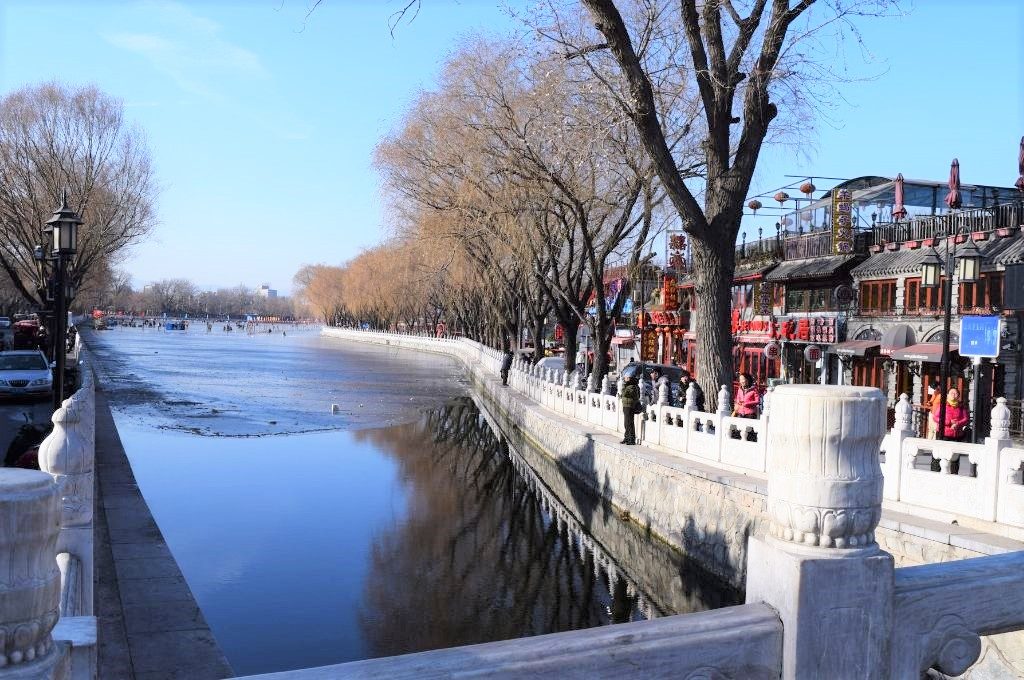 Make your way over to the centre of the city and take a walk through Beijing's traditional alleyways — another unique Bejing points of interest.
Lined with small shops, restaurants, and bars, the hutongs are a great way to remember the capital's humble beginnings.
The most popular areas are Nanluoguxiang (there are some great non-touristy souvenir shops here), Skewed Tobacco Pouch Street (there are plenty of traditional restaurants to choose from) and Guozijian Street (steeped in history as it's next to the Yonghe Lama Temple and the Temple of Confucius).
People also live in these winding alleys so be careful not to disrupt their daily lives, but equally, don't be afraid to visit and encourage local businesses!
The Houhai Lakes are situated nearby. Here you can spend an afternoon roaming the streets and enjoying a nice cold beer in a rooftop bar!
The Forbidden City and Tian'anmen Square are must-do things to do when in Beijing
There are many Beijing points of interest, but the ancient Forbidden City and Tian'anmen Square are both legendary in their own right.
The Forbidden City was built as the Imperial Palace and was home to 24 emperors spanning over 600 years.  It's an incredible structure and one not to miss. You can walk along the historic corridors and learn about China's fascinating dynasty past.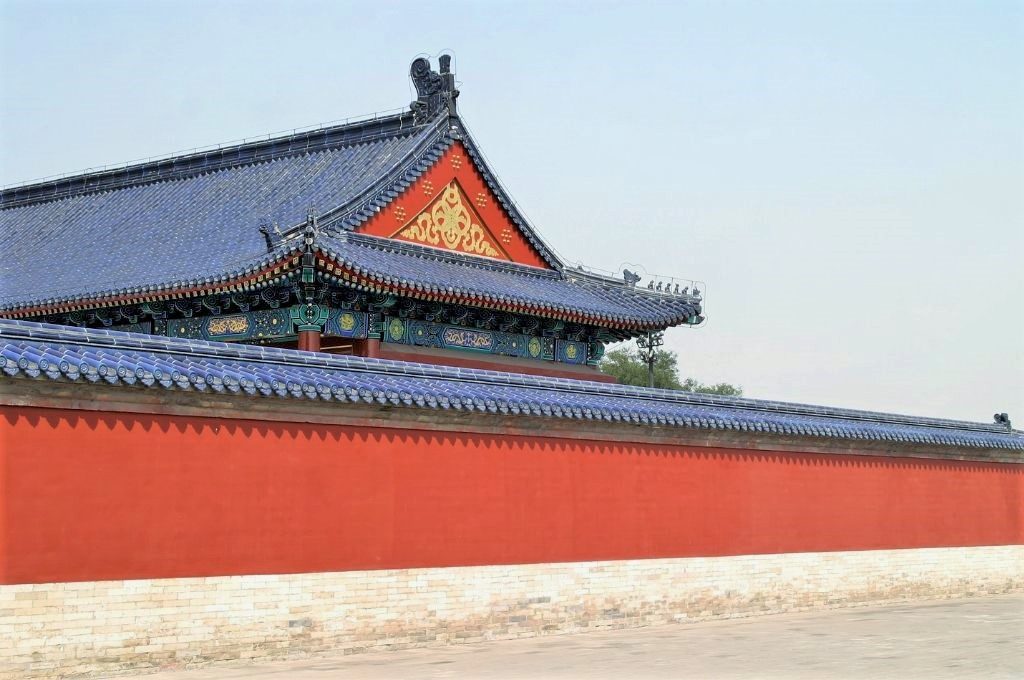 Visit nearby Jingshan Park to get a remarkable bird's eye view of the City.
Across the road is Tian'anmen Square – the heart of Beijing. There isn't a great deal to do here, but it's an iconic place to see whilst in China. You can enter Mao's mausoleum, the National Museum of China and the 32–metre high Tian'anmen Tower. If you time your entrance right, you can watch the flag-raising or –lowering ceremony too.
Tip: If you are visiting either of these famous Beijing points of interest, then bring your passport. A copy won't be good enough – there are police stationed at every entrance, and you will need to show your foreign ID to be able to gain access.
A wonderful way to end a sightseeing tour around Beijing's centre is to eat at the fantastic TRB restaurant. The food is absolutely fantastic, the service is spectacular and the wines from their cellar are world-renowned. Make a reservation ahead, and let them know if you are celebrating anything special as they will do their best to make your visit memorable!
Things to Do in Beijing in the Summer: Splash around in the outdoor swimming pools
In the summer months, Beijing can get incredibly hot. The temperatures can reach 40°C (104°F) so the perfect way to cool down is to visit one of the many outdoor pools scattered around the city! One of the best Beijing points of interest is a swimming pool!
Choose one of the best family fun pools like the one at Chaoyang Park's man-made beach or Tuanjiehu Water Park for a great day out for adults and kids alike.
You can also visit the Water Cube, which was built for the 2008 Olympics. It's not technically outside but definitely worth mentioning! There's an exciting water park in the Cube, full of slides and waves.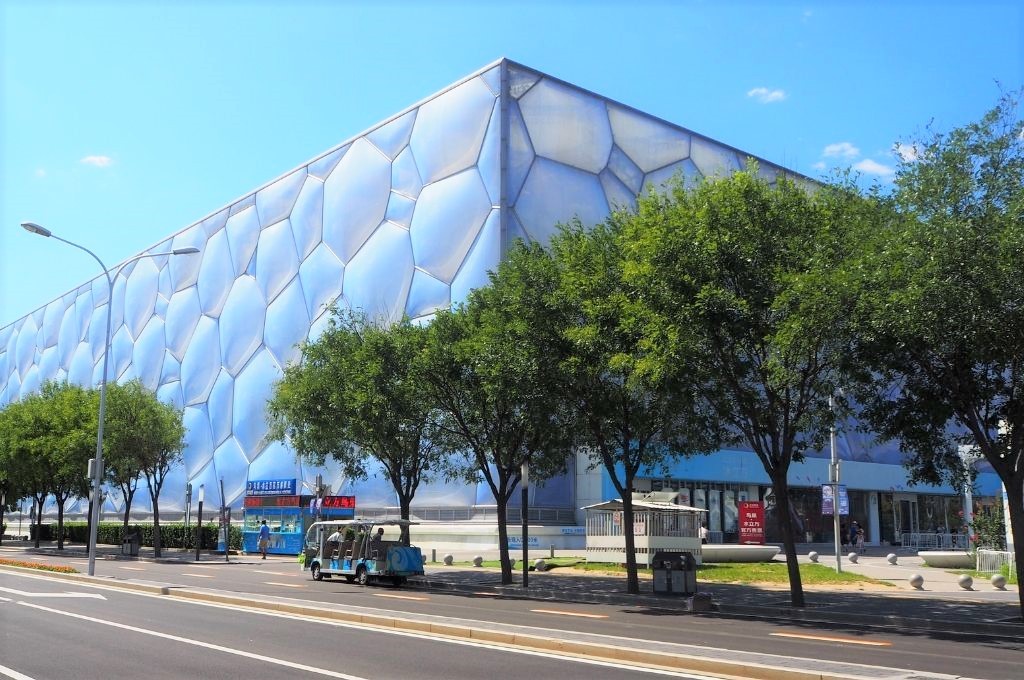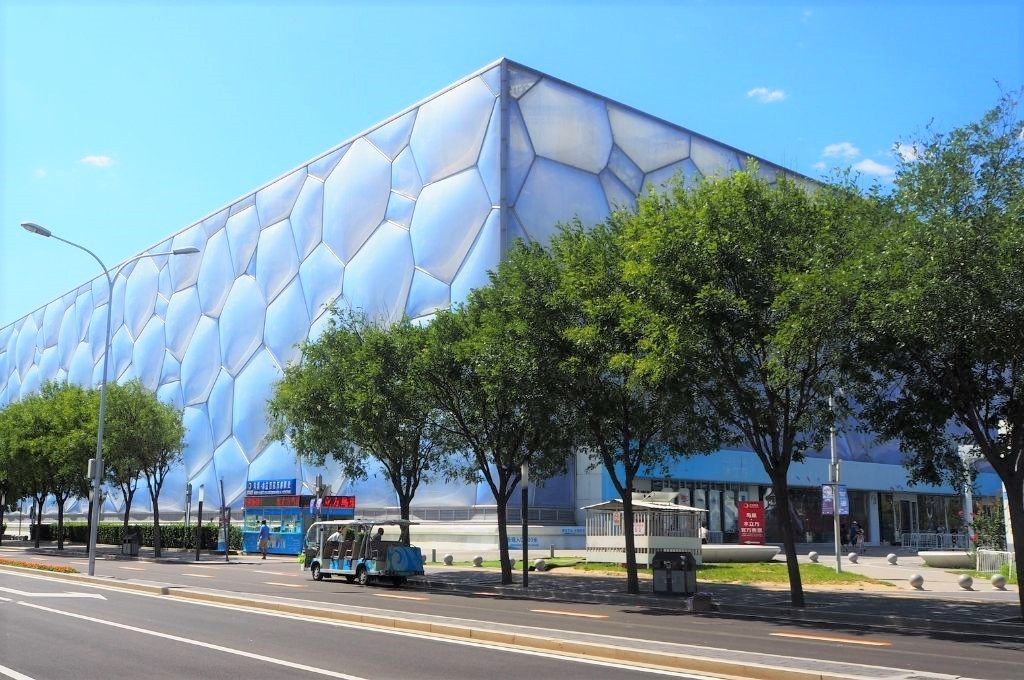 If you'd prefer to actually swim lengths, or just relax in a rooftop pool then Emperor Beijing Qian'men Hotel is the place to go.
Most places charge more on the weekends so plan ahead if you want to avoid peak prices and the crowds.
Channel your inner creative and discover some curious art pieces at 798
798 is the dedicated art corner of Beijing, settled in the Wangjing district in the east. There are over a hundred shops, studios, and galleries all displaying various types of art and cultural exhibitions.
You'll also find plenty of bars and restaurants in the area too, so you can easily take a day or a morning nosing around the buildings before winding down with a meal and a drink or two.
Get tattoo inspiration, purchase beautiful hand-crafted Chinese fan and take in the awesome street art sprinkled around in between the warehouses, fashion workshops, and studios.
Things to do in Beijing: Enjoy an evening of cultural experience at a theatre show
Chaoyang Theatre is famous for its fearless and spectacular acrobat shows. It's certainly one of the most unique Beijing points of interest. The artists are brave, the acrobatics are daring and the whole show is great family fun for those who want to experience something a little different on their trip to Beijing!
If you'd prefer to watch Chinese Kung Fu, then take a visit to the Red Theatre. The performances are outstanding and tell the story of a young boy on his journey to becoming a Kung Fu master.
Peking Opera is also another great choice if you want to watch an incredible and cultural show full of dancing, storytelling, and art. There are many places to watch an opera, but the Liyuan Theatre is the most famous, and it's also located in Qian'men, which is really central.
Are you a thrillseeker? Then Happy Valley Theme Park is one of the Beijing points of interest for you!
If you've explored enough of the traditional things to do in Beijing, then take a little trip to the southeast of the city for something new.
Happy Valley is an awesome theme park, complete with one of my favourite ever water rides, death-defying rollercoasters, and plenty of fun activities for those who would rather stay on the ground!
Get there early and get a spot on the biggest and best rides first before the queues fill up. Bring cash because you won't be able to pay on with a Visa card (like in the majority of places in China).
You really can have so many different types of experiences since there's so many things to do in Beijing. It's a city that can cater to all budgets, cultural understanding, and time limits. Beijing points of interest abound! Book your trip now and enjoy the delights that China's awesome capital has to offer!
Author Bio:
Jade and Kev have been travelling around the world together since 2015. They plan to work and live in as many different countries as they can in order to fund their adventure lifestyle! Visit them at Two Tall Travellers.
If you like this post, you should check out these posts about China: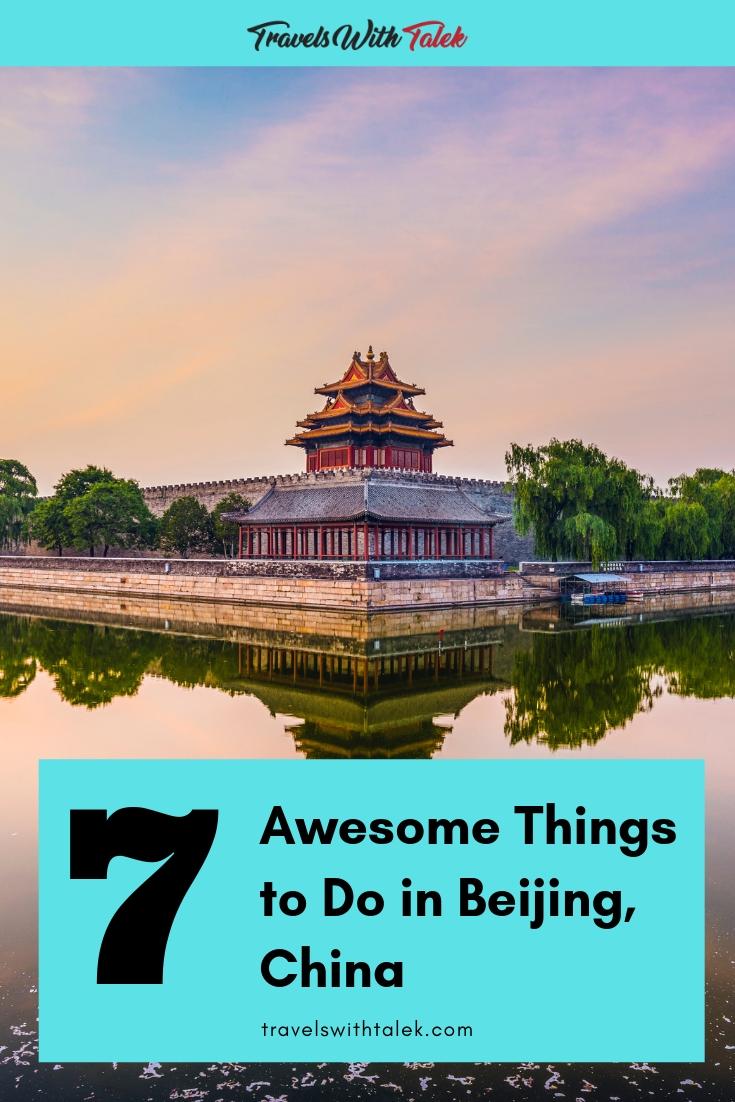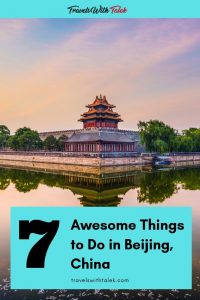 BTW, if you are getting ready for your trip, make sure to take advantage of these useful, money-saving links to book your trip:
I personally use, and can recommend, all the companies listed here and elsewhere on my blog. By booking through these sites, the small commission we earn – at no cost to you – helps us maintain this site so we can continue to offer our readers valuable travel tips and advice.